June 14, 2003
Houston, Texas
Commentators: Jim Ross and Jerry "The King" Lawler
I want to point out that this was a Raw exclusive show…so you can bet it wasn't great.
Dudley Boyz vs Rodney Mack & Christopher Nowinski w/Teddy Long
This was the most vanilla and boring Dudleyz match I have ever sat through. Nowinski is a smart man, and the work he is currently doing for concussion research is important and vital. That being said, he and his partner sucked as a team and weren't much better at singles. The Dudleyz at their best were not the team to carry lesser teams to greatness. They were not at their best here…at all. It's pretty safe to say that this was filler and not a great start.
Winner: Nowinski pinned Bubba after a shot with his mask.
The first of our time wasting segments for the night (not counting the matches *rimshot*) is the ceremonial spinning of the wheel for the inaugural REDNECK TRIATHLON between Co-General Managers Stone Cold and Eric Bischoff. As is the time honored tradition of REDNECK TRIATHLONS  they are 2 out of 3 falls. The Vikings who invented this prestigious event around the tenth century in order to solve conflicts with neighbors would have had it no other way. Interesting fact I just made up, it was then continued to resolve issues with the British Monarchy  all the way to modern times to solve who gets to marry the prettier distant cousin. Henry VIII would hold the record for most wins and to this day it is what he is most remembered for, look it up. In this case it is to waste PPV time and to gross me out. Round 1 is a burping contest which Austin wins and almost makes humorous by wearing knee braces…I guess he put a lot of leg in the burps. Austin leads 1-0.
Winner gets Stacey Kiebler as Manager: Test vs Scott Steiner
Hey if you like treating women like crap, do I have a match for you! Test had 3 good matches in his life and this wasn't one of them. Scotty on the other hand at one point was a Wrestling God…not so much tonight. The highlight of the match, if you can call it, is Test (While clearly quoting Shakespeare) telling Stacey "I'm going to make you my WHORE!" and later shoving her down. Pretty sure he stole that from Macbeth. The match was as good as it sounds. If they tried getting away with this now the stock price would be tallied in wooden nickels.
Winner: Steiner pins Test with a Flatliner after he hit himself in the face with a chair.
We spin for Round 2 of our TRIATHLON as it lands on the always classy PIE EATING CONTEST. Austin helpfully explains to Bischoff the oral sex joke. Bischoff was prepared for this somehow and had a plethora of young ladies at the ready. Austin would give Bischoff the first at bat if he got to pick the lady. These two seemed to be having fun with this but wow is it junk, plus Bischoff letting Austin pick may be an issue. The humor must continue no matter how much we beg.
Intercontinental Championship: (C) Christian vs Booker T
This match was the best of the night to this point and it was what the Germans would call "Just OK".  Christian had won the title in a Battle Royal to set this up and got a new hair cut to seem more viable as a lead heel. Christian pulled out every cheap trick in the book to try and keep the belt, but he should have known to play the odds that it was Booker T's hometown so he wasn't walking out the champ. If it's your hometown be prepared to disappoint your family. See also Alexander, Cedric. The match was fine but nothing memorable.
Winner: Booker wins by DQ after Christian hits him with a chair to save his title.
Commercial for JR's BBQ cookbook.
Kevin Nash gets taped up. Riveting.
The King is in the ring to officiate the PIE EATING CONTEST. Shockingly Austin picked Mae Young and hilarity ensues. Austin to his credit, forfeits before Stunning a very old lady to cheers. Wow. And with that garbage we are tied 1-1. I'm not sure what was worse at this point, the skits or the matches.
Gail Kim Matrix promo.
La Resistance promo.
Kane and RVD are having a marital spat. Too bad Dr. Shelby wasn't on the roster yet.
World Tag Team Championships: (C) RVD and Kane vs La Resistance (Grenier and Dupree)
The champs were having problems coming in. I'm sure it had nothing to do with the upcoming unmasking and turning of Kane. I liked bald Kane though so no big whoop. Let's get to this awesome 2003 action though! RVD accidentally took Kane out leading to the loss. That was the highlight of the match. Yep, sorry if my recap went to fast for you. If Rob Conway wasn't there then La Resistance was the shits. Luckily there are only 3 more matches to this show.
Winner: Grenier pins RVD after a double Choke slam. 
Goldberg vs Jericho
If you told me that both these dudes would still be having PPV matches I would laugh in your face. Had this been a shoot fight I would have enjoyed it more. Jericho pulled every dirt-bag trick he could to get more than 5 minutes out of Bill. He got the minutes but man were they were boring. WWE wouldn't get the Goldberg formula right until 2017 at which point they made him a bigger star then he ever was in his first run. Goldberg did do an OK job of selling his injured arm but the crowd wasn't having it and mostly cheered Jericho. Our amazing night of action continues and to this day I question that initial brand extension.
Winner: The guy who never loses after a Spear and Jackhammer.
Spinning of the wheel for our final REDNECK TRIATHLON event and it lands on karaoke…Austin is concerned due to him being the worst singer since Ke$ha.
Ric Flair vs Shawn Michaels
Finally! We have 2 of the greatest professional wrestlers of all time ready to save the show and they…totally didn't.  The match was fine and had some good spots like Orton taking the Super kick and Flair getting splashed through a table, but as a whole the match just wasn't that good. Flair was in a stretch where he was not in his finest form as a worker, he could have a good match on occasion but with his age it just had to be the right night. Sadly as hard as Michaels tried he just wasn't up to carrying Ric to make it that right night. They would have better matches in the future luckily.
Winner: Flair pinned Michaels after a Randy Orton chair shot.
It has finally come down to this, the finals of the REDNECK TRIATHLON. History was about to be made. Just like it was in 1540 when Henry VIII married Anne of Cleves and we got a swerve ending. Neither man could sing, so they spun the wheel one more time so Austin could beat up Bischoff and throw him in pig poop. Austin wins 2-1 and many a beer were drank. I honestly was hoping for a "Summer Lovin" from Grease duet between the two.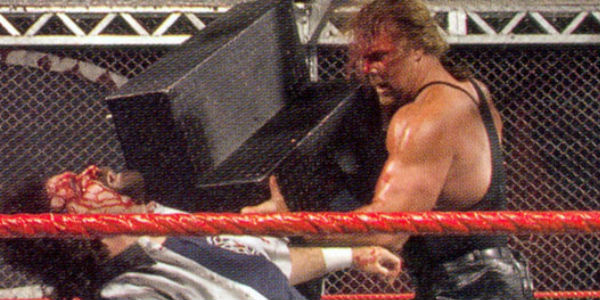 Hell in the Cell /World Heavyweight Championship (Special Referee Mick Foley): (C) HHH vs Kevin Nash
This was the match of the night, by the benefit of being the only contest that wasn't boring or a disappointment. Every man in the cage bled and Kevin Nash of all people worked his butt off inside the Cell to try and save this PPV. I do want to point out that nothing was saving this dumpster fire of a show, but HHH and Big Sexy sure tried. Lots of blood, violence and weapons (screwdriver, barb wire, hammers) made this a pretty decent main event to end a bland night. I really liked this one. Nash deserves mad respect.
Winner: HHH pinned Nash after the dreaded sledgehammer/ Pedigree combo.
Overall Thoughts: The entire split brand era had nights that plain sucked. The matches weren't working and everything was a bit off and never lived up to expectations. Even the things that should have been home runs didn't come through. This is the very definition of a bad show. All hail Big Sexy for bringing his working boots to try and be the hero.
Follow me right here.
All Images Available at WWE.com
If you like what we do and want to help keep this site running, hit up our store right here. We can use all the support that we can get.