The Battle of the Bigs is coming…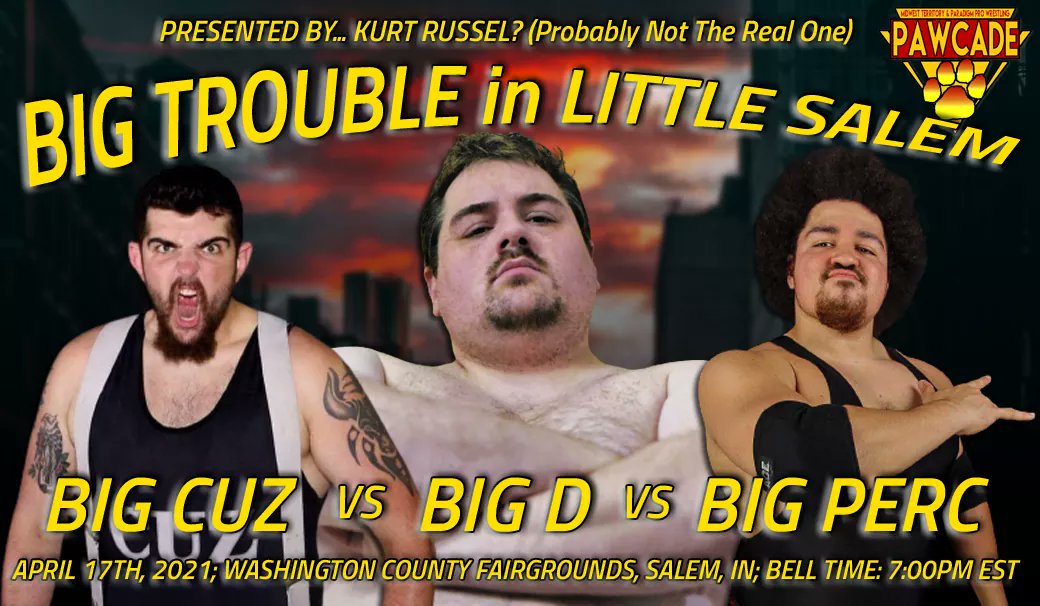 April 17 "Big D" Daniel Luck (the winner of the 2020 Loyal Rumble) will be taking on the runner up in that event Big Cuz as well as Big Perc in what can only be called a Kaiju battle. We were able to speak to all three athletes about this contest.
First from Luck…
Last year at Pawcade was a defining moment in my professional life and one of the worst days of my personal life. Because as I was eliminating people in the 237 person Loyal Rumble and going the distance to win it. My mom was less than 3 miles away and unexpectedly passed away. She was one, if not the biggest, of my biggest supporters. This year, at Pawcade 2, I am on a mission to make her proud. Big Cuz and I are no strangers to one another. He is a legit bad man and head of security for flophouse wrestling. But just like last year he is going to come up short. Big Perc is an amazing athlete, real funny dude, and damn handsome. Even with all of that going for him it is my time to be in the spotlight. A win this monumental will cement that I deserve to be in the conversation for the best big man in the Midwest. This one is for you mom.
Cuz…
They claim to be big, but they've never seen big. They can't spell big. I'll show them big.
Last but not least, Perc…
I've had bigger.
This could get real interesting, real quick.
Paradigm Pro Wrestling and MidwestTerritory.com present "PawCade 2" – a charity professional wrestling event benefiting the Salem Animal Shelter (a no kill facility that receives no public or governmental funding). This super stacked card will take place in a covered, open air pavilion at the Washington County Fairgrounds Salem, IN, on Saturday, April 17, 2021.
Competitors signed to appear include "The One Man Militia" Matthew Justice, 2020 IWTV Wrestler of the Year John Wayne Murdoch, the Hoodfoot, Reed Bentley, Nolan Edward, Kerry Awful, Chase Holliday, Billie Starkz, Alex Kane, Gary Jay, Don't Die Miles, Lexus Montez, Freddie Hudson, Levi Everett, and many more of your Paradigm Pro favorites!
All ages will be admitted with 10 and under being free with a paid adult. This event is being filmed for worldwide release on IndependentWrestling.TV!
The Washington County Fairgrounds in Salem, IN, is an easy drive from Louisville, KY; Indianapolis, IN; and Cincinnati, OH. So bring the whole family (pets welcome) and help out the animals!
This event will take place at the Washington County Fairgrounds at 118 Fair St, Salem, IN, on Saturday, April 17, 2021. Tickets range from $15 to $30. Free parking is available. Doors will open at 6:30 p.m.
SAVE $5 PER TICKET BY BUYING IN ADVANCE.
ALL REMAINING TICKETS WILL INCREASE $5 PER TICKET THE WEEK OF THE SHOW.
Saturday, April 17th – Doors Open at 6:30PM
IMPORTANT NOTICE: This event is taking place in a covered open air pavilion. Attendance will be limited to 150 people, seating will be socially distanced, and enhanced sanitation procedures will be in place. For the safety of everyone, masks are required. Advanced purchase is recommended for entrance, this event will sell out.
Buy tickets right here.
Follow me as well.