The former PPW Champion takes on a man with a mission.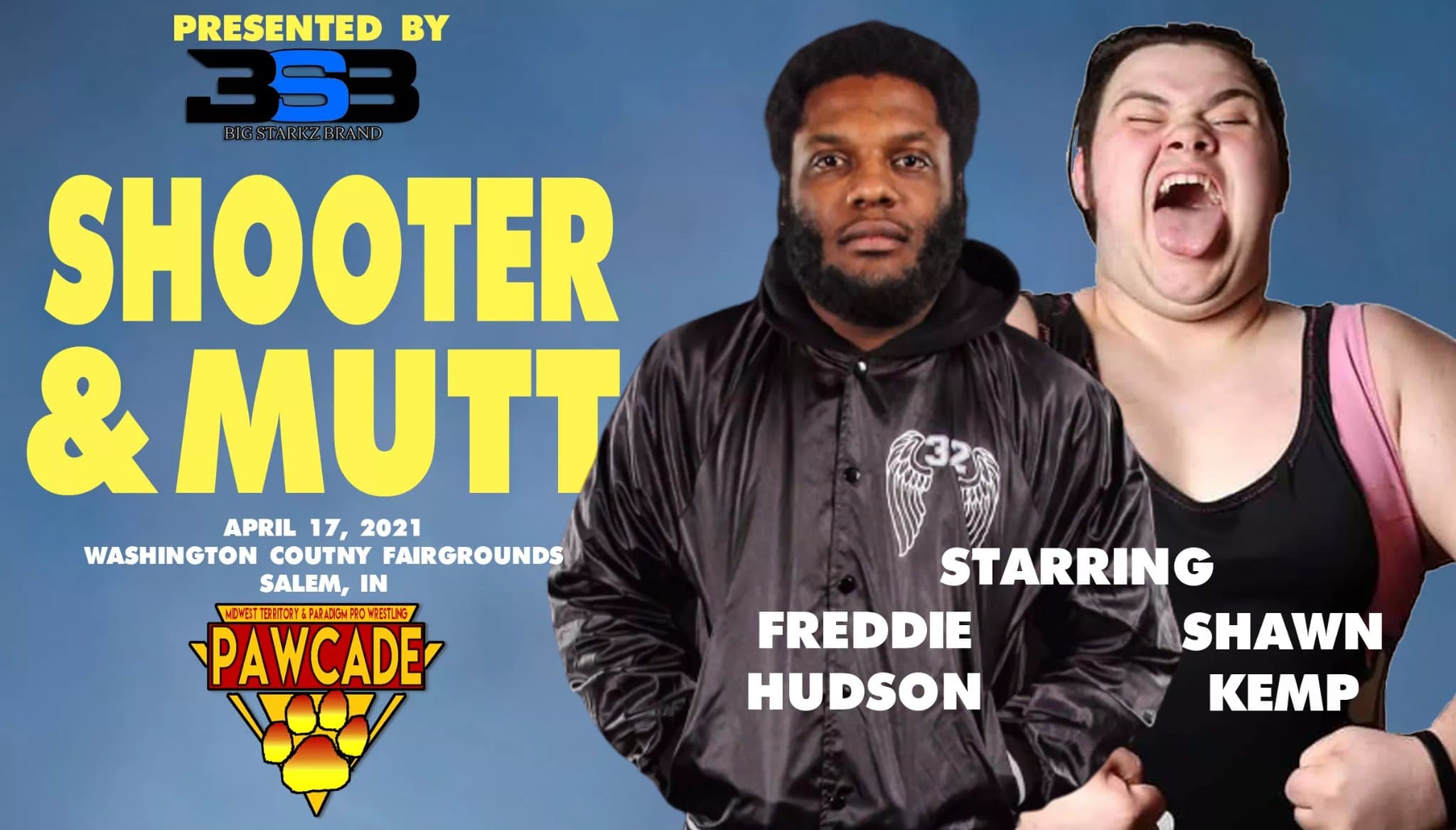 Freddie has climbed to the very top of the mountain in PPW while Shawn feels that he had been overlooked and underestimated. On April 17 both athletes will get the opportunity to prove why they are the better man.
Both competitors had something to say. First is the former Champ…
April 17th. Shawn Kemp, I hope you are ready because I'm walking into Pawcade2 to Show Up and Show Out.
Now from Shawn…
Saturday I stand across the ring from Fred Hudson. We previously danced in former promotions and even in a tag in the OLD PPW. Fred has glowed up so much from when I first met him. He's become one of THE brightest stars to come out of Louisville, not named Bille Starks or Myron Reed, within the past 5 or so years. He is a former PPW champion. He has established a name in the company. But no one has seen or heard this from or about me. I've kept quiet and I've flirted with retirement. I was ready to hit the course and watch redzone. Recently I've been doing so stuff. Since the start of the year, I've been going to the Chiropractor. My body has felt SOOO MUCH better. Started working on my body but it was my mental state that was any better or ready. I've seen the looks the past few months from everyone. Every locker room I walked in I've felt ostracized. So I put my all into my 9-5 job thinking, "I'll never be anything in wrestling and nobody likes or will ever respect me again." I hated waking to go to this fucking job I hate. I felt like a loser. I'm too charismatic, I'm too talented to waste my time on this earth pouring over samples for a company who could care less if I died the next day. So I had a heart to heart with Jordan. We started thinking of ideas and taking action. I won't tell you what they are just pay attention. So this Shawn Kemp is nothing I've felt before. I'm motivated and more knowledgeable than I have ever been. So Fred I hope moving to Paul's neck of the woods helped you become a better wrestler. Because I damn sure have gotten better. #F+G
They are both ready.
Paradigm Pro Wrestling and MidwestTerritory.com present "PawCade 2" – a charity professional wrestling event benefiting the Salem Animal Shelter (a no kill facility that receives no public or governmental funding). This super stacked card will take place in a covered, open air pavilion at the Washington County Fairgrounds Salem, IN, on Saturday, April 17, 2021.
Competitors signed to appear include "The One Man Militia" Matthew Justice, 2020 IWTV Wrestler of the Year John Wayne Murdoch, the Hoodfoot, Reed Bentley, Nolan Edward, Kerry Awful, Chase Holliday, Billie Starkz, Alex Kane, Gary Jay, Don't Die Miles, Lexus Montez, Freddie Hudson, Levi Everett, and many more of your Paradigm Pro favorites!
All ages will be admitted with 10 and under being free with a paid adult. This event is being filmed for worldwide release on IndependentWrestling.TV!
The Washington County Fairgrounds in Salem, IN, is an easy drive from Louisville, KY; Indianapolis, IN; and Cincinnati, OH. So bring the whole family (pets welcome) and help out the animals!
This event will take place at the Washington County Fairgrounds at 118 Fair St, Salem, IN, on Saturday, April 17, 2021. Tickets range from $15 to $30. Free parking is available. Doors will open at 6:30 p.m.
SAVE $5 PER TICKET BY BUYING IN ADVANCE.
ALL REMAINING TICKETS WILL INCREASE $5 PER TICKET THE WEEK OF THE SHOW.
Saturday, April 17th – Doors Open at 6:30PM
IMPORTANT NOTICE: This event is taking place in a covered open air pavilion. Attendance will be limited to 150 people, seating will be socially distanced, and enhanced sanitation procedures will be in place. For the safety of everyone, masks are required. Advanced purchase is recommended for entrance, this event will sell out.
Buy tickets right here.
Follow our great sponsor Big Starkz Brand
Follow me as well.