Hey! Remember the Mania where John Cena got booed?
4/1/07
Detroit, Michigan
Commentary: Jim Ross, Jerry Lawler Michael Cole, JBL, Joey Styles and Tazz
Cool intro video again. We cut from Mania 3 to this year.
Aretha Franklin is back to sing America the Beautiful one more time. Perfect decision.
The All Grown Up video is shown. Kinda cool…once.
Money In the Bank: Jeff Hardy v King Booker (w/Queen Sharmell)v Finlay v CM Punk v Mr. Kennedy v Matt Hardy v Randy Orton v Edge
THAT is how you start a show. I really wish they would have found something different for Edge so he was still undefeated going into Mania against Taker at 24 but oh well. Also Kennedy was over man, too bad he was made of glass or whatever. These matches always seem to deliver and having a good mix of talent really helps. People always love a good car crash. I obviously dug it and the point is elementary. 1-1
Winner: Mr. Kennedy via ladder climbing. They should have just handed it to him after he murdered Hornswoggle.
The premier of The Condemned is shown. I liked that movie honestly. It was 80's cheesy in the best way.
Tod Grisham is joined by the new Mr. MITB. He's coming for a Championship.
The Great Khali v Kane
Well. There went that streak of good matches. Khali has had one, maybe two good matches in his life but this wasn't one of them. Kane can go with the right opponent but obviously he's not a miracle worker. Not good kids. 1-2
Winner: Khali after the Tree Slam.
Khali attacks Kane following with his See No Evil chain.
The Divas are all grown up. Notice they are all grouped together. Shocking.
Cryme Tyme is with Eugene. Extreme Expose dances along with Mae and Moolah. Slick arrives but before he can get down Dusty, Brisco, Slaughter, Jimmy Hart, IRS, Patterson, Fink, Steamboat and I'm sure a dozen other people I'm missing join the party. Only one man and one word can sum it up of course. Damn.
Some Detroit Tigers are in the house.
MVP gets a bunch of cheerleaders for his entrance.
United States Championship: Chris Benoit v MVP
Chris Benoit didn't have bad matches if you had any talent at all. MVP was still a bit green but he definitely had talent. Not an all time great or anything but definitely ten minutes that didn't bore me. I'll take it. 2-3
Winner: Benoit retained with the diving headbutt.
Trump is shown on the phone while a former USA sits awkwardly. Boogeyman arrives and Trump no sells it and asks for food. Yep.
Hall of fame recap video.
New attendance record of 80,103.
The Fink does his yearly Hall of Fame deal.
Jim Ross
Mr. Perfect (wife and Larry)
King
Nick Bockwinkel (hell yeah)
Mr. Fuji
The Wild Samoans
The Sheik (wife)
The American Dream. (Sad face)
Undertaker won the text vote against Batista 82-18%. They watch the product.
Batista/Undertaker recap.
Teddy Long is in the house to do super mega introductions.
World Heavyweight Championship: (C) Batista v Undertaker
I remember hearing at the time that these dudes were big hurt about being the main event. So they decided to put big ass chips on their shoulders and deliver a classic. A great match by any measure, especially since no one believed they could do it. Just a big bruising battle of big men that still holds up today. This was awesome. 3-4
Winner: Undertaker goes 15-0 and wins the title after the Tombstone.
Taker celebrates with fireworks and such. This got to Hogan posing length.
Vince is checking out his hair when we get the Steph baby carriage cam. He promises to bash Trump's head in. Spoiler alert! He didn't.
They should have sprung for the Metallica entrance just this once for Sandman.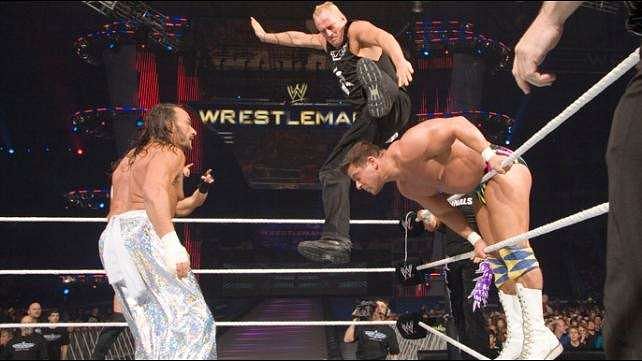 Sandman/Rob Van Dam/Sabu/Tommy Dreamer v Elijah Burke/ Matt Striker/Kevin Thorne/Marcus Cor Von (w/Ariel)
This would have been the perfect spot to do an ECW Rules match but instead we got a regular tag including dudes not suited to that style. It's nice to see some of these guys getting Mania payouts though. Not nice enough for me to give this a point though. 3-5
Winner: ECW originals after an RVD Five Star on Striker.
Stone Cold is all grown up.
Apparently WrestleMania 24 will be in Orlando.
We recap McMahon/Trump. A lot of rich celebrity folks wanted Donald bald.
The barber chair gets it's own entrance because this show wasn't long enough.
Then Vince.
Then Umaga and Armando.
Then Trump and guest.
Then Lashley.
THEN Austin. This all took a while.
Battle of the Billionaires/Hair vs Hair/Stone Cold as Special Referee: Lashley (w/Donald Trump and the former Miss USA lady from earlier) v Umaga (w/Vince Mcmahon and Armando Estrada)
ECW Champion vs Intercontinental Champion happened and it didn't mean shit in the match. They threw everything they could into making this match interesting and it just didn't live up to it. It might be the worst match that Umaga and Bobby had against one another. Big draw but also a big nope from me. 3-6
Winner: Lashley after a Stunner and Spear.
The after match shenanigans are better than the match honestly. Vince's reactions are priceless. Plus he looked really bad bald. Austin stunning Donald almost gets a point. Sadly dude took the worst Stunner ever and barely sold it. Still Stone Cold got to stun a future President so that's kinda cool.
John Cena is all grown up.
Since they have to clean some hair up they recap Flair/Carlito v Chavo/Helms lumberjack tag from the preshow.
WWE Women's Championship/ LumberJill Match: (C) Melina v Ashley
Talk about a major downgrade from the previous year. It seemed like they just gave up on the women having good matches by this point and wanted them to stand there and look pretty. Melina was alright but she would have had to have been a magician to carry poor Ashley to anything good. 3-7
Winner: Melina retained after a roll-up reversal.
Ashley attacks after the match and a huge brawl breaks out. Not a good brawl, but a brawl just the same.
Shawn Michaels is all grown up too. I wish I was doing a bit here but sadly I'm not.
Cena won the text vote 59-41.
We recap the Cena/Shawn issue.
Shawn was still in DX mode here minus the gear.
A stunt driver…er um John Cena drove in the arena via some randomly placed glass. It did not get the crowd behind him.
WWE Championship: John Cena v Shawn Michaels
This was a Battle of the World Tag Team Champions and my god did they deliver. Much like Batista and Undertaker these two simply did not have bad matches against one another. They put on another clinic here. It was amazingly good and somehow they would top it later in the year. Shawn always delivered obviously but watching Cena back always impresses me. Great main event and a hell of a deal. 4-8
Winner: Cena retained after an STFU.
Cena went for the handshake but Shawn walked off. Cena saluted him anyway.
Final Tally? 4-8 Not quite as good as the previous year but that stuff you expected to deliver did so in spades. The two championship matches are stuff you should seek out for sure.
All Images Available at WWE.com
Follow me right here.
Yeah please support and hit up our store!