Let's go back to a time where Edge was dominating the main event scene. Wait.
February 20, 2011
Oakland, California
Commentators: Michael Cole, Josh Matthews and Booker T
Alberto Del Rio (w/ Ricardo Rodriguez) v Intercontinental Champion Kofi Kingston
This match was all about getting Alberto over as he was the Rumble winner getting a title match at Mania. Kofi looked great and as usual was very over but the thought of having the Intercontinental Champion being enhancement talent rubs me the wrong way. The Intercontinental Title was just an afterthought here and as one of the more important belts I feel it should have been protected more. A man beating the champion and not caring about the belt is ridiculous. 0-1
Winner: Alberto made Kofi tap to the cross arm-breaker.
Randy Orton is standing backstage…riveting television.
Todd Grisham interviews World Heavyweight Champion Edge about his Chamber match tonight until he is interrupted by a Drew McIntyre that hadn't quite learned to cut a promo yet.
Promo for the Elimination Chamber match itself.
World Heavyweight Championship Elimination Chamber: Rey Mysterio v (C) Edge v Wade Barrett v Kane v Drew McIntyre v Big Show
Apparently Dolph Ziggler was supposed to be in this match but was fired on screen before the PPV and replaced by the Big Show which changed the dynamic. This was a solid mix of new faces and established veterans in this contest. Everyone seemed to do what they needed to do and did it well. Edge became only the third man in the history of the chamber match to walk out with the championship which made him look great and like a world beater heading into WrestleMania. Unfortunately Edge was only a little over a month away from learning he had to retire so this was bittersweet in retrospect. Luckily that had a happy ending. 1-2
Winner: Edge after pinning Rey with a spear.
Alberto attacks Edge after the match with the cross arm-breaker until a returning Christian makes the save to a monster crowd reaction. Alberto paid the price after getting hit with both the Killswitch and the spear.
As always, don't try this at home.
Jerry Lawler is interviewed by Matt Striker about his WWE Championship match later in the evening. Jerry cut a masterful promo about both losing his mother the week before and never being WWE Champion or competing at WrestleMania. If you didn't pull for him after this you have no heart. I mean, unless you believe the accusations and stuff.
Michael Cole of course ruins the moment because we can't have nice things as fans during this time period without them being immediately crapped on.
We waste some time as Booker heads to the ring to hype the new season of Tough Enough and shockingly Michael Cole tries to ruin that as well. Luckily Booker introduces fellow trainer brunette Trish Stratus with the new hair color somehow making her more attractive…just not hot enough to save this garbage segment. The segment itself would have been bad enough but Cole trashing everything and everyone all the time was really wearing on me at this point and now.
Promo for the HHH award winning film The Chaperone, co-starring that supposed nerdy girl from Modern Family. If you haven't seen it run out and get it…or don't. I wouldn't.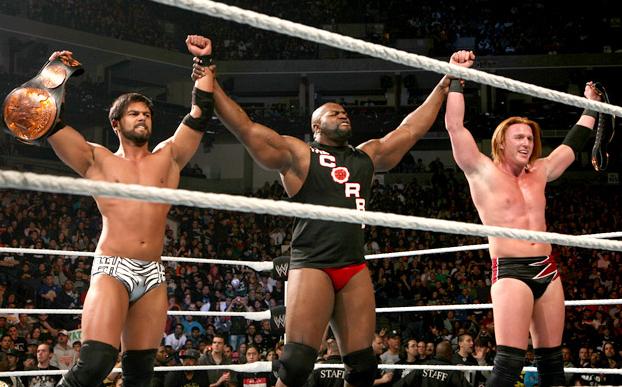 WWE Tag Team Championship: (C) Vladimir Koslov/Santino Marrella (w/ Tamina) v The Corre (Heath Slater/Justin Gabriel w/ Ezekiel Jackson)
This was kind of sad for me personally because I was in the oddly named KFC YUM! Center when Koslov and Santino won the championships. Really this was just a glorified squash match and a short one at that. I learned one thing watching this. If Josh Matthews is the best commentator? It makes for a long night. 1-3
Winners: Gabriel picks up the win after a 450 splash.
Todd Grisham is with WWE Champion Miz and Alex Riley discussing the end of Jerry Lawler's dreams tonight. Meanwhile Michael Cole won't shut his stupid mouth. Dude seriously wasn't getting the right kind of heat.
Vickie Guerrero comes out to thunderous boos to beg for the rehiring of Dolph Ziggler. Teddy Long says he did make one re-hire but it wasn't Dolph it was Kelly Kelly who had been feuding with Vickie. Kelly tries to beat up Vickie but was stopped by LayCool. Trish returns to make the save and ends up hitting the worst hand stand rana in recorded history. The faces then celebrated after the heels took a powder.
Recap of the troubles between Miz and Lawler.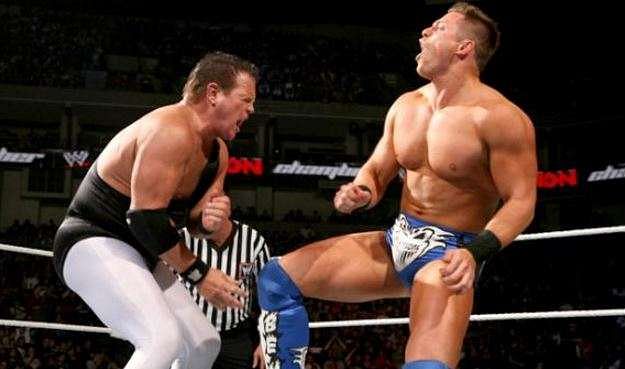 WWE Championship: (C) Miz (w/ Alex Riley) v Jerry "The King" Lawler
This match in the ring hit every button that a great professional wrestling match is supposed to hit. The crowd was into every single thing these two men did and Lawler is a master at crowd psychology. The crowd was molten hot for Jerry to win the championship and the outside interference and distractions from Alex (who got booted) and Michael Cole only had the crowd cheering him harder. If you are looking for a match that has a million high spots this isn't for you, but if you like two guys fighting it out for pride and a prize this has it all. 2-4
Winner: Miz picks up the win after the Skull Crushing Finale.
Cole and Miz celebrate and then Jerry gets to soak up some well-deserved cheers.
Todd Grisham tries to interview a Fruity Pebbles eating John Cena about tonight's match. The phrase "Yabba Dabba Delicious" is said and sums it up nicely.
Matt Striker interviews the always awesome CM Punk about tonight.
Recap of the Smackdown Elimination Chamber.
Elimination Chamber/ WWE Championship #1 Contender: King Sheamus v John Morrison v Randy Orton v John Cena v R-Truth v CM Punk
Poor R-Truth was eliminated first again this year but this time due to a technicality. CM Punk's pod got stuck leading to him getting killed with an RKO immediately; however the anonymous RAW General Manager deemed this unfair and re-entered Punk back into the match. So it didn't count and Truth has to eat crap. This was a very well put together match. Morrison and Sheamus tried to beat each other to death, R-Truth was cannon fodder and Punk and Cena played good versus evil. This match also set up the main event to the only WrestleMania I've personally been to in Atlanta. It was not well received. Match was good though. 3-5
Winner: John Cena after hitting Punk with an Attitude Adjustment on the exterior grate.
Final Tally? 3-5 This pay per view had its moments but the commentary by Michael Cole really brought down any positivity the show might have had and the Chamber matches, while good, lacked any real drama. 2011 was a weird time.
All Images Available at WWE.com
Follow me right here.
Yeah please support and hit up our store!