THIRTY damn years ago? I hate it here.
1/19/91
Miami, Florida
Commentary: Gorilla and Hot Rod
You have to admit. When Vince ran down a card? That man SOLD that shit.
Gorilla and Piper welcome us. Roddy is hyped up.
The Rockers v The Orient Express (w/Fuji)
The New Orient Express was always the better version. Just a great tag match. The Rockers were at their best right as they were about to flame out as a team and that's kind of sad. I guess not as much as for Shawn as it was Marty. These two teams killed it out there and got this show off to a really fun start. 1-1
Winner: Marty won for his team with a sunset flip on Tanaka.
Mooney is with Savage. He wants to be the number one contender. Sarge committed already and Warrior soon will.
Gene is with Sherri who calls out the Warrior. Ohhh she called him yellow. Warrior responds in his sweet leather USA Flag jacket. I suppose Warrior turning down Savage's request for a title shot was supposed to be a babyface move but I'll be damned if I know why. Sherri did her best though via sexy talk. Warrior was something else.
Savage lost his shit at that response. He should. The man is royalty, where does Warrior get off? Apparently not with Sherri… ahem.
Big Boss Man v The Barbarian (w/The Brain)
The was hosstastic. Both of these dudes busted ass out there. Not a lot of laying around stuff out there. The Brain was great as usual, Barbarian was really fun in this era and babyface Boss Man was always on if my favorites. Hell yeah I liked it. 2-2
Winner: Boss Man wins by rolling through on a crossbody.
Mooney is with Slaughter and Adnan. Apparently Iraq is great and America not so much. Sarge will be our new leader tonight.
Gene is with the champ. I like the purple belt on the Warrior. He says a bunch of weird Warrior type shit.
WWE Championship: The Ultimate Warrior v Sgt. Slaughter
The Ultimate Warrior had very few great singles matches, or matches in general. This was not one of those matches. This was also not the Sarge of 1981 so he had lost some significant speed off of his fastball. The most exciting stuff in the entire match was the Savage interference. Not a great end for the Warrior's reign. 2-3
Winner: Sarge got the title with copious amounts of help from the Macho King.
The announce team is livid.
WrestleMania is coming to the LA Coliseum! Over 100,000 people! I mean, unless there is a bomb scare! But what are the odds of that?
Koko B. Ware v The Mountie (w/Jimmy Hart)
This was big trash. I love Koko but the Mountie was never a guy I enjoyed watching in the ring in any way shape or form. Love the character though. Too bad that didn't help the match any. 2-4
Winner: The Mountie won with what looked like a bootleg Boss Man slam.
Savage and Sherri are still crazy. Mooney seemed uncomfortable. Uh oh, the Warrior is knocking and Savage is running.
Gorilla and Piper are still mad about the title match.
Gene is with the new Champ and Adnan. He yells a lot and wants respect. Adnan is going nuts.
Jesus the announcers are big mad.
We have positive messages from the fans to the troops.
Say what you want but they seemed sincere about supporting the armed forces even up to today.
RUMBLE PROMOS!
Jake Roberts is amazing and looking for the Model.
Earthquake and Jimmy are ready. Earthquake has something special for Hogan.
The Hammer looks the same age.
Tornado seems confused but still works in a weather forecast.
LOD scream angry shit as per usual.
Brother Love and the Undertaker are going to bury the other competitors.
Hacksaw is confident. I guess. He's a weirdo.
The Model is handsome and ready for Jake.
The Bulldog is winning and is GLAD HE'S A BULLDOG! Also BIZARRE!!!!!
Mr. Perfect and the Brain are obviously amazing.
Tugboat is ready for it to come down between him and Hulk.
Piper is still hyped. He had lunch with Virgil today apparently. I bet it was Olive Garden.
Mooney is with Dibiase and Virgil. God Ted was a great scumbag. You just WANTED Virgil to murder him.
Dusty/Dustin Rhodes v Ted Dibiase/Virgil
I love 3 out of these 4 guys but this just didn't hit the mark for me. Dusty was on his way out soon and the way he looked out there we could all see it coming. Just not a fun match for me to watch. Can't win them all I guess. 2-5
Winner: Dibiase got the win for his team by pinning Dusty.
Now the REAL point of this match. Virgil after being taken advantage of for years and years finally turns on Dibiase. This was almost worth a point on its own. The place, and Piper just went ballistic. This is a moment that still stands up.
Gene is with the Hulkster. He dedicated the match to the troops. So you can guess the winner right there. Gene gets an update that Slaughter just defaced the flag. I'm sure he will tell how on the hotline. That made Hogan all pissed off.
Royal Rumble:
My enjoyment of this is based almost fully off nostalgia. There were a lot of guys in there at times and nothing really memorable was happening. That led to several slow spots. Also the lack of real viable winners hampered it quite a bit as well. Even as a kid I wasn't buying Texas Tornado walking out the winner. The main highlights were the Model's record setting (at the time) performance and Luke setting his funnier record that lasted for years. Otherwise it was just ok. Still, it's a Rumble so I'm all about it. 3-6
Winner: Hulkamania ran wild after last eliminating Earthquake. For America.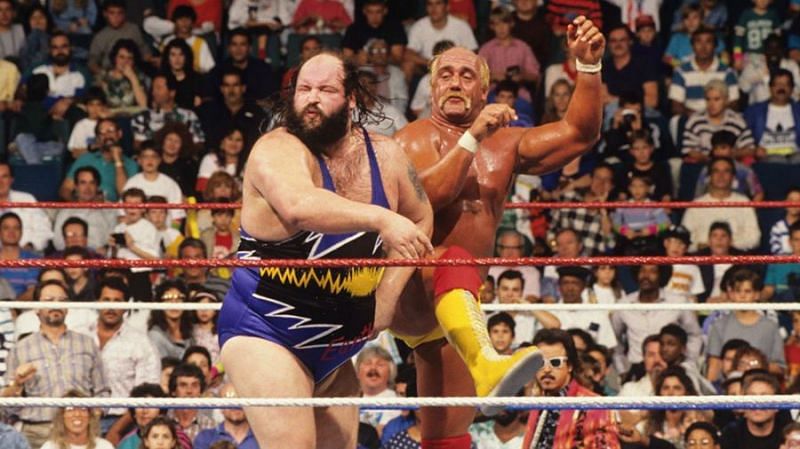 Overall Thoughts: 3-6 The stuff that was fun was really fun and the stuff that didn't deliver didn't crush my soul or anything. Recommended if you are an old codger like myself.
Follow me right here.
All Images Available at WWE.com
If you like what we do and want to help keep this site running, hit up our store right here. We can use all the support that we can get.