The more I watch these the older I feel.
1/21/01
New Orleans, Louisiana
Commentary: JR and The King
Tag Team Championship: (C) Edge & Christian v The Dudley Boyz
Less than ten minutes and every bit of it was entertaining. Two of the greatest tag teams in history just doing what they did to the tunes of a hot crowd. Hell of an opener. 1-1
Winner: The Dudleys won the titles with a 3D.
Drew Carey is here. I care now just as much as I did then. This guy is in the Hall of Fame folks.
HHH and Stephanie discuss the Championship match for tonight. Stephanie's wooden acting really kills this bit. Hall of Famer Drew Carey arrives and the best actress nominee Stephanie cons him into visiting Trish.
The APA hangs out comparing Rumble numbers in their office. Crash breaks in and sort of threatens them as only a man of his stature could. They did not seem intimidated.
Intercontinental Championship/ Ladder match: (C) Chris Benoit v Chris Jericho
The awkwardness I feel about Benoit matches is now amplified by my increasing dislike for Jericho. Regardless this match was, and is a classic that told a completely different story from the other ladder matches of the time. Still great. 2-2
Winner: Jericho retrieves the belt for his third of like a hundred Intercontinental Championships.
Vince talks Drew into entering the Rumble to promote his upcoming improv show. I guess that's what he gets for trying to hit on another man's young mistress. I'm sure there is a message in the somewhere but I'll be damned if I can find it.
Billy Gunn tries to talk Chyna out of her match with Ivory tonight but she is having none of that.
Jericho is happy to have won the title and that he doesn't have to wear a mask probably.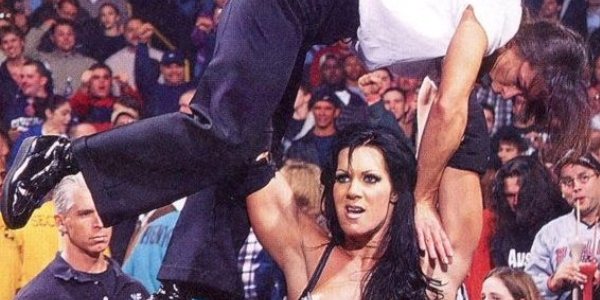 Women's Championship: (C) Ivory (w/Stevie Richards) v Chyna
This was completely and totally junk. You could tell Chyna wasn't into this at all and the performance bore that out. Everything about this stunk. 2-3
Winner: Ivory retained after Chyna's "injury". That handspring elbow that led to the finish was just sooooo bad.
They bring out medical personnel to check on her. Blah.
Steph and Trish have an acting competition and we all win.
Drew meets Kane. I hate this. Dude simply did not show the slightest bit of giving a fuck.
Vince tells Tiger and Lo-Down that they are being replaced by Hall of Fame member and guy clearly not taking this seriously Drew Carey. A curry joke is made by Tiger.
The fans pick the winners for the title match.
HHH intimidates a mirror via acting.
WWE Championship: HHH (w/Stephanie) v (C) Kurt Angle (w/Trish Stratus)
Another really good one. Angle learned how to be great far quicker than should have been expected. Meanwhile, HHH was as good as anyone had ever been during this phase. The women brawling and the inclusion of Austin actually helped add a bit of zing to this for me. I dug this. 3-4
Winner: Angle retains after a Stone Cold Stunner. Him playing third fiddle wasn't great but for his experience level it makes sense.
The Rock is ready for whoever and doesn't care about Kane and the Undertaker. Rock was on a roll.
Royal Rumble
The middle portion was a little slow but the last half of this match was great. Kane did a really good job for a man of his size tying most of this match together and was rewarded for it with what was then a record amount eliminations and a runner up finish. At the time this seemed like Austin or Rock's to win and in retrospect this was the beginning of the end of the greatest babyface run in history. Good stuff. 4-5
Winner: Austin won his third and final Rumble by murdering Kane with a chair after bleeding for twenty minutes.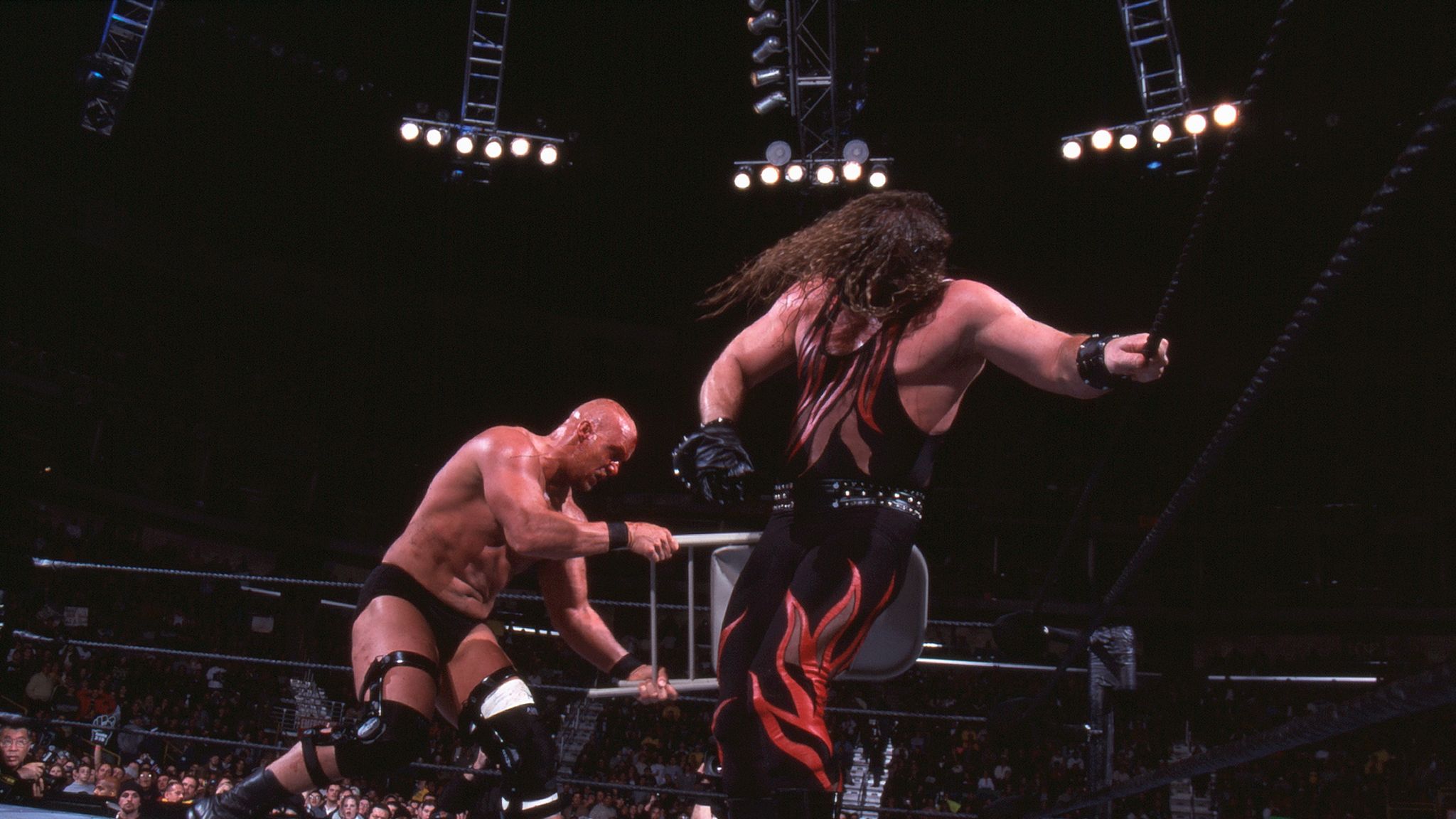 Overall Thoughts: 4-5 Phenomenal show. The only thing that didn't get a pound was more of an angle than a match. 2001 was one of my favorite years and this show kicked it off with a bang.
Follow me right here.
All Images Available at WWE.com
If you like what we do and want to help keep this site running, hit up our store right here. We can use all the support that we can get.