A stolen leg is probably the highlight here.
April 28, 1996
Omaha, Nebraska
Commentators: Vince and The King
We visit with Jake first and he is bringing the snake with him. Clarence Mason and Jim Cornette have a court order to keep it away but Jake tears it up and pulls the snake out to fight the law. Cornette faints and I'm not sure why Jake made such a big deal because he takes the thing to the back anyway. Jake does show some sense by bringing Ahmed out as his partner though.
Owen Hart/British Bulldog (w/Cornette and Mason) v Jake Roberts/Ahmed Johnson
Everyone on the match not named Jake looks like a million dollars. Jake looks winded just thinking of the word cardio. Ahmed (who not surprisingly has an injury taped up) would have been a major star had he not been made of glass. Even with Owen in there this match wasn't anything to write home about. 0-1
Winner: Owen and Bulldog after Jake taps out to a kneebar after a racket shot. 
Marc Mero and Sable are on the Superstar Line. I'm sure that was riveting.
Marlena and Goldust had screwed around with the Warrior setting this next cluster up.
Intercontinental Championship: (C) Goldust (w/Marlena and Mantaur in a suit) v The Ultimate Warrior
This wasn't even a match. The 1996 crowd doesn't let me down in being trash though with a chant that I won't repeat here towards Goldust. The two highlights of this "match" were the Warrior's always awesome music and some dude in the crowd rocking a Jerry Stackhouse jersey. Warrior shouldn't be trying comedy and they shouldn't have tried this match. 0-2
Winner: Warrior wins via Goldust taking a hike. 
After the match Warrior beats up poor Mantaur and killing that deal right out of the gate. 
Dok is backstage where Bulldog is throwing a fit and starting the crappy ass Diana/Shawn angle. 
We recap Vader injuring Yokozuna.
Vader (w/Jim Cornette) v Razor Ramon
Razor was on his way out so the result wasn't much in doubt here. Best match so far of the night because both dudes got their shit in and delivered on a solid (if a bit slow at times) match. I miss WWE Razor. Glad he finally turned his life around. Good enough for a point, especially considering the junk before it. 1-3
Winner: Vader gets him with a butt splash. Razor goes out to a non finisher.  
Vader vs Yoko is announced for the next In Your House. Cornette is not happy. 
Paul and Taker are on the line.
Buy a WWF hat and Polo! For $40? Nah.
Tag Team Championships: (C) The Bodydonnas (w/Sunny) v The Godwins (w/Hillbilly Jim)
This was a solid tag match. Nothing really stood out except for 1996 Sunny. The fact that this card is so bad that even this bland ass match didn't hurt my feelings and makes it worth a point gives you an idea of how much I'm not digging the entire presentation. This gets a point for Sunny only. 2-4
Winner: The Donnas after a small package and some Sunny Shenanigans.
In Your House commercial.
Dok interviews Mero about HHH and that isn't anything people would care about.
A recap of the Free for All.
We recap the Shawn and Diesel story.
No Hold's Barred for the WWE Championship: (C) Shawn Michaels (w/Jose Lothario) v Diesel
Tweener Diesel was the god damned GOAT. Not quite as great as I remember but still a damn good fight. Shawn (and this isn't a hot take) would have been way better off being a cocky dickhead than the watered down version that he was during most of his title reign. Both guys busted ass and really tried their best to save this abortion of a show. Diesel did some great work on his way out of the company. Brother stole the leg of Mad Dog Vachon for God's sake. Kevin Nash is a saint. 3-5
Winner: Shawn after some leg shenanigans and Sweet Chin Music.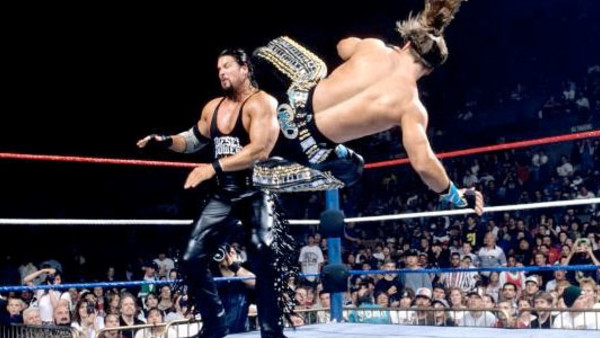 Final Tally? 3-5 I know technically that's not a bad score but I can't tell you how much I didn't like this show. Honestly it could have been 1-5 and I wouldn't argue about it. Check out the main event and ignore the rest of this crap.
All Images Available at WWE.com
Follow me right here.
Yeah please support and hit up our store!