So I guess since "the end" is Sunday so let's go back to the beginning of The Undertaker.
11/22/90
Hartford, Connecticut
Commentary: Gorilla and Roddy
I love Vince doing the old school announcements. Plus a run down of the card always makes me happy.
Quick note, this is probably the Survivor Series I have seen the most (Well, this or 89) due to it being in my Mom's video store run. I might be easier on this than other shows.
They hype the ridiculous egg immediately.
Gene is with the Warriors. They aren't as coked up as you would guess, at least until the Warrior speaks. The white WWF title was sweet as hell though. Probably because it was made from pure cocaine.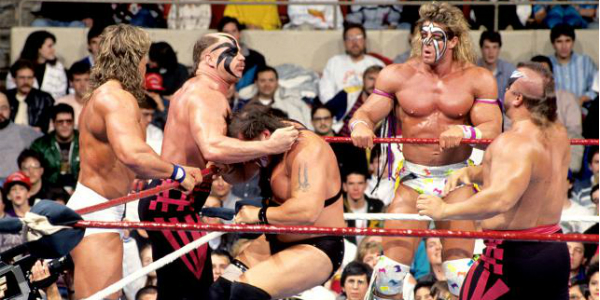 The Perfect Team (Captain Mr. Perfect/Demolition w/ Mr. Fuji/Brain) v The Warriors (Captain WWF Champ Ultimate Warrior/ IC Champ Texas Tornado/LOD)
It didn't overstay it's welcome, the fans were hype for it and it tied together multiple feuds. Unsurprisingly I dug it. Perfect and Brain bumped enough for ten men and everyone else did what needed to be done. Hell yeah. 1-1
Order of Elimination: Ax/ LOD and Demolition/Tornado/Perfect
Survivor: The Ultimate Warrior after the big splash on Perfect.
Mooney is with the Million Dollar Team who is still missing their Mystery Partner.
The Dream Team (Captain Dusty Rhodes/WWF Tag Champions The Hart Foundation/Koko B Ware) v The Million Dollar Team (Captain Ted Dibiase/Rythm & Blues/ The Undertaker w/Jimmy/Virgil and Brother Love)
Dusty not in polka dots and Bret dedicating the match to Dean Hart are both memorable moments before we get to the BIG moment of the Undertaker's debut. The crowd really wasn't sure how to feel about it. Another match that told a great story though and made two singles stars, one quicker than the other but still. 2-2
Order of Elimination: Koko/Honky/Anvil/Dusty/Taker/Hammer/Bret
Survivor: Ted Dibiase after a roll through.
Warrior v Dibiase on the Main Event tomorrow on NBC!
Gene is with the Vipers. Multiple drug addicts and a murderer… allegedly. Jake still had the weird fake blind eye but luckily still did all the talking.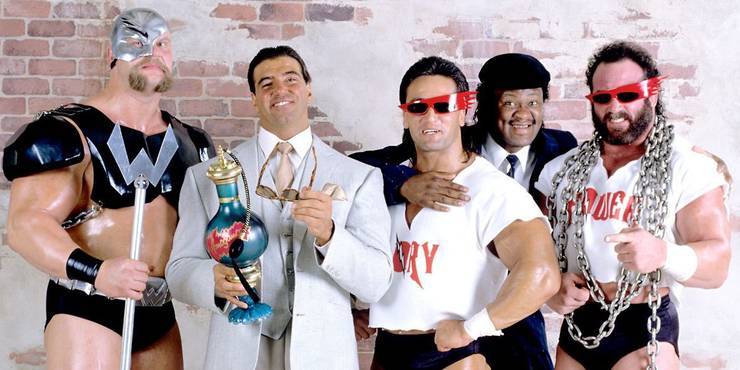 The Visionaries (Captain Rick Martel/Warlord/Power & Glory w/Slick) v The Vipers (Captain Jake Roberts/Jimmy Snuka/The Rockers)
Another one where I swore I would hate it but they tied it together enough where I enjoyed it. Plus any match where Power and Glory get to kill a fool with the Power Plex I'm giving a point. 3-3
Order of Elimination: Jannetty/Snuka/Michaels/Jake
Survivors: The Visionaries after shenanigans by the Model.
Royal Rumble promo. Go watch it and stuff! Jesus 1991? I hate it here.
The Hulkamaniacs are with Mooney. What a group of huge dudes. They love America apparently.
The Natural Disasters (Team Captain Earthquake/Dino Bravo/Haku/Barbarian w/Jimmy and the Brain) v The Hulkamaniacs (Team Captain Hulk Hogan/Big Boss Man/Tugboat/Jim Duggan)
Another decent story and nothing that totally sucked ass. I'm as shocked as you are at how much I like this show. Remember when shows actually kept a story going? Much less MULTIPLE? 4-4
Order of Elimination: Haku/Duggan/Bravo/Boss Man/Earthquake and Tugboat/Barbarian
Survivor: The Hulkster after the usual on Barb. Then he attacked a non wrestling manager like a bully.
Gene is with the Macho King y'all. He drops a bunch of truth bombs about the Warrior and proves how awesome he is just because he can.
Gene is with The Mercenaries. Slaughter liked Iraq and stuff. Eh.
The Alliance (Team Captain Nikolai Volkoff/Tito Santana/The Bushwackers) v The Mercenaries (Team Captain Sgt. Slaughter/Boris Zhukov/The Orient Express w/General Adnan and Mr. Fuji)
Woof. This sucked hard. This was the kind of shit people complained about with the Survivor Series and early 90s WWF. I mean, good for Tito but still. 4-5
Order of Elimination: Boris/Kato/Tanaka/Volkoff/Luke/Butch/Slaughter
Survivor: Tito after some Adnan interference.
Mooney is with Dibiase and the Visionaries. Ted is offering a lot of money to survive this thing.
Dibiase v Warrior tomorrow on the Main Event.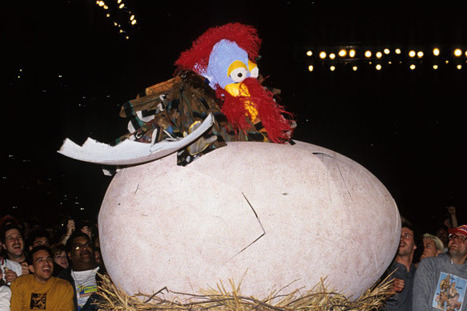 Gene is with the egg. The Gobbledy Gooker arrives and the crowd boos. We get some dancing and the heart of an audience dies.
Mooney is with Warrior, Hulk and Tito. Unsurprisingly Hogan gets to talk that shit. What a weird ass promo.
The Visionaries/Ted Dibiase v The Ultimate Warrior/Hulk Hogan/Tito Santana
Hell yeah man. Just a reason to put over Hogan and Warrior that accomplished it's goal. Wrestling is weird but totally works sometimes. I'm with it. 5-6
Order of Elimination: Warlord/Tito/Roma/Model/Dibiase/Hercules
Survivor: Warrior and Hogan after the big Warrior splash on Herc.
Final Tally? 5-6 This was a really fun trip down memory lane. If you are looking for amazing workrate it may not be your thing but if you like watching bunches of stories being tied together by legit stars this is for you.
All Images Available at WWE.com
Follow me right here.