We are back with some more In Your House action. 
Sunny in a bikini welcomes us. Teenage me was very appreciative.
February 18, 1996
Louisville, Kentucky
Commentators: The King and Vince.
Crybaby Match: Razor Ramon v The Kid (w/ Ted Dibiase)
So the winner got to diaper and feed the loser. Yep. Heel kid needed a beard because he still loked nine years old. He also had an ugly frog splash. Some miscues in the middle but otherwise alright. 1-1
Winner: Razor after a couple of Edge's.
Kid gets the bottle and diaper treatment after the match. Ted tries to help out but failed. The Corporation sucked, maybe one of the worst factions ever.
Ray and Sunny were on the Superstar line until Jake scared Sunny with his snake. Make your own jokes.
Todd is with Duke and the brother is all pissed about a haircut HHH gave him.
HHH (w/Random Lady) v Duke Droese
Kings creepy advances toward this lady is on brand. Started hot but slowed WAY down.  1-2
Winner: HHH with a trashcan lid.
Todd out here selling Undertaker sweatshirts for $29.95 30 years ago. Jesus.
Recap of Raw with Yoko turning face.
Dok with Yoko. Yoko cuts an intense promo. Camp Cornette may be fucked.
British Bulldog (w/Jim Cornette) v Yokozuna
Not too shabby. Yokozuna looked motivated as hell as a babyface. 2-3
Winner: Yokozuna after a Cornette racket shot led to a DQ.
Vader saves Cornette from Yoko's retaliation. They cuff Yoko and beat him down for a long time. Like, time wasting long. Yoko keeps fighting back for a while but the damn numbers game got him.
Goldust and Marlena (yowsa) joined in on AOL chat.
Shawn and Owen recap. Shawn had post concussion syndrome, which proves again they knew this shit was bad.
Shawn joins Todd and he looks exhausted man.
Shawn then dances awkwardly on the roof of the fake house and swings down for his entrance.
WrestleMania title shot on the line: Owen Hart (w/Jim Cornette) v Shawn Michaels
Vince shocked the hell out of me by actually calling a Frankensteiner. Hell of a match story etc.. Both dudes can put on a clinic like this in their sleep. Unsurprisingly this was really good stuff. 3-4
Winner: Shawn with Sweet Chin Music.
Shawn dances terribly with a kid afterwards.
Todd is with President Piper. He wastes time and makes announcements while the cage is put up. Shawn vs the champ at Mania. Yoko v Vader, but that changed. Cornette and Clarence Mason arrive. They shout back and forth for a bit. Eh. Some of this Piper stuff is kind of awkward watching back.
WWE Championship/Steel Cage: Diesel v (C) Bret Hart
This was a really good escape the cage rules match. Kevin Nash was on fire before he left the Fed. Also these two guys had good chemistry all the time as it was. Another super solid match in a night mostly full of them. 4-5
Winner: Bret escapes while The Undertaker pulls Diesel under the ring and in to hell or whatever.
Diesel then manages to escape while the Undertaker stands tall to end the show.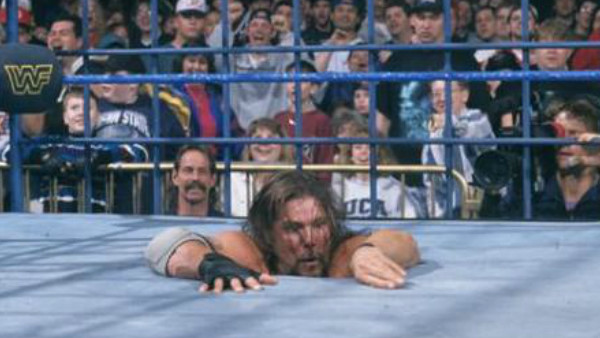 Final Tally? 4-5 This was fun stuff overall with only one stinker in the bunch. I'm glad the Diesel Era of In Your House was going out better than when it came in. Funny how not putting a brother against Sid every month leads to better matches.
All Images Available at WWE.com
Follow me right here.
Yeah please support and hit up our store!