The big return of Backlash after some time off.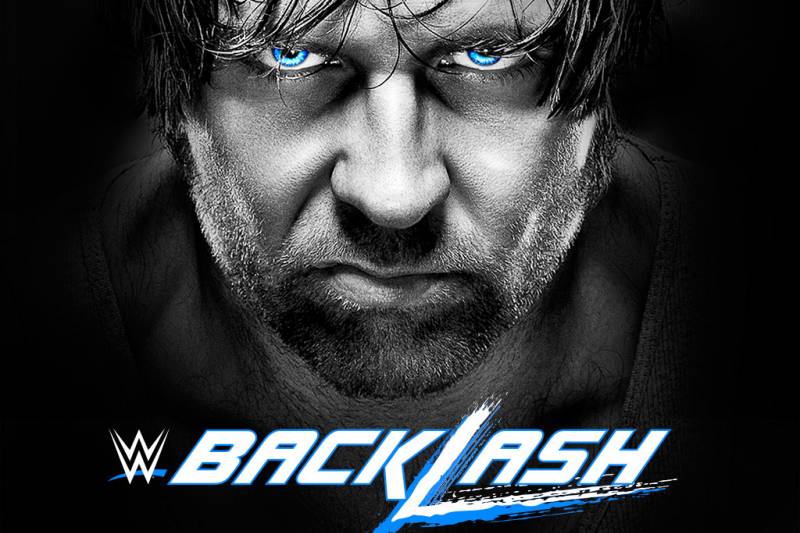 September 11, 2016
Richmond, Virginia
Commentators: Mauro Ronallo, JBL and David Otunga
This was the first PPV under the NEW brand extension (at that point), the first Backlash in seven years and was Smackdown only.
The Show opens with a tribute to 9/11 and an introduction from Shane McMahon and the extremely popular Daniel Bryan to welcome us to the show.
6-Pack Elimination/WWE Smackdown Women's Championship: Becky Lynch v Natalya v Naomi v Alexa Bliss v Carmella v Nikki Bella
This wasfor the honor of being the very first Smackdown Women's champ. You could tell a major difference in the way the women were treated on this night as opposed to the older Backlash events. They were given time to show what they could do and get over with the audience and they accomplished both. Everyone played their parts well and they told a good story inside the ring. Natalya was the only woman in the match that was a part of the older Backlash events and still kept up. Kudos to the ladies and WWE for figuring out that they could pull this off finally. Becky was the right person to be the first champion and got a loud ovation when it happened. I never imagined they would eventually let her main event WrestleMania though. 1-1
Winner: Becky made Carmella tap out to the DisArmHer.
Randy was jumped in the back by Bray Wyatt before their match later tonight.
Second Chance/WWE Smackdown Tag Team Championship Tournament: The Usos  v The Hype Bros (Zack Ryder/Mojo Rawley)
This was an odd booking choice in general. The Usos had turned heel after losing to American Alpha by injuring Chad Gable's knee and taking them out of the tournament. Somehow they were rewarded by a spot in this match instead of being suspended in the story. Aside from that, the heel Usos were instantly more over and entertaining as bad guys and were definitely the right team to head into the Championship round. The Usos rule when they can keep out of trouble. Poor Mojo and Zack didn't get a happy ending.2-2 
Winner: Jimmy made Zack tap to the Tequila Sunrise crab.
Miz tries to hold Daniel Bryan up for a better contract before the Intercontinental Championship match.
Intercontinental Championship: (C) The Miz (w/Maryse) vs Dolph Ziggler
These two have wrestled 1000 times and all of them are average to good. This match was no exception. Dolph came in trying to prove he wasn't a loser and Maryse made sure he came up short on that point. Miz is an excellent scumbag and infinitely more interesting with Maryse by his side. No matter the situation, Miz was the best heel in the business when he was on his game. 3-3
Winner: Miz wins after a Skull Crushing Finale and hair spray to the eyes.
On the Kick-Off Show Baron Corbin pinned Apollo Crews with the End of Days. Poor Apollo.
Bray Wyatt v Randy Orton
Randy being attacked earlier kept one of the more anticipated matches on the card from happening. Bray of course pulled the dick move of still wanting to be announced as the winner. Of course no good deed goes unpunished and a replacement opponent was named.
Winner: Bray by forfeit.
No Holds Barred: Bray Wyatt v Kane
These two have wrestled 1000 times and all of them are bad to boring. This match was no exception (I wish I didn't have to keep saying the same variation of this type of thing. There are more than enough wrestlers on the roster to avoid this type of shit.). If this happened today it would be for who gets to use the red light gimmick in their Hall of Fame packages. All kidding aside these two have no chemistry together and the crowd wanted an Orton match. As much as Kane is respected and a good guy he is not as popular as Randy so the crowd wasn't as in to this as they could have been. 3-4
Winner: Kane pinned Wyatt after a choke-slam and an RKO.
AJ talks to some dorks backstage.
WWE Smackdown Tag Team Championship Finals: The Usos v Heath Slater/Rhyno
If Heath didn't win the titles he was out of a job. His partner and Congressional candidate partner saved him in a big way with this match. The Usos worked way better as heels and on the other side of the ring Heath had the entire crowd behind him. Once Rhyno hit the Gore the crowd came unglued as someone they were emotionally invested in won the big one. It's weird how telling a full story gets a reaction like that. Maybe they should try that more? 4-5
Winner: Heath pinned Jimmy after a Gore from Rhyno.
Heath dedicates the match to some of his kids and promises his wife Beulah a double wide trailer. That is all class.
WWE World Championship: (C) Dean Ambrose v AJ Styles
AJ had been in the WWE 8 months at this point and they put the Championship on him, it shows how much faith they had in that man. AJ was putting on the best matches in the world every night and got another great one out of Ambrose here. The crowd chanting "This is Awesome!" was right as these guys put on a clinic to close out the show. AJ Styles is a magician man. Ambrose never really got the same push again after this and sadly for WWE fans that led to him leaving when he got the chance. I'd say this turned out alright for both guys. 5-6
Winner: AJ pinned Ambrose after a low blow and the Styles Clash.
Overall Thoughts: This was a fine introduction to the new brand extension shows. Unlike the Backlash events of the past this was on the WWE Network and not completely reliant on PPV buys to make a successful show. There was very little downtime, and only one match that didn't advance the story-lines. Good show and a great way to relaunch the Backlash name.
Follow me right here.
All Images Available at WWE.com
If you like what we do and want to help keep this site running, hit up our store right here. We can use all the support that we can get.