It's Backlash day folks. Let's get some more of these knocked out.
April 18, 2004
Commentators: Jim Ross and Jerry "The King" Lawler
Edmonton, Alberta
Shelton Benjamin v Ric Flair
Raw was legitimately trying to make a new star with Benjamin. From the moment he got to that brand he looked like a star, beating HHH more than once and just being an overall amazing athlete. Putting Shelton over here was the right thing to do to help build him as a legitimate star. In the end his charisma never caught up to his athleticism and it's a shame, because even though he is still on the roster his impact should have been way greater, even with the time off. 1-1
Winner: Shelton pins Flair after a top rope clothesline.
Coach v Tajiri
This was really the only complete waste of time on this show. Jonathan Coachman should never ever have been near a wrestling ring, or an announcer booth, or ESPN.  If you had to squeeze Tajiri on to the show they should have had him wrestle Cade and have Coach interfere. Complete waste of time and waste of Tajiri. Cade is just another in a sad line of people wrestling lost too early. 1-2
Winner: Coach gets the win with a roll up after Tajiri is punched by Garrison Cade.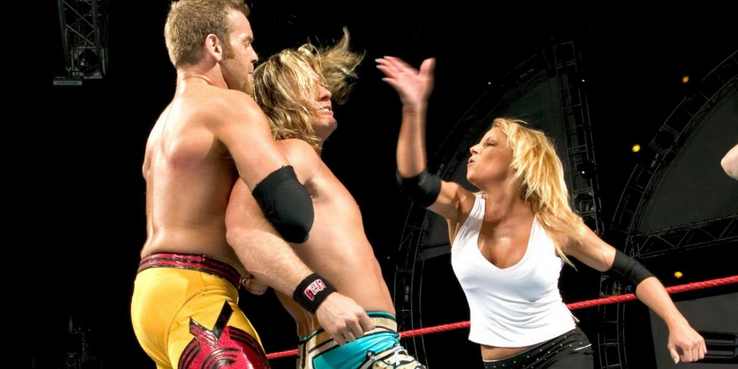 2 on 1 Handicap: Chris Jericho v Christian/Trish Stratus
This match was set up after Trish turned heel on Jericho at WrestleMania. Jericho had fallen for Trish and she went with the bad boy Christian, turning into EVIL HOT TRISH, which was always her best character. Christian looked like a star, as having Trish there was a big piece of the puzzle at the time. Match itself was pretty good and Jericho pulled out the old "spanking the bad girl" spot before he almost took Trish's head off with a clothesline. It was a fun match and was a major improvement over having Coach out there. 2-3
Winner: Jericho pins Christian with a running enzuigiri.
After the match Eugene (Eric Bischoff's nephew) who was portrayed as being slightly off, runs around the women's locker room. Hilarity ensues?
Women's Championship: (C) Victoria v Lita
Match didn't have enough time to be great (thanks Coach) but it was alright for what time they had. Both ladies managed to get most of their offense in and looked perfectly capable of going another few minutes to make this one stand out, but as they say, "Coach happens". Every time WWE pats their own back about women's wrestling I remember wasted opportunities like this. Still not bad 3-4.
Winner: Victoria pins Lita with an inside cradle.
After the match Molly Holly and Gail Kim jump both ladies.
 No Holds Barred/ Evolution banned from ringside/Intercontinental Championship: (C) Randy Orton v Mick Foley
Mick Foley himself has stated that this was his best performance and it is hard to argue with him there. Mick makes Randy into not only a star, but a badass in this one match. The barbed wire, the thumbtacks and all the other violence Mick has in these matches Randy took and looked better for doing so. The blood makes the violence all the more shocking and believable. These guys did an amazing job of making you feel like this was a fight between two people that hated each other, that's what pro wrestling is all about. Plus Mick didn't kill himself, which is always a plus. Maybe Randy's greatest match ever and still holds up. 4-5
Winner: Orton pinned Foley after an RKO on a barbed wire baseball bat.
Commercial for the John Cena Word Life DVD. I miss the Doctor man.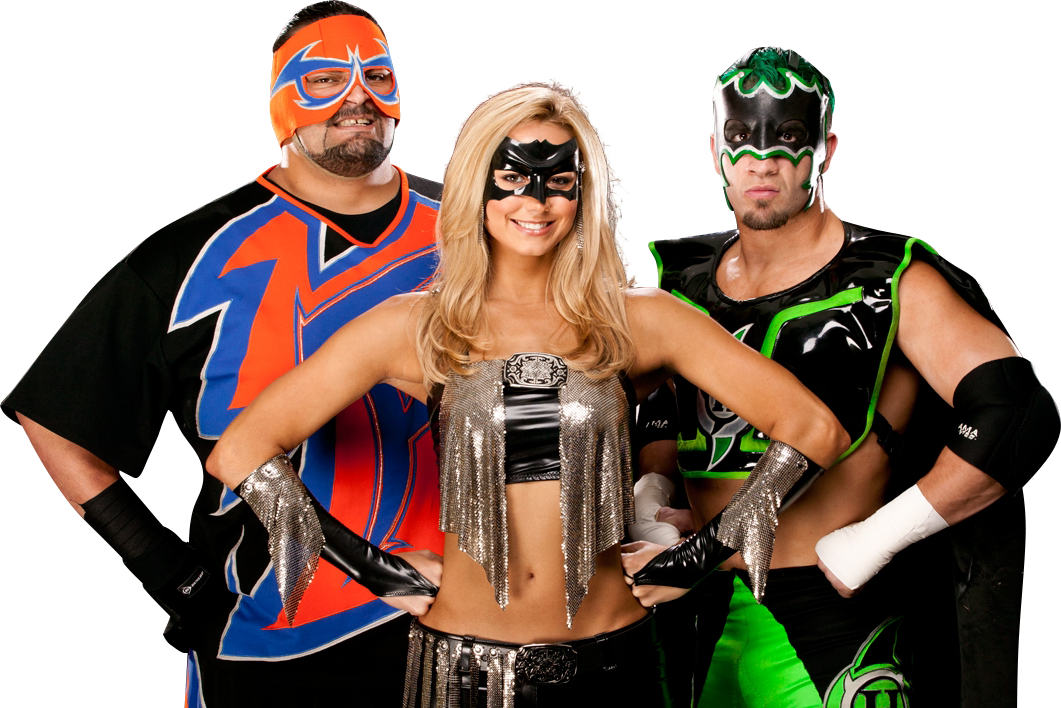 La Resistance (Rob Conway and Sylvan Grenier) v The Hurricane and Rosey
This was another excuse to get Eugene on TV. He came out during the match and wondered around and in the ring until William Regal came to get him. Match unfortunately was just a backdrop for shenanigans. Three of these guys deserved better. You figure out which three. 4-6
Winner: Hurricane pinned Conway after The Eye of the Hurricane.
Edge v Kane
This was Edge's first match on PPV after being out with an injury for 14 months. As soon as he comes back he injured himself again and had to wear a cast. He was the hot babyface they needed and looked 25-lbs of muscle heavier than when he left so of course they have to put him with Kane who had to look like a monster (and whenever the story calls for it) to justify the push he was given. Bad first feud back for Edge plus he looked rusty in the ring after a long layoff. The ending aside, the match itself was OK but the stop and go Monster push of Kane was always baffling at the time. 5-7
Winner: Edge pins Kane after a kick to the balls, shot with a cast and the spear.
Triple Threat/World Heavyweight Championship: (C) Chris Benoit v HHH v Shawn Michaels
This was a rematch from WrestleMania and it did not disappoint in any way. After wrestling for 18 years Benoit got to come back to his hometown as champion and the place exploded. The match itself was almost flawless in the story they told, and gave Benoit all the credibility in the world the way they told it. Shawn Michaels tapping to the Sharpshooter in Canada after all that went down there for him in the past was priceless. Had they done this at WrestleMania it would be remembered in the exact same light as their other classic. Amazing work from all involved, and a match of the night on any other card. Sadly… the Benoit story continued though. 6-8
Winner: Benoit made HBK tap to the Sharpshooter.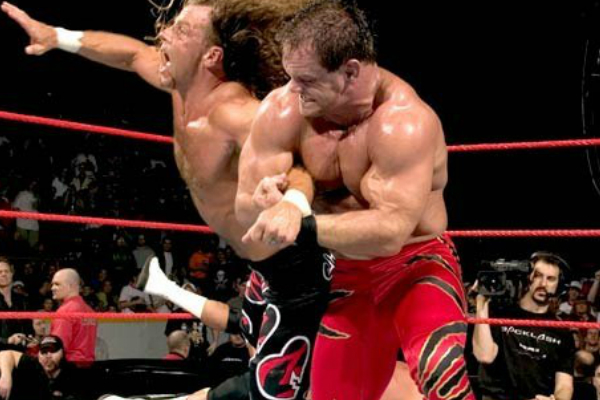 Overall Thoughts: Two young guys in Edge and Benjamin got to look pretty good. Mick Foley pulled a big match out his bag of tricks with Randy Orton doing amazing work. This PPV was awesome (except for Coach). The main event is a problem for me because when I re-watched it they showed Chris Benoit's family in the crowd and my heart broke. If you are reading this you probably know the entire story of the Benoit family tragedy and how Chris, for whatever reason, did the worst thing a person could do in murdering his wife and one of his children. Normally while watching these things I can separate the character from the person behind it but sometimes it's a hard thing for any of us to do. In 2004 when I watched this match I was so happy for Chris and what he had accomplished after seemingly being over looked for most of his career. Now when I watched it back I can't help but feel sadness, sadness for the family and children he left behind that had to live with his actions and the ultimate sadness for Nancy and little Daniel whose lives were lost on that tragic day. Wrestling is supposed to be fun, and it still is for me and I have been able to watch many Benoit matches in writing these reviews and I have been able to separate the actions from the man. Seeing his family before this one ruined it for me. God bless everyone affected by this and hopefully I won't get sad watching dudes in spandex fake fight again for a while.
Follow me right here.
All Images Available at WWE.com
If you like what we do and want to help keep this site running, hit up our store right here. We can use all the support that we can get.