Gotta get these reformatted before Sunday.
April 27, 2003
Worcester, Massachusetts
Commentators: Jonathan Coachman and Jerry "The King" Lawler (R), Michael Cole and Tazz (SD)
WWE Tag Team Championships: (C) Team Angle (Charlie Haas/Shelton Benjamin) v Los Guerreros (Eddie/Chavo Guerrero)
These are two of the best tag teams the WWE ever had and they delivered a thoroughly entertaining match here. In the end the Guerreros got beat at their own game and were out cheated for once. To make up for that insult they stole the tag title belts after the match to get even. Team Angle should have seen it coming, when your opponents theme song says "We lie, we cheat, we steal" over and over, you may want to keep all of your belongings close to you. 1-1
Winner: Haas pinned Chavo while Shelton held Chavo's leg down outside the ring.
In a recurring backstage event, we see Test hitting on Torrie Wilson and forcing a kiss on her because he saw her Playboy photos. I'm pretty sure that's not legal but I could be wrong. Professional shit stirrer Sable sees this go down and gives the impression that shit, is indeed, about to go down. WWE Sexual Harassment, Then, Now and Forever.
Sean O'Haire (w/"Rowdy" Roddy Piper) v Rikishi
Sean was brought in as a cool smooth guy that may or may not have been working for the devil, but since apparently he couldn't cut those cool promos in front of a live audience they put this badass star looking dude with old ass Roddy Piper. Piper had just returned at Wrestlemania and looked like he had the world's third largest beer gut and just soaked all the coolness out of the O'Haire character. I almost forgot Piper brought coconuts to the ring to mock Jimmy Snuka. To get revenge for that injustice, Rikishi cracked a very real and not doctored coconut over his head as revenge. Yeah this was great for everyone, and by everyone I mean no one. 1-2
Winner: O'Haire pinned Rikishi after a Widowmaker.
As the world turned, Sable told Test's girlfriend Stacey Kiebler that Torrie kissed Test. The plot thickened and got crappier and crappier.
World Tag Team Titles/Chief Morley Special Guest Referee: (C) Rob Van Dam/Kane v The Dudley Boys (Bubba Ray/D-Von)
Ah yes, Chief Morley, the worst incarnation of Val Venis ever. At this point he was working as a toady for Eric Bischoff. Eric hated the tag champions because of reasons that made no sense then or now. The Dudleys were in the process of one of their many break ups so really the winners weren't in any doubt. After the match Chief took a 3D through a table for being a dick. Blah. 1-3
Winner: RVD pinned Bubba with the 5 Star Frog Splash.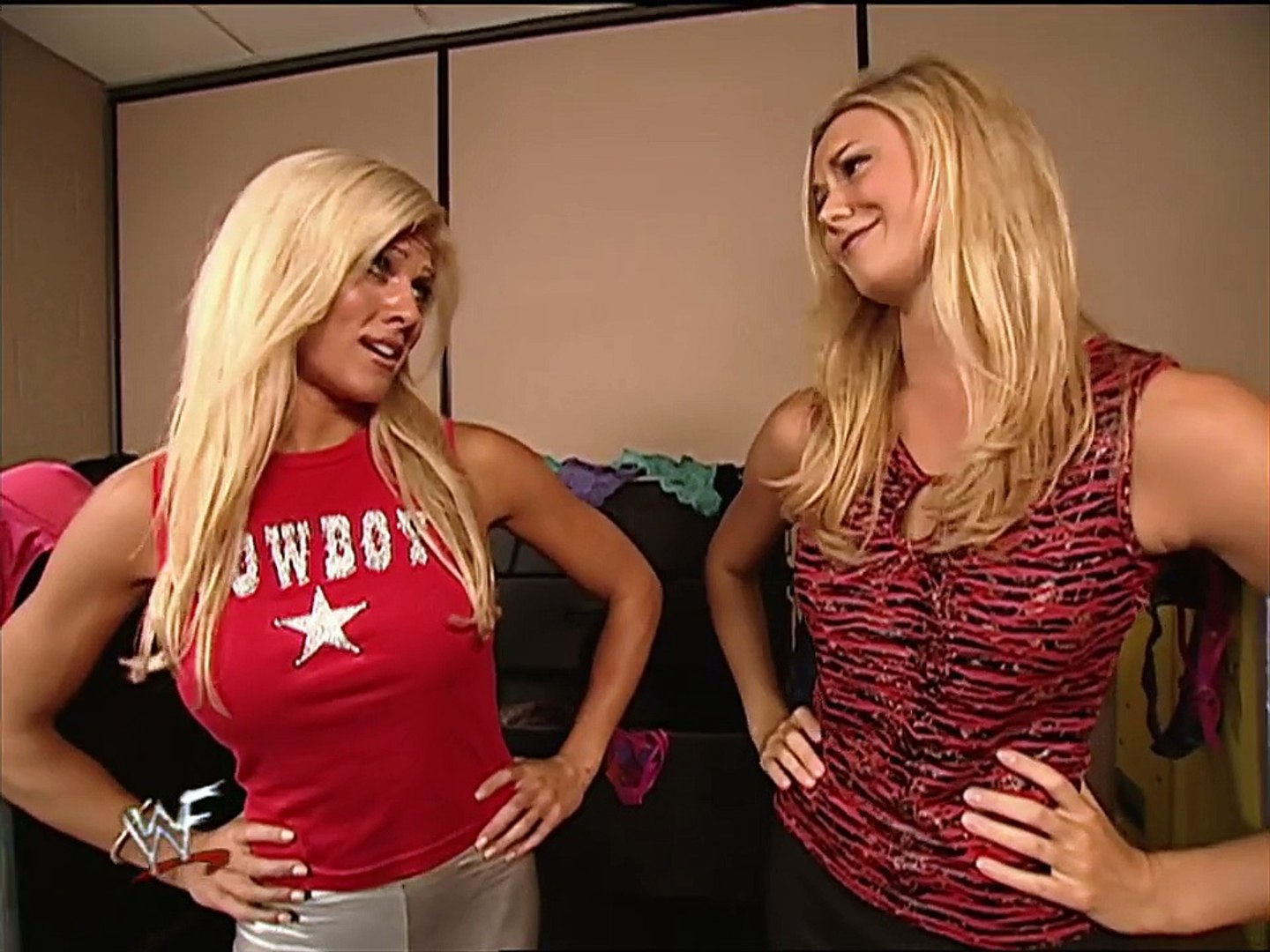 On with the real story of the night, as Stacey confronts Torrie leading to a catfight. The highlight being Ivory, who hadn't had a match on the PPV to this point and wouldn't appear at all night otherwise, breaking up the fight while wearing a towel from showering. My guess is she liked to be clean to sit in a locker room, can't say as I blame her. I know for a fact that WWE wouldn't stoop to putting half naked ladies on their shows for no reason. They are super classy that way.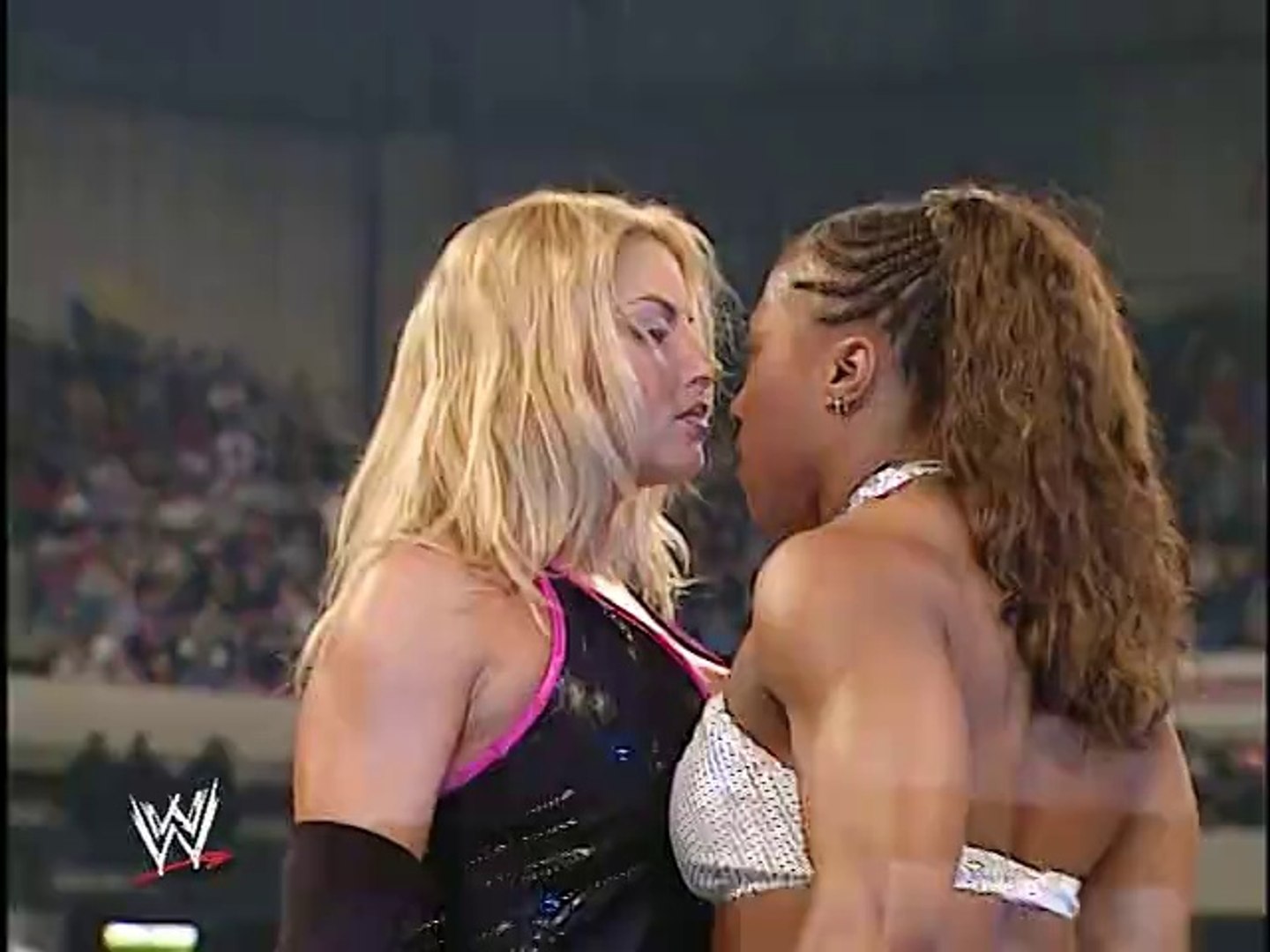 WWE Women's Championship: (C) Trish Stratus v Jazz (w/Teddy Long)
So for the second Backlash in a row Trish loses a title match to Jazz. The difference this year is that Trish looked like she could not only hang with Jazz but take her out. If not for Teddy Long throwing a shoe Austin Powers style Trish had this won. My personal highlight was learning that Jazz was a "Bitch on a mission" which sounds like a great song title. Insert generic female rapper here so I don't have to add another in later guys. Pick one. Cardi maybe? This was fine 2-4.
Winner: Jazz pins Trish while holding the rope.
Backstage HBK, Kevin Nash and Booker T have a meeting to tell us how important HHH is. He was very important you know. Especially in 2003.
Big Show v Rey Mysterio
This was about proving that Rey had the heart and ability to hang outside his weight class. He did, for a while. Rey pinning Big Show at this point would have been stupid and for once they avoided that. Rey was stretchered out after the match, lucky that big bastard didn't kill him. When Show was motivated his character was scary as fuck. Too bad they rarely pushed him that way, or when they did push him it was during a not give a shit phase. Not too shabby. 3-5
Winner: Big Show after the chokeslam.
HHH, Flair and Jericho discuss how important HHH is. He was very important you know. Still.
The real main event rolls on, as Stacey and Torrie continue their hard hitting battle until Stacey gets put down. For a second I thought I was watching Misawa vs Kobashi. Scott Steiner, ever the gentleman, picks Stacey up to carry her to the trainer only to be caught by a jealous Test! Shakespeare was a hack.
WWE Championship: (C) Brock Lesnar v John Cena
Lesnar was always a freak of nature, but Cena was still green here so they may not have gotten the match they wanted. Brock was busted open but still looked unbeatable. Cena at this point was still mostly ring entrance, and his rap about being better than Bruno turned out to be truer than what people like to think. They would have way better matches in the future, but the future sure seemed bright here. Shockingly WWE dropped the ball on neither guy. 4-6
Winner: Brock pins Cena after an F5.
6-man Tag: Chris Jericho/Ric Flair/World Heavyweight Champion HHH v Kevin Nash/Shawn Michaels/Booker T
Between these guys they have a total of fifty some odd World Titles and yet all they delivered was a RAW main event instead of a PPV worthy one. Everything on the Red Brand around this time frame revolved around HHH and this was no different. I actually love all these guys and wish it were better, but unfortunately for me it wasn't. Really all you should take away was that HHH was very important. 4-7
Winner: HHH pins Nash after a sledgehammer shot. He was very important you know.
Goldberg v The Rock
Had they done the right thing and had a 2 minute match Goldberg would have made them sooooooo much more money. The problem was, the longer he stayed in the ring with Rock it was evident to everyone who the real star was. Rock's Hollywood character was perfect and it wouldn't have hurt him at all to take a squash. Not doing that killed Goldberg right out of the gate. At the very least Rock did take the loss, Goldberg wouldn't be so lucky with HHH in the future. In HHH's defense he was very important. 4-8 though.
Winner: Goldberg pins Rock after the spear and Jackhammer.
Overall thoughts: Smackdown blew RAW away in the ring again with this show. Test was possibly the worst actor I have ever seen and HHH was a very, very, important man. Other than that this show didn't really trip my trigger. It is a show with Rock vs Goldberg and Lesnar vs a Prototype (get it?) Cena so see it for curiosities sake if nothing else.
Follow me right here.
All Images Available at WWE.com
If you like what we do and want to help keep this site running, hit up our store right here. We can use all the support that we can get.