Ah yes, 2001.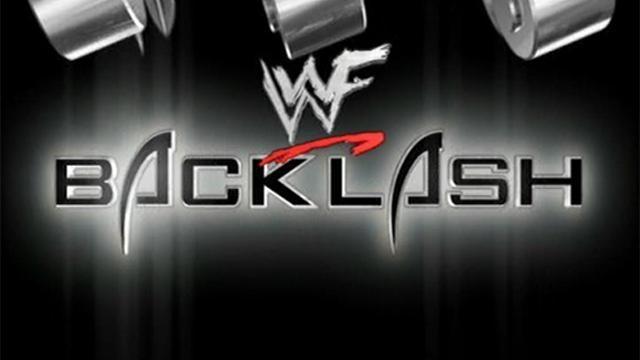 April 29, 2001
Chicago, Illinois
Commentators: Jim Ross and Paul Heyman
6-man Tag Team match: The Dudley Boys (Bubba/Devon/Spike) v X-Factor (X-Pac/Albert/Justin Credible)
The fact that the WWE thought that giving X-Pac his own faction was a good idea in 2001 was bad enough but then they filled it with Justin Credible and Albert. Then to double down on the hot garbage they gave them that awful Uncle Cracker song as a theme for guys who were supposed to be bad asses. The only redeeming thing about this was X-Pac taking the 3D after the match through a table. That made me smile. I like Pac now but 2001 him deserved that shit. 0-1
Winner: X-Pac pins Bubba after a double super kick.
The Duchess of Queensbury arrives to view the match named in her honor later.
In what can only be described as a slap in the face Jerry Lynn won the Light Heavyweight title from Crash Holly on Sunday Night Heat and they barely mention it. Way to push that new talent guys. No wonder he was bitter.
Hardcore Championship: (C) Rhyno v Raven
Rhyno gored himself into a shopping cart and Raven hit it with a kitchen sink. That sums up this match better than anything ever. These guys made this type of garbage brawl fun. 15 years later when they rebooted Backlash for Smackdown the only one still around and winning titles on that PPV was Rhyno. Good for Rhyno. 1-2
Winner: Rhyno wins after hitting a Gore.
During the break we get Shane reading a story about a giant and a beanstalk.
In another uncomfortable bit, Steve Austin arrives and is yanking Debra by the arm. It doesn't make me "Chris Benoit" uncomfortable but still kind of icky after that whole fiasco.
William Regal with the Duchess is amazing. That man IS the Hall of Fame.
Duchess of Queensbury Rules: William Regal v Chris Jericho
This feud was  built upon Jericho peeing in Regal's tea without him knowing which led to this awesome silliness. The entire bit here is the Duchess changes the rules so Jericho can never win regardless of what he does. Really it was Jericho's fault for accepting a match he knew nothing about. Regal's mannerisms are hilarious and even the Duchess took The Walls of Jericho for the good of the joke. 2-3
Winner: Regal after multiple chair shots.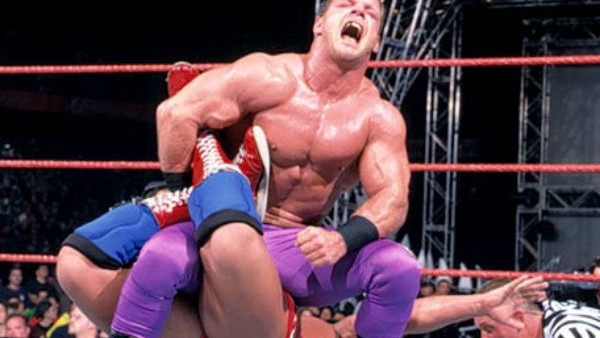 30 Minute Ultimate Submission: Chris Benoit v Kurt Angle
Can't say enough good things about this match. Both men looked great, the moves were crisp and looked legit. They never slowed down and kept the crowd entertained for 30 plus minutes with submission wrestling which is challenging for anyone. These men stole the entire show. It's hard to believe Angle went on as long as he did, especially at a high level. 3-4
Fall 1- Benoit taps to heel hook, Angle 1-0
Fall 2- Angle taps to cross arm breaker, Benoit 1 Angle 1
Fall 3- Benoit taps to ankle lock Angle, 2 Benoit 1
Fall 4- Benoit taps to Crippler cross face, Angle 3 Benoit 1
Fall 5- Angle taps to one legged crab, Angle 3 Benoit 2
Fall 6- Angle taps to ankle lock, Angle 3 Benoit 3
Overtime- Angle taps to Crippler cross face, Benoit 4 Angle 3
Winner: Benoit 4-3 in Sudden Death overtime.
Last Man Standing: Shane McMahon v The Big Show
Shane had a price on his head from the second he bought WCW, so Vince sent the Big Show to get revenge for the beating Shane laid on the former at Wrestlemania. Show destroyed Shane up and down the ring with Vince even interfering with a chair to help Show. Then Test came out to assist his friend by propping him on his feet to win the match. The image of Shane dropping an elbow from the top of the Titan Tron is legendary for good reason. The dude is out of his mind. The fact that he was still trying to do the same shit when he got older really accentuates that point. 4-5
Winner: Shane McMahon after and elbow drop off the top of the screen.
They show JR on camera and he looks 10 years younger than the previous year's Backlash when he had the Bells Palsy attack. His teaming with Heyman was awesome and I wish it would have lasted longer than a year.
Triple Threat/European Championship: (C) Matt Hardy v Christian v Eddie Guerrero
There was no way these guys were following the previous 2 matches. They were behind the 8 ball from the start and really did nothing to work their way out of it. Edge and Jeff Hardy interfered to add something to the match but it didn't help much. Sorry guys, wrong place wrong time. All three of these dudes are amazing but having just a basic match wasn't going to cut it. 4-6
Winner: Hardy wins after a Twist of Fate.
WWE Championship, Intercontinental Championship and World Tag Team Championship on the line: 2 Man Power Trip (Intercontinental Champion HHH/WWE Champion Steve Austin) w/Stephanie vs Brothers of Destruction (WWE World Tag Team Champions Kane/The Undertaker)
Match was nothing special unfortunately, but they had a lot to follow. HHH was on top of his game here and really tied the match together. By winning the tag titles HHH became only the second Grand Slam Champion to that point. Now everyone is a Grand Slammer. Austin was still getting used to being a heel again but the crowd wasn't buying Kane and Taker as equals to HHH and Austin no matter what. WWE good guys strike again in this one with Kane kicking Stephanie's head off, which is a common theme on these older shows. This did what it was intended to do, make the Power Trip even more powerful. Match was eh. 4-7
Winner: HHH pins Kane after Sledgehammer shot.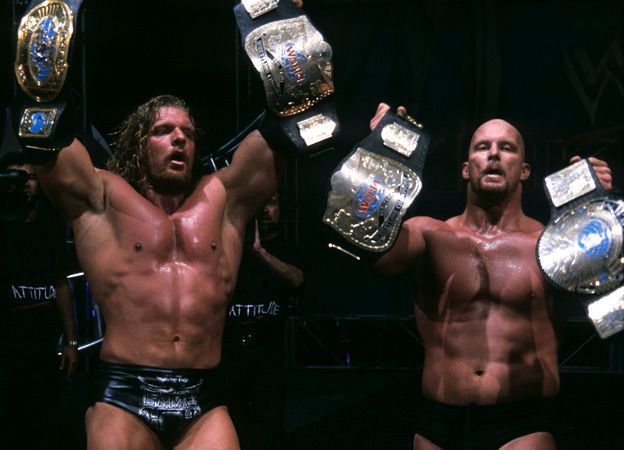 Overall Thoughts: The Attitude Era was ever so slightly coming towards its end. The usual ridiculous short crazy matches were mixed with some solid work rate matches that made for not a great, but a pretty entertaining PPV. The 2 Man Power Trip was an awesome idea that died out too quickly due to injuries but in the one PPV they headlined they proved how dominate they would've become. Could have been worse.
Follow me right here.
All Images Available at WWE.com
If you like what we do and want to help keep this site running, hit up our store right here. We can use all the support that we can get.