Sorry folks. It has been a trying time and honestly doing wrestling reviews and updates hasn't been high on my agenda and I apologize for that. I'll get all of these shows redone before next week and some newer independent stuff as well. I hope everyone is staying safe.
April 30, 2000
Washington DC
Commentators: Jim Ross and Jerry "The King" Lawler
Before we start the matches Debra and everything she brings to the table (large oiled up breasts) is here to be the guest ring announcer for the first match. Also of note The Rocks Mom and Wife are in the crowd. I'm sure that doesn't mean anything though.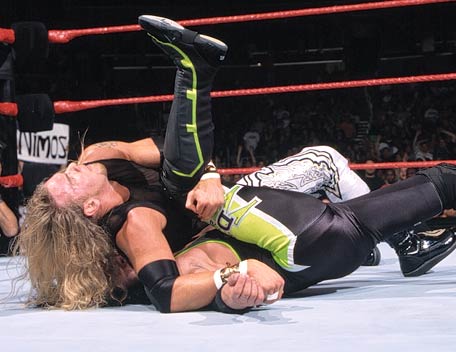 Tag Team Championship: (C) Edge/Christian vs X-Pac/Road Dogg (w/Tori)
The announcers kept harping on the champs being the underdogs in this match but it was painfully obvious that DX was running on borrowed time. DX as a concept was fading quickly and they couldn't compete in the ring or as personalities with the champs. They did have a sweet new Run DMC theme song though. The match itself was nothing to write home about with the real standout moments being JR mentioning an XFL fair catch and X-Pac bleeding like a stuck pig. The poor XFL didn't have a chance but much like DX it would return. 0-1
Winner: Christian pins X-Pac after a belt shot.
Light Heavyweight Championship: (C) Dean Malenko vs Scotty 2 Hotty
This was one of the most remembered, if not best match that either Dean or Scotty had in the fed. If Dean Malenko was either 6 foot 3 or had any charisma he would have been World Champion. Unfortunately this was going to be as high as he would get in the WWE at that point due to Vince being Vince. Scotty was a crazy man for taking a DDT from the top rope like that. Hell of a match. 1-2
Winner: Malenko pinned Scotty after a top rope DDT.
Big Bossman/Bull Buchanon vs The Acolytes (Farooq/Bradshaw)
Bossman and Buchanon were dressed like the two ugly members of the Shield that were kept in the shed out back. This match was so boring that the previous joke may be the only thing I took out of it unfortunately. Oh there are like 13 freckles on my right arm…exciting match. Woof. 1-3
Winner: Buchanon pins Bradshaw after a shot with a nightstick and scissors kick off the top rope.
6-man/Hardcore Championship: (C) Crash Holly vs Tazz vs Matt Hardy vs Jeff Hardy vs Hardcore Holly vs Saturn
This was literally every WWE hardcore match from this time frame. Hit a guy with stuff, walk around a bit then repeat the process until everyone gets tired of getting smacked with trashcan lids. It was entertaining for what it was but wasn't going to change the world or anything. I really feel that WWE missed the boat by adding four more z's to Tazzzzzz's name. 2-4 because I'm being nice. Wow did poor Tazz die off after the Rumble or what?
Winner: Crash pins Tazz after a stop sign from Saturn.
Kurt Angle vs The Big Show
Kurt Angle was amazing at everything as always. Big Show was in his cosplay and be funny phase here, as he came out to Real American and dressed as The Showster brother. He nailed Hulks mannerisms and voice perfectly. The crowd even chanted for Hogan. Kurt was great here trying to be the serious foil to Shows antics.Not perfect or anything but if you don't have fun with this I'm not sure what to tell you. 3-5
Winner: Show pins Angle after a choke slam.
After the match Smashing Pumpkins front man and future NWA Owner Billy Corgan was shown in the crowd looking creepy as usual. This dude became important in wrestling despite all his rage.
The Dudley Boyz vs T&A (Test/Albert) (w/Trish Stratus)
This was during the time when the Dudleys were power bombing women through tables and Trish was the Holy Grail that they couldn't get. Trish continually using her hotness to trick Bubba was a genius plan. In his defense she was (and is) really hot. See above photo for details. The hotness wore off apparently on this night as he finally got to put her through a table and she had to be carried out on a stretcher. Remember, power bombing a lady for being hot made them the GOOD guys in 2000. Weird times all around in the WWE. Match was fine. 4-6
Winner: Test pins Bubba after a big boot and Trish distraction.
After the woman beating, Eddie Guerrero and Chyna show up from Eddie's GED prom. He was late for his match so he had to wrestle in suit pants and drive his low rider to the ring. Before you ask yourself what I did. No. I don't believe that GED proms are a thing that exists.
European Championship: (C) Eddie Guerrero (w/Chyna) vs Esssa Rios (w/Lita)
This was during the oh so subtle "Latino Heat" version of Eddie where he spoke like Cheech and called Chyna his "Mamacita". I'm sure President Trump hated his character. Eddie's personality carried this otherwise average match. Essa Rios was totally out of his league here with the only thing he brought to the match being Lita and her oiled up breasts. (This was a recurring theme on the night, if your tits were out they better oil them up apparently. It does seem like a solid boob policy if such things existed.) Nope 4-7.
Winner: Eddie pins Rios after an airplane spin neck breaker.
After the match Lita continued to earn her pay by stripping Chyna out of her prom dress and into her bra and panties. Chyna was so embarrassed she stood in the ring for like 5 minutes so everyone could look. Yes there were kids in the crowd, why do you ask?
Intercontinental Championship: (C) Chris Benoit vs Chris Jericho
These two seemingly had hundreds of matches and none of them were bad. The ending was just ridiculously stupid. If it were two lesser wrestlers then it would have ruined the match. Technically this was good before the ending but Chris Benoit matches continue to be weird for me to watch. Sensing they were losing the crowd Jericho put the referee in the Walls after it was over for his stupid decision making. Eh it was good just…you know? 5-8
Winner: Benoit wins by DQ after he head butts the belt.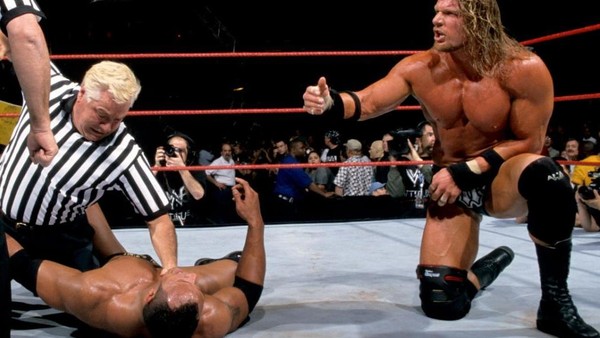 WWE Championship/Shane McMahon as Special Guest Referee : (C) HHH vs The Rock
Everything about this match worked and made up for Rock not winning at WrestleMania. The evil McMahons got what they had coming to them. Steve Austin got one of the loudest reactions ever and most definitely the loudest for a man with a beer gut like the one he had at the time. He looked like me out there.  With all the odds stacked against him the good guy won and that's why people still watch wrestling. The only negatives were the announcers making jokes about the gay pride parade that occurred earlier in the day and mocking Pat Patterson about it. That was kind of gross of you year 2000. Still the match fucked. 6-9
Winner: Rock pins HHH after the Peoples Elbow.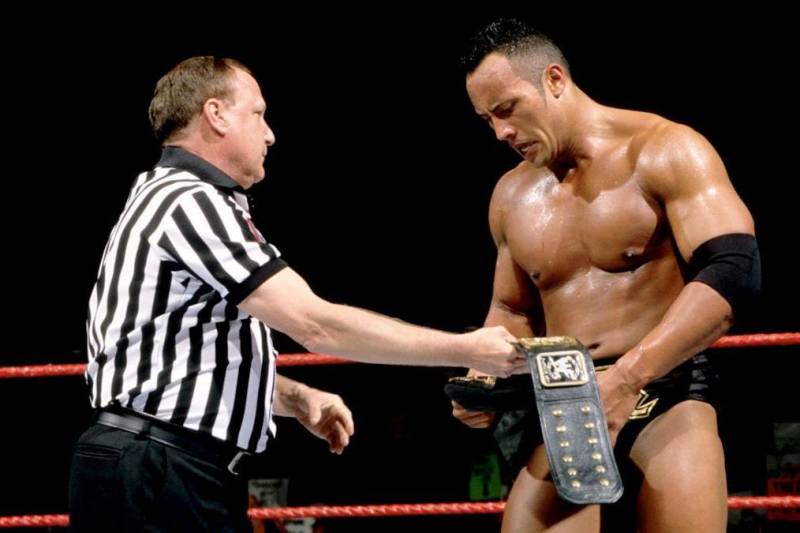 Overall Thoughts:  The things they do and mock at times on these older events make me kind of sad, and then they throw something at you like that main even and make me remember why I watch this stuff. Rock vs HHH is always a thumbs up from me. I remembered liking this show more in the past though. Maybe I'm just getting grumpy instead of nostalgic. Still 6-9 isn't too shabby.
Follow me right here.
All Images Available at WWE.com
If you like what we do and want to help keep this site running, hit up our store right here. We can use all the support that we can get.