So I really needed to update the format on these things and with this year's edition being the next non NXT PPV I figured now was a good as time as any to get these knocked out.
April 25, 1999
Providence, Rhode Island
Commentators: Jim Ross and Jerry "The King" Lawler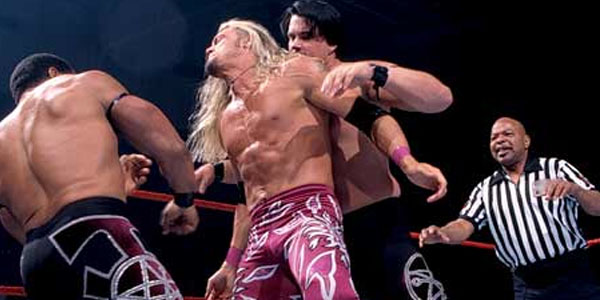 6-man Tag match: The Brood (Gangrel/Edge/Christian) v Mideon and The Acolytes 
Amazing that this match had three future World Champions in it (Bradshaw, Edge, Christian) and one former (Farooq) because this match was not solid. The highlight of this thing may have been future Smackdown and ECW General Manager Teddy Long refereeing. I'm glad I don't have to watch the entire Attitude Era back to back again. I know I loved it at the time but I'm old as hell now and generally hate non-ironically stupid shit. 0-1
Winner: Bradshaw pins Christian after a Clothesline from Hell and interference by Viscera.
Hardcore Championship: (C) Hardcore Holly v Al Snow
They had been building to Al winning this title for a while, and in typical Al Snow fashion he created his own controversy by letting his Head talk him into thinking that it was champion due to the odd pinfall. The Head really had a way with words I guess. The match itself was good. Holly looked in great shape, Snow bled pretty early and they both took an awkward bump into a dumpster that probably should have hurt someone. Good on them for pulling it off. 1-2
Winner: Al Snow pins Holly with Head.
After the match we get a meeting with the Ministry of Darkness about tragedy, pain and etcetera. There was nothing crazy or stupid about that. By the way, I fucking HATED the Ministry.
Intercontinental Championship: (C) The Godfather w/Hoes (not sure if hoes is capitalized) v Goldust w/The Blue Meanie
This was not the Dustin Rhodes that we are currently enjoying. Awful stuff all around. They just never seemed to get this going in any meaningful way. After the match The Godfather celebrated with a pile of hoes. There could not have been a more Attitude Era sentence than the one I just typed. That was also the best worked part of the match. Garbage 1-3.
Winner: The Godfather pins Goldust after a Death Valley Driver.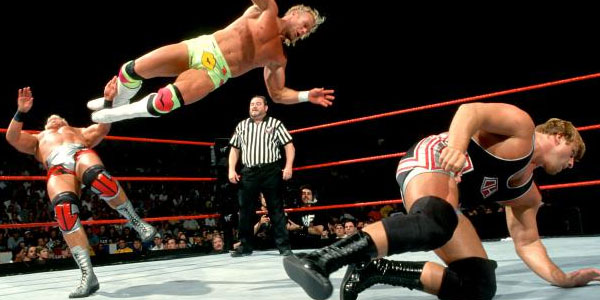 #1 contender for Tag Championships: New Age Outlaws v Jeff Jarrett & Owen Hart w/ Debra
Remember earlier when I said that a sentence was the most Attitude Era sentence ever? Debra came out in a bikini (with oiled up breasts) and a sport coat so the Road Dogg spent 10 minutes of PPV time trying to get her to show the 1 inch of breast that wasn't already out. Owen and Jarrett are good wrestlers but they couldn't save this. Oh after the match was over Billy Gunn mooned the crowd in his thong because of reasons that I can't fathom in the year of our Lord 2020. Not super. 1-4
Winner: Gunn pins Owen with the Famouser.
After the match we get separate time wasting segments with the McMahons.
Boiler Room Brawl: The Big Show v Mankind
This match is 1 of 1500 reasons poor Mick Foley needs a new hip once a year. Foley is insane to take the bumps he took in a ring, much less on a concrete floor. Big Show did pretty well here as a killer monster so that, and Foley having a death wish, made an entertaining show. After the match Big Boss Man and Test jump Foley only for Big Show to turn face to help him. Yeah Vince Russo was writing. Why do you ask? 2-5.
Winner: Mankind wins by escaping the boiler room.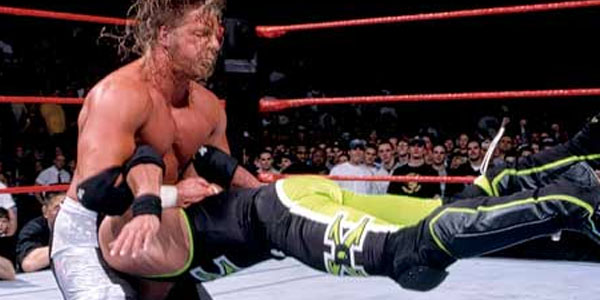 WWF World Tag Team Champion X-Pac v HHH w/Chyna
This was a good old fashioned grudge match which I liked. HHH was still in the awkward phase where he wasn't yet The Game and was still trying to figure out his newest heel run so he had long tights and terrible music. X-Pac was one half of the tag champs at this point. Chyna to her credit came out in possibly the only studded thong I have ever seen to take a choke slam from Kane. People forget how good X-Pac was at times because of how annoying he became later but he made this work. 3-6.
Winner: HHH pins X-Pac after a Pedigree.
Ken Shamrock v The Undertaker w/Paul Bearer
Shamrock had about 10 good matches in his entire WWF run and this wasn't one of them. The Undertaker was in a phase where he was terrible in the ring and weird out of it so he was no help with this turd. After the match Bradshaw beat Shamrock with a bat making the bat the most interesting and best worker in the match. Sorry about the bitterness, but man the Attitude Era in retrospect was the shits. 3-7.
Winner: Undertaker pins Ken after Tombstone.
No Holds Barred/WWE Championship/Shane McMahon as Special Referee: (C) "Stone Cold" Steve Austin v The Rock
The setup could have just been rematch between 2 of the biggest stars wrestling has ever created but then they added nonsense about a stolen belt and a smashed Lincoln Town Car. Austin and Rock never had a bad match so this was pretty good. Austin was at the height of his popularity and people wanted Rock dead so the intensity was off the charts. Vince helping Austin here is one of the reasons the eventual reveal of The Undertaker's boss did not work. (It was me Austin! It was me ALL ALONG! Higher Power my ass, unless they were talking about being on drugs.) The match was good so there you go. 4-8.
Winner: Austin pins Rock after Stone Cold Stunner.
After the match Vince's limo was attacked by the Ministry so the driver takes off. Stephanie begs him to stop and in a quote that my friends and I made fun of for years, The Undertaker turns out to be the driver and in his hokiest voice says "Where to Stephanie?" followed by maniacal laughter. The Attitude Era ladies and gentlemen, it was a crazy ass shit show.
Overall Thoughts: If you like scientific wrestling this probably isn't the PPV for you. If you like car wrecks, short matches and ridiculous storylines this is right up your alley. When I was 19 I loved this stuff like a brother, now I just want to go back and punch myself in the crotch, and as you may guess I REALLY love my crotch.
Follow me right here.
All Images Available at WWE.com
If you like what we do and want to help keep this site running, hit up our store right here. We can use all the support that we can get.