Back on that 1998 train.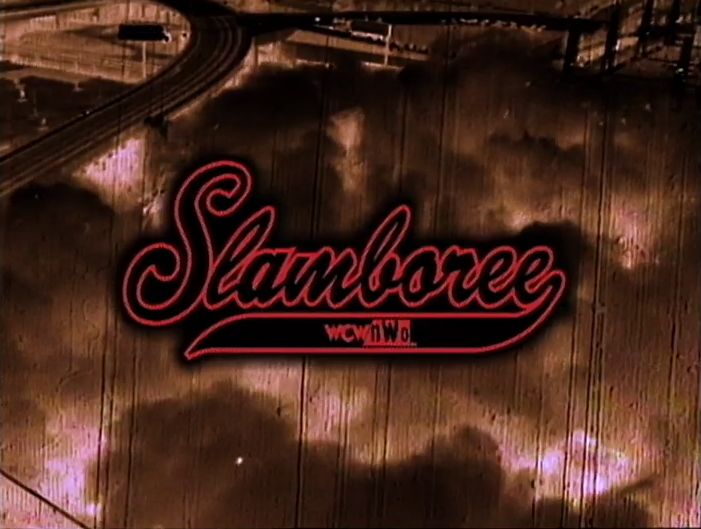 May 17, 1998
Worcester, Massachusetts
Commentary: Tony/The Brain/Tenay
Ah shit. This is the Vince challenge show. Buckle the fuck up I guess.
WCW Television Championship: Chris Benoit v  (C) Fit Finley
I took a "Finley stole me Lucky Charms!" sign to a Nitro in Evansville. Fit looked at it and yelled, and I quote "Arghhhh!". So he's my dude I guess. This was hard hitting as hell and Benoit takes another one of those chair shots/dives where you just cringe. If you like your wrestling to be a fight? This is the match for you. I dug it obviously. You gotta respect the WCW midcard.  1-1
Winner: Finley with the tombstone, helped slightly by a Booker t walk out distraction.
Jericho with the website and Stagger Lee. Jericho is on goat level at this point.
Brian Adams w/Vincent v Lex Luger
Man this crowd was in to Luger HUGE here. You know what I wasn't in to? This boring ass match. It was supposed to be a grudge match but Luger kept stopping to flex and neither dude showed any intensity to make you believe. Oh yeah, Adams hit maybe the worst pile-driver ever in this thing. Blah. 1-2
Winner: Luger with the rack.
Saturn is brooding backstage. The shot of him looks cool as he is in front of monitors to make an endless Saturn. He doesn't like Raven much is the gist. Also he doesn't want to have Goldberg go through a gauntlet of Flock. He wants him one on one. Fucking moron.
One of Jericho's best bits right here. Winner of this battle royal gets a shot at his Cruiserweight Championship. Jericho insults everyone and gives betting odds as well. What a team player. Hilarious stuff from beginning to end.
#1 contender to the WCW Cruiserweight Championship Battle Royal: Super Calo/ Chavo Guerrero Jr./ Ciclope/ Damien/El Dandy/ El Grio/ Juventud Guerrera/ Marty  Jannetty/ Kidman/ Evan Karagias /Lenny Lane/ Psicosis/ Silver King/ Johnny Swinger/ Villano IV
It was a battle royal man. The only difference is they went to the top more and nick patrick stayed in the ring for some reason. It did get way better towards the end though. They did some flips and shit you didn't normally see in these for obvious reasons. Eh. 2-3 I'm feeling generous.
Winner: Ciclope wins after Juvy sacrifices himself. Ciclope then unmasks as Dean Malenko and the pop this got was enormous man.
WCW Cruiserweight Championship: Dean Malenko v (C) Chris Jericho
Chris almost pissed his pants and it was glorious. Malenko dominated the first few minutes giving Jericho a cathartic ass whipping where the crowd cheered his every move. Chris didn't get any offense in until he manages a stun gun on a counter. Jericho constantly acting like he's in shock helps this out. This was exactly what it needed to be from beginning to end. This was great. 3-4
Winner: Dean wins it via cloverleaf. Too bad he gets Dusty'd due to the Ciclope thing.
The "Vinnie Mac" cam sees a limo. Jesus I hate this. Dillinger looks confused. "If Jim Ross jumps out and carries his bags you know that it's Vince" Savage Tony for the win.
Bowery Death Cage Match: DDP v Raven w/Riot Squad
You win on a 10 count like last man standing. Tony "Ravens probably some rich kid who didn't get what he wanted" spoiler bro, Tony was on it here. We get a shot of David Crockett. Neat. At one point DDP hangs him from the cage which might be a hate crime. Fun and violent. ECW chants and style for this entire thing. The ref gets bumped and the Flock arrives with bolt cutters. Recently excommunicated Van Hammer stops them with the stop sign. Riot squad is in now and it's Boulder and Kidman. They attack DDP but eat cutters for their trouble. Raven catches page with a cutter out of nowhere but Page gets his own and both dudes were down. Hell of a match, these guys had mad chemistry. 4-5
Winner: Page after Raven can't beat the 10 count off a Diamond Cutter.
Another riot squad member handcuffs the remaining Flock members. Then he crucifies Raven with cuffs then unmasks as Mortis and then again as a yet to be named Kanyon. Then he MURDERED Raven with a chair shot. Like the chair exploded.
Vinnie Mac cam again. Security has pictures of WWF guys including Steve Austin. Sad.
Saturn is with Lee discussing Billy G and the US title.
We waste more time while they clean shit up.
Chavo's Freedom: Ultimo Dragon v Eddie Guerrero w/Chavo 
If Dragon beats Eddie, Chavo gets released from Eddie's control. Respect to WCW fans, this awesome ass match is going on and they focus on a fat hairy dude in the crowd taking his shirt off. This match fucked as the kids say. Two supremely talented dudes just going out there and tearing shit up just because they can. Chavo got too involved and it cost him, but man this match here. 5-6
Winner: Eddie after a frog splash.
Chavo attacks Dragon after the match. Putting us one step closer to our friend Pepe. Eddie tries to stop Chavo then gives him a free shot. Chavo doesn't take it after thinking about it. He does kiss him though. Crazy Chavo is coming and it's fun.
Vince's locker room is shown. No wonder they got sued. Bush League nonsense.
United States Championship: Saturn vs (C) Goldberg
Billy was 87-0 here. Too long and not as good as their previous match. A lot of walking around and too much selling from the guy that can't do it. As a rule, if there is a rest hold in a Goldberg match it's trash. I like Saturn but he's not a miracle worker. 5-7
Winner: Goldberg via the usual.
Commercial for the upcoming Great American Bash featuring Raven and the Flock.
Here's Buffer to earn his fat paycheck.
Eric Bischoff v Vince McMahon
This is ridiculous and I have no idea why this built to be a thing. Shockingly Vince doesn't show. If he did he would have whooped that ass. Fuck this. Way to kill the numbers Eric. 5-8
Winner: Bischoff by "count out" and or forfeit.
Buffer still out here. "In black and purple The Hitman Bret….. he never finishes it. Worth the money there.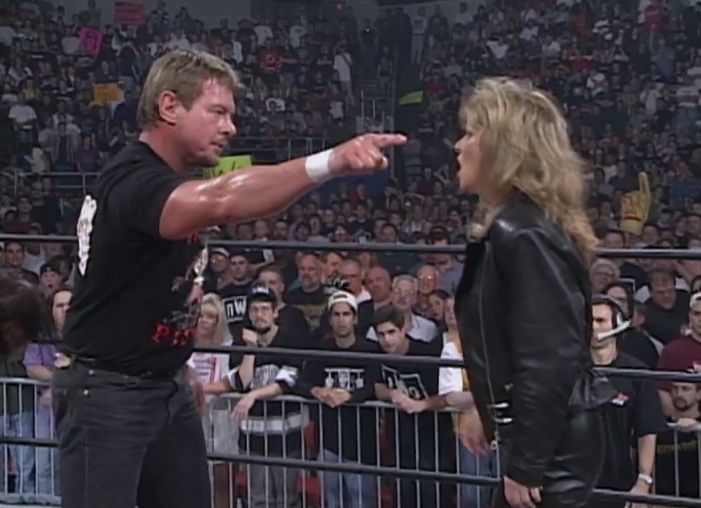 Bret Hart v Randy Savage (Special Ref Roddy Piper)
Bret helped cost Savage the belt since last month so he's all mad and shit. This was a solid brawl. Ain't no way these two were going to have a a bad match. Savages knees were shit and he was still out here doing the damn thing. WCW really fucked Bret up already though. Sad stuff. Liz runs down the aisle in desperate need of a sports bra and distracts Piper and me but for completely different reasons. Bret hits a low blow then attacks Piper for some reason. Savage gets Bret's weapon but Hogan attacks his knee (the wrong one initially). Blah ending. Good match though 6-9.
Winner: Bret with the Sharpshooter. Piper found the object on Randy's fist and set up there deal for the Bash because Piper doesn't own a TV apparently.
Buffer continues to earn that fat payday.
Survey time. Hey yo. One more for the good guys.
WCW Tag Team Championships: (C) The Outsiders w/Dusty v Giant/Sting
Giant had just joined nWo Hollywood and Hall had just returned from wherever. This is the second time giant went NWO at this point, there would be more. Poor dumbass sting is the only non NWO member out there. Not a bad tag match but it had an odd face vs heel vibe due to the Giant's alignment. I'll give it a point because of the Hall turn at the end that made zero sense but was a legit surprise at the time. 7-10
Winner: Giant pinned Nash after Hall turned and hit him with the belt.
Sting looks shocked as we leave the show. Dumb.
Overall Thoughts: This was pretty good. All kinds of shit went down that shocked the Hell out of me in 1998. The McMahon stuff was lame but what can you do? Hard to hate a show batting .700 isn't it? Let's see what the Bash has in store next show.
Follow me right here.
All Images Available at WWE.com
If you like what we do and want to help keep this site running, hit up our store right here. We can use all the support that we can get.
---