I'm going to go back through these and update some stuff since this is the weirdest Mania week ever. 1-5 anyway. Enjoy them. I know everyone is bored.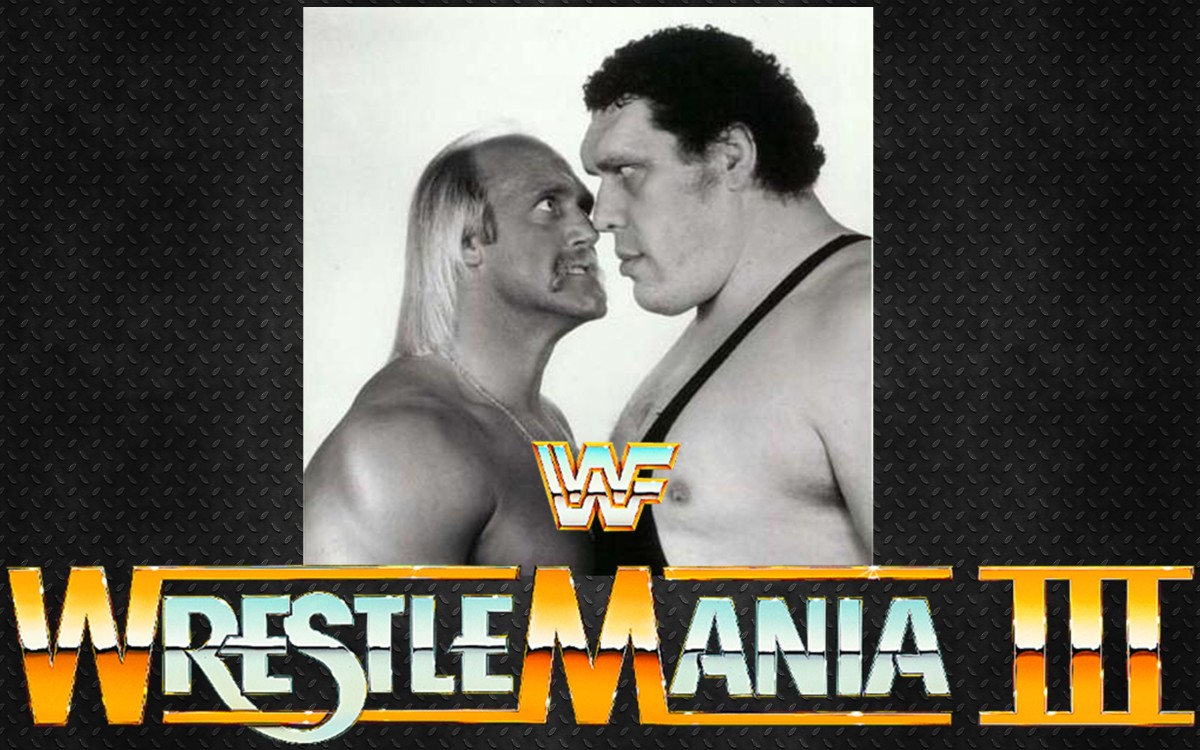 March 29, 1987
Pontiac, Michigan
Commentators: "Gorilla" Monsoon, Jesse "The Body" Ventura and some guests.
We open to a shot of a MASSIVE crowd.
Vince welcomes us to the show and introduces Aretha Franklin to sing "America the Beautiful". She obviously knocks that the hell out of the park.
Gorilla, Jesse, Mary Hart (Entertainment Tonight) and Bob Uecker (if you don't know Bob we can't be friends) open the show with a little bit of hype.
The Can Am Connection (Tom Zenk/Rick Martel) vs "Ace, Cowboy" Bob Orton/"Magnificent" Muraco (w/ Mr. Fuji)
It had to be hard to start the biggest show of all time but these guys did an admirable job. It wasn't a super match but it was a decent way to start to the program. Muraco was huge as always and Orton is one of the most underappreciated guys WWE ever had. I always thought the Can Ams were way better than Strike Force and should have gotten the titles before this. Starting out with a good match is something they should have thought to do the previous year. 1-1
Winner: Martel pinned Muraco following a cross body and a trip by Zenk.
We get a recap of the Billy Jack Haynes vs Hercules feud.
Gene is backstage with Hercules (I still say he should have kept the gear from the previous year) and the Brain who dubs Billy "Billy Jerk Haynes" because Bobby ruled.
Hercules (w/ Bobby "The Brain" Heenan) vs Billy Jack Haynes
Billy surprising me by wearing a more pimp like jacket than Brain. I don't want to accuse both guys of being on steroids but if they didn't want me to they probably should have taken less steroids. This was very punchy kicky with some clotheslines thrown in for spice. Every couple of minutes one or the other went for their patented Full Nelson but neither could get it locked on fully. It wasn't a good match or anything but if you were expecting one out of these two you were setting yourself up for disappointment anyway. It was fine for what it was and I am not wishing for death like I was during the previous years show. Still no point though 1-2.
Winner: Double count out. Both guys Brawling on the floor.
Hercules nailed Billy with a chain and busted him open after the match and then applied the Full Nelson. Nice blade job by Billy.
Gene is with King Kong Bundy and his "Midget" tag partners. Bundy makes vague threats to all.
Bob Uecker joins commentary and is already better than 90% of the current announcers.
Gene is with Hillbilly Jim and his team…not much is said.
King Kong Bundy/Lord Littlebrook/Little Tokyo vs Hillbilly Jim/Little Beaver/Haiti Kid
This has something for everyone! Do you hate the word midget? We have it! Do you hate racist caricatures? We have plenty! Hillbillies? You know it playboy! This match was hot garbage and still better than the Piper vs Mr. T boxing match from the previous year. In all honesty, Little Beaver was the one who kept starting shit with Bundy so he deserved the ass whipping. 1-3
Winner: Jim's team by DQ after Bundy drops the big elbow on Little Beaver.
After the match everyone tries to gang up on poor Bundy. He was only defending himself you brutes.
Mary Hart is with the SMOKING HOT Miss Elizabeth before Macho comes in to be awesome.
We get a recap of the Race and JYD feud.
Gene is with Race, Moolah and the Brain who all combine to say nothing noteworthy.
We learn that Uecker wants to nail Moolah.
Gene is with the JYD who is at least entertaining.
Loser must bow to the winner: "King" Harley Race (w/ Moolah and The Brain) vs the Junkyard Dog
The Dog gets a mega pop on his way to the ring. Race did an awesome job this year bumping around for the Dog. Any time JYD would nail Race with anything he sold it like he was shot. I was really impressed with how much better he looked this year. The Dog was about normal but his popularity covered for a lot. 2-4 out of Harley love.
Winner: Harley got the pin after a nice Belly to Belly.
Sore loser JYD attacks the King after the match like a jerk. You lost buddy, quit being an asshole.
I want to point out that even though there hasn't been any blow away matches or anything, this show is like Wrestle Kingdom compared to WrestleMania 2.
Vince is with an incredibly jacked looking Hogan, who cuts a bomb ass promo on the Giant.
We get an interview with the Dream Team, I was never impressed with Johnny V.
The Rougeau Brothers (Jacques/Raymond) vs The Dream Team (Greg Valentine/Brutus Beefcake w/"Luscious" Johnny V and Dino Bravo)
The Dream Team had been having some issues for a while and they were looking to turn Beefcake babyface so we get this match. It wasn't memorable or long enough to be good or bad one way or the other. The real highlight of the contest was Heenan joining the commentary team to brag his ass off and declare victory in the main event. 2-5
Winner: Valentine pins Raymond after interference by Bravo.
The NEW Dream Team and Johnny abandon Beefcake in the ring after the victory. Man, I wonder if that will be important later…
We get a recap of the awesome Piper and Adonis feud. Piper was on top of his game right as he was apparently leaving it.
Gene is with Adrian and Jimmy who cut a nice promo.
Hair vs Hair: "Adorable" Adian Adonis (w/ Jimmy Hart) vs "Rowdy" Roddy Piper
This was an awesome set up with Adrian's "Flower Shop" taking over "Piper's Pit" while he was out and continued to be awesome from there. This was also billed as the retirement match for Piper so it had big time stakes. The match itself was just OK as far as matches go but the stakes surrounding it elevated it. Adonis actually had the match won but released the Sleeper too early allowing newly babyfaced Brutus Beefcake to wake up Piper. After being awakened, Piper was able to lock on a sleeper of his own for one final victory. He never came back ever and lived a long and peaceful life away from pro wrestling. (Checks notes) Shit. Still great moment. 3-6
Winner: Piper put Adrian out with the Sleeper.
After the match Piper holds Jimmy down while Brutus cuts Adrian's hair and debuting the most successful gimmick he would ever have.
Piper then celebrates in the ring and leaves to thunderous applause (seriously if he never came back this was an amazing way to end a career). Also some dumb ass fan made it to the ring and was hauled away by security.
Gorilla, Mary and Bob wast time until Jesse can get down to the ring for his introduction. This is awesomely pompous by Jesse and I love it.
The Fink introduces the Body to the crowd.
Gene is backstage with the Harts, Jimmy and Davis, Jimmy was hyped.
The Hart Foundation (Jim Neidhart/Bret Hart)/Danny Davis (w/ Jimmy Hart) vs The British Bulldogs (Davy Boy Smith/Dynamite Kid)/Tito Santana (w/ Matilda) (until Jesse carries her to the back on one of those awesome ring carts, it was ridiculous)
The Harts were tag champions coming in. Danny was banned for life plus ten years for his awful refereeing and had screwed over the entire baby face side before this. He was due for an ass whipping. Really solid tag match with everybody working hard and being where they needed to be. Even the ending was awesome and set up further beatings for Danny. The commentary was a little off, as Mary Hart is no Susan St. James in the booth. 4-7
Winner: Davis nailed Davy with a megaphone for the cheap pin.
Gene is backstage with Bobby and Andre, Heenan cuts a brilliant promo while Andre just stares like he is about to kill a fool.
Jesse returns to commentary and I rejoice. He then name drops the director of Beyond the Mat well before that meant anything.
"The Natural" Butch Reed (w/ Slick) vs Koko B. Ware (w/ Frankie)
Other than Jesse making racist "Buckwheat" jokes about Koko this was an OK but unmemorable. At this point they were just trying to get everyone on the show and fill time so this was just a match. Both guys are talented but they didn't have a lot to work with out there. 4-8
Winner: Reed rolls through off a Koko cross body and holds the tights for the pin.
Slick attacks with the cane after the match until Tito Santana makes the save. The heels ran for the hills following.
Recap of the Savage and Steamboat feud, which includes a female referee a long time before WWE says they ever had one.
Savage then cuts an amazing promo on Steamboat "History beckons the Macho Man". You know the one.
Gene is with Dragon who cuts a hokey ass baby face promo in response.
Intercontinental Championship: (C) "Macho Man" Randy Savage (w/ Miss Elizabeth…Wowsa) vs Ricky "The Dragon" Steamboat (w/George "the Animal" Steele)
It was OK.
…
…
…
FINE. Do you really need me to tell you that this is one of (if not THE) greatest matches of all time? From the build up, to the execution, this is one of the finest exhibitions of wrestling you are ever going to see. Both men were at the tops of their respective games here and brought everything they had to this battle. The fact that they had every single idiosyncrasy planned out in advance did nothing to hurt the overall flow or presentation of this amazing encounter. This is the type of match that makes wrestling fans for life. If for some reason you haven't seen it I'd suggest you do so immediately. Also I'm curious as to why you are reading some random assholes blog about wrestling if you have never seen something this historical. I mean, I appreciate it but it's kinda weird. Highest possible praise I can give. One of the best things wrestling has ever produced from top to bottom. I miss the Macho Man and Liz. 5-9
Winner: Steamboat gets the small package as a counter to a Savage slam.
Gene is with Jake Roberts and Alice Cooper, Jake cuts an awesome promo and Alice mumbles some bullshit.
Gene is with Honky and Jimmy, Honky cuts his usual promo.
Jake "The Snake" Roberts (w/ Alice Cooper) vs the Honky Tonk Man (w/ Jimmy Hart)
The Honky Tonk Man is one of the greatest heels of all time but the wrestling part of the job was never his strong point. Jake was fine but he wasn't able to care Honky to a very good match. It wasn't terrible but other than Jake's awesome punches and Jimmy being an annoying little shit this didn't have a lot going for it. 5-10
Winner: Honky pins Jake with a roll up while holding the ropes.
After the match Jimmy and Alice Cooper get into it. Jimmy would beat his skinny ass but Jake is there. Damien is released and Jimmy is saved by Honky. Alice Cooper should NEVER wear a sleeveless shirt, he makes Cheeseburger look like the Ultimate Warrior.
The Fink introduces Mean Gene, who then announces the Indoor Attendance Record of 93,173. Of course the number has been debated, and if you listen to Meltzer the number is probably 8 people and some cardboard cutouts, but whatever the actual number; the crowd is HUGE and the place is electric. People try to cut down the attendance to make themselves feel better I guess.
The Soviet National Anthem is interrupted by Jim Duggan because this is the land of the free… the irony man.
Nikolai Volkoff /Iron Sheik (w/Slick) vs the Killer Bees (Jim Brunzell/B. Brian Blair w/ Jim Duggan)
Eh, it was a match. These are two of my least favorite teams of all time so they could be doing a Young Bucks match and I wouldn't care. It was fine and dumb ass Duggan costing the Bees the match would cause a Bees heel turn any time after 2000. We were really just wasting time until the main event. 5-11
Winner: The Bees were disqualified when  Duggan nailed Sheik with the 2×4.
Donald Trump cuts a promo, wait that was Duggan. My bad.
Gene is back with Andre and the Brain again. This time Andre speaks and I wouldn't want him mad at me for any reason. Brain is excited to say the least.
Recap of the amazing Hogan and Andre feud. I was hooked man. Still am.
Gene is with the Hulkster, who cuts another bomb ass promo. He was ready.
The Fink introduces guest Ring Announcer Bob Uecker.
Bob introduces guest Time Keeper Mary Hart
WWE Championship: Andre the Giant (w/Bobby "The Brain" Heenan) vs (C) Hulk Hogan
This was the biggest single match in the history of professional wrestling. There have been big matches before and after but none have been able to touch the importance of this one. The match itself is nothing, Andre was hurt and Hogan wasn't going to be able to carry him. It didn't matter one bit to anyone that watched it. The crowd was in the palms of their hands and this match made ALL THE MONEY. What a moment and one of the few times where even though it wasn't a good match it delivered anyway. 7 year old me still loves this match. Yeah, I'm giving it a point for history. 6-12
Winner: Hogan gets the pin after a body slam and leg drop.
The crowd was going nuts, the Brain was distraught and Andre was pissed.
Hogan poses and Jesse makes his yearly threat to come out retirement to face him.
Gorilla and Jesse sign off and you can see Jesse's lips move as he reads Gorilla's cue cards. What a weird thing to end on.
Overall Thoughts: This was the biggest event in professional wrestling history. I'm not sure I can put enough emphasis on how much this event meant to the history of the sport. As great as a match as Savage vs Steamboat was you have to give the entire credit for the huge crowd to Hogan and Andre. If you've never seen this show take a look at it, it's not the best in ring wise but the historical significance will draw you in and keep you there. More importantly than my opinion, this thing saved the WrestleMania franchise because 2 was shit and this turned it the hell around in a big way. So in conclusion FUCK WRESTLEMANIA 2.
Follow me right here.
All Images Available at WWE.com
If you want to help us out and get some Mid-West Territory merch click here. We can use all the support that we can get and appreciate all that you can do.