Here are the results of last night's big show from our friends with OVW Mania!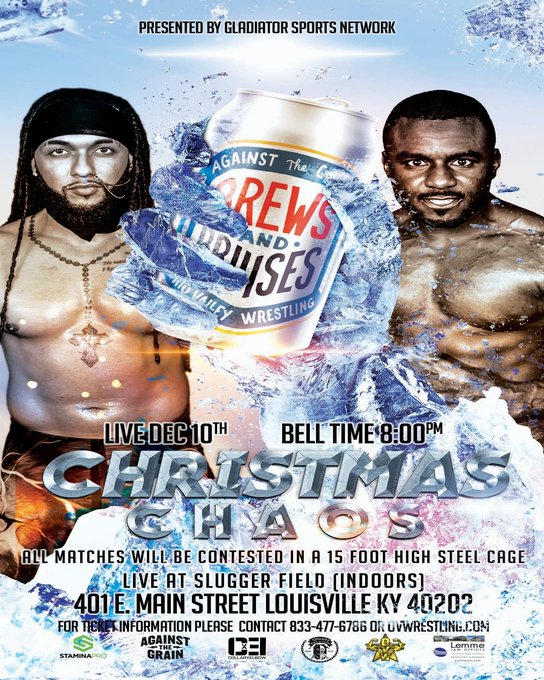 All the matches were inside a steel cage…
"Mr. Marvelous" Melvin Maximus (w/Mrs. Marvelous) defeated Chace. 
Drew Hernandez defeated DL3.
Tony Bizo & AJZ defeated Luscious Lawrence & Ashton Cove.
"The Demon" Amon retained the ANARCHY TITLE over "The Warlord of Weird" Sinn Bodhi  and Gangrel.
Maximus Khan defeated Tony Gunn.
"Zero Gravity" AJ Daniels won the first ever RUSH CHAMPIONSHIP by winning a Ladder Match including "The Boy Wonder" Sam Thompson (w/Dapper Dan), D'mone Solavino, Nigel, and  KTD.
Shannon the Dude defeated Steven Rummage to win the WORLD RADIO TITLE.
"The Real Deal" Randall Floyd defeated  Dustin Jackson in a Last Man Standing Match.
Megan Bayne won a Reverse Battle Royal in a match including Jessie Belle, Cali Young (w/Bryan Kennison), Valerie Verman, Mazarati ,Thunderkitty,Sarah the Rebel and Madi Maxx.
Max the Impaler retained the Women's Championship over Megan Bayne.
 "The Trinidad Titan" Justin Smooth retained the OVW Heavyweight Championship over Leonis Khan
"The Legacy of Brutality": Ca$h Flo, Jay Bradley, Big Zo, & "Hood Ninja" Hy Zaya (w/Josh Ashcraft) defeated Jax Dane, "The Indian Lion" Mahabali Shera, & OVW Southern Tag Team Champions Dimes & "The Prince of Flight" Corey Storm in a 8-MAN CAGED WARFARE Match.