November 9, 1997
Montreal, Quebec Canada
Commentators: JR and The King
Survivor Series Elimination: The Headbangers (Mosh and Thrasher) and The New Blackjacks (Bradshaw and Windham) vs The Godwins (Phineas and Henry) and The New Age Outlaws (Road Dogg and "Badass" Billy Gunn)
This match only existed to make the Outlaws more hated by the crowd and give them a shred of credibility. The rest of the teams were just window dressing. The highlight of the match for me was how on point Bradshaw's mustache was, he rocked that shit. This had all the usual bullshit pins for a Survivor Series match like multiple roll up pins and clotheslines. It wasn't good in any way, shape or form but the crowd was into it and the right team went over in the end. By the way, shame on you 1997 Canada for chanting gay slurs at poor Billy Gunn. Half shirts are nothing to mock a man for.
Winner: New Age Outlaws 
Survivor Series Elimination: The Truth Commission ( Recon, Sniper, The Interrogator and The Jackyl) vs DOA (Crush, Skull, 8-Ball and Chainz)
Since Kurrgan pinned 3 of his 4 opponents you could tell who they had plans for here. The funny part about this was they sold the guy strictly on his size and then put him in the ring against 4 guys that were almost the exact same fucking height. This was hot garbage other than Jackyl talking shit on commentary. Watch this only if you are a Bull Buchanon completest.
Winner: The Interrogator
The crowd outside the arena is asked to pick a winner for the main event. They are all very attractive people and I will not make fun of them in any way. Or the exact opposite…either or.
We go to the AOL room (wow) where Kevin Kelly asks Stone Cold some dumb ass questions.
Michael Cole interviews Team USA, it is apparently the Vader show and no one else except for um…Steve Blackman? He knows karate y'all. Sable is there in an outfit that I won't comment on out of fear of both my wife and Brock Lesnar. It was flattering though.
After Team USA enters to Kurt Angle's (or the Patriot's) music, Cole interviews Team Canada where Doug "Fucking"" Furnas cuts an awesome promo. That was weird, also team Canada has only one Canadian.
Survivor Series Elimination: Team USA (Vader, Steve Blackman, Goldust and Marc Mero with Sable) vs Team Canada (British Bulldog, Jim Neidhart, Doug Furnas and Phil Lafon)
Team USA was strictly Vader here. The poor bastard had to do 90% of the match because, Blackman was an inexperienced (in story) idiot, Mero was a pussy and Goldust was a weirdo. Team Canada cheating was weird considering they were the babyfaces. The most impressive thing in the entire match was Davey getting Vader up for a vertical suplex for a second, it showed tremendous power. The hometown boys were cheered out of the building regardless of how they did in this match. Good effort by Vader and Furnas and everybody else was just along for the ride.
Winner: The British Bulldog
We get a phone call with the winner of the KARATE FIGHTERS SUPER SUPPER SWEEPSTAKES! Poor lady picks Stone Cold to have dinner with, I'm sure that happened.
We get a recap of Kane doing Kane shit but back when it was new.
Mankind cuts a good promo, he knows he's fucked I think.
Mankind vs Kane w/Paul Bearer
Mick Foley bumped his ass off in this match to make Kane a star. Other than a few hope spots Kane just decimated poor Mankind. If it was anyone else this kind of prolonged beating wouldn't have been believable but with Mick, everyone knew he could take it. Brutal ass whipping and that Nestea Plunge through the table was sick. My only complaint was the red lighting used during all of Kane's early matches, it made me wish TLC were there or the Fiend.
Winner: Kane after a Tombstone.
If you sent in your cable bill you got a free dog tag! Wow! What a shit gift!
Michael Cole is with Slaughter and Vince discussing tonight's main event. Vince had no idea who would win. Seriously.
Robot Ken Shamrock and Hawk speak for their team and neither does it well. Apparently the Nation are all criminals? I don't get it
Survivor Series Elimination: Nation of Domination (Farooq, D-Lo, Kama and Rocky) vs Ken Shamrock, Ahmed Johnson and Tag Team Champions Legion of Doom (Hawk and Animal)
This was another match where you could see who they were going with in the future. The only two guys out there who looked like stars were Rock and Shamrock. They would have a tremendous feud later on so this was a good way to get them started off. The crowd was also hot for both guys, Shamrock was getting mega pops and Rocky was getting booed like he was stealing puppies out there. The match itself was what you would expect it to be but it definitely served it's purpose in getting the right people over. WWE was going for new blood with this show for sure.
Winner: Ken Shamrock
New Survivor Series attendance record of 20, 593 is announced. I'm sure Meltzer shit on that.
December 7, 1997 will be the PPV known as Degeneration-X. My god was that a piece of shit.
Recap of the Stone Cold and Owen Hart Feud, I still can't watch that Tombstone without cringing.
Intercontinental Championship: (C) Owen Hart vs "Stone Cold" Steve Austin
This wasn't a match really, it was some gaga with a Stunner at the end. I love the bastard but Austin shouldn't have been anywhere near a ring at this point. I know the allure of that money had to be strong though. The crowd chanting "Break his neck" was kind of fucked up, especially since they started cheering for Austin after he won. I'm glad Austin didn't get hurt any further in this because it could have gone bad quickly. The real hero of the match though was the fan with the ASS 3:16 sign as I can only wonder if he cared whose ass it was and why it was farting.
Winner: Three words, Stone Cold Stunner. 
Attitude commercial, wow did that shit come on quick.
Recap of Bret and Shawn feud.
Special footage of the European Champ and DX walking backstage, then the same with Bret and family.
WWE Championship: (C) Bret Hart vs Shawn Michaels
I don't pretend like I know who was right or wrong in this situation. Should Bret have dropped the title? Yeah, probably. Should Vince have picked another person for Bret to work with? Yep again. Was this all a ridiculous pissing match that made grown men fight about a predetermined athletic competition that at the end of the day is scripted? Most definitely. Up until the ending these guys gave us a wild brawl that had everyone on the edge of their seats, and had it gone on to an actual ending I have no doubt that it would still be remembered as a great match. As it was, it was the start of a great match and an ending that while memorable, is a black eye on a business that didn't really need anymore facial damage. Everyone involved in this mess was a big fucking baby and should have been ashamed of themselves. In the end though, Shawn got the title, Bret got millions, Vince got BILLIONS and the legacy of the title eventually recovered. So I guess all's well that ends well.
Winner: Shawn Michaels after the bell rang while Bret was in the Sharpshooter.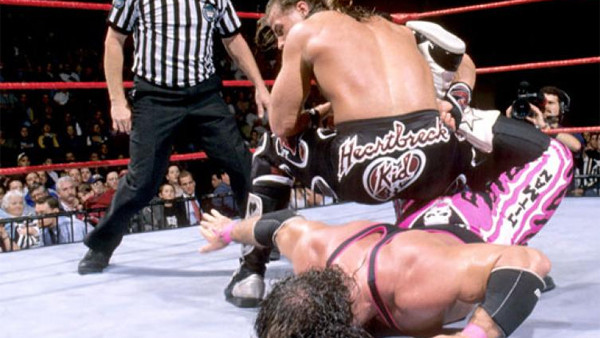 Overall Thoughts: What do I say about this one? It is one of the most historically significant shows in the history of WWE. Was this show good? Nope, the matches were mostly garbage and meant nothing really. The positives were that they were clearly building for the future and most of the right people looked good when they should have. If you've never seen the main event I'd take a look at it, but other than that feel free to skip it because if you were here for a good WRESTLING show? This may not be for you.
Follow me right here.
All Images Available at WWE.com
If you like what we do and want to help keep this site running, hit up our store right here. We can use all the support that we can get.