November 15, 1998
St. Louis, Missouri
Commentators: Jim Ross and Jerry "The King" Lawler
Mankind was introduced first and then we had an elaborate and impressive introduction to "the man, the myth, the legend" Duane Gill by Vince from his wheel chair to set the night's big story in motion.
First Round/WWE Championship: Mankind vs Duane Gill
Poor Duane got scared by his own pyro on the way out. Didn't matter. Squash City.
Winner: Mick won with a Double Arm DDT.
Miss Jacqueline attacked Sable from behind on Heat.
Kevin Kelly interviews Sable. She surprises me by showing actual human emotion.
First Round/WWE Championship: Jeff Jarrett w/Debra vs Al Snow w/Head
They actually got a few minutes to work with but just didn't do anything exciting with it. I think they were still trying to work out the kinks on Debra distracting people. Eventually they would just settle on "boobs" and nail it. You will not remember this match after watching it.
Winner: Al gets the win after a Head shot.
First Round/WWE Championship: Big Boss Man vs "Stone Cold" Steve Austin
The pop for Austin was insane as usual. When Austin was in charge the crown was hype but Boss Man really slowed the shit to a crawl when he was in control. This was what it was. Nothing but story advancement for the night. Austin was game but it wasn't enough to help this thing.
Winner: Austin wins by DQ after Boss Man attacks him with a nightstick for like 5 minutes. 
JR almost is in tears talking about the attack. Like, I almost laughed he was selling it so hard.
Michael Cole interviews Vince. He seems alright with what just transpired and promises a long night for the guy making him all the world's money.
First Round/WWE Championship: X-Pac (European Champion) vs Stephen Regal
Ah yes. The Real Man's Man Regal. Shit was fire. This was way better than I expected it to be mainly because both dudes got their shit in hard. They kept bringing up the time limit and since I didn't go back and check results I was surprised it didn't go that way. Sadly this was match of the night up to this point. It was alright.
Winner: Both guys got counted out. Vince demanded 5 minutes of overtime but X-Pac (who walked out under his own power) was too hurt to continue so Austin gets a bye.
First Round/WWE Championship: Ken Shamrock (Intercontinental Champion) vs Goldust
This was another one that was way better than I remembered. Shamrock looked like he was enjoying every steroid to get that big. Goldust was showing some fire out there as well. Honestly I was surprised by how much I actually enjoyed this. All hail drugs I guess.
Winner: Ken got the ankle lock.
Cole is outside Austin's dressing room but provides no information. Vintage Cole.
We are supposed to get The Rock vs HHH in the next contest but the Stooges arrive and trash talk the injured HHH. Mr. McMahon has found a "suitable" replacement though…
First Round/WWE Championship: The Rock vs Big Boss Man
More story…
Winner: Rock with an inside cradle in 4 seconds.
Quarter-Finals/WWE Championship: Undertaker w/Paul Bearer vs Kane
Both of these guys got byes for doing various Vince McMahon dirty work over the previous months. They also both had switched face/heel alignments for this thing as well. Those are the two most interesting facts about this match. It was early Kane vs Taker so it just was a lot of punching and kicking.
Winner: Taker got the Tombstone after Paul distracted Kane.
Quarter-Finals/WWE Championship: Mankind vs Al Snow
The big story behind this is that Al had Socko stapled to Head after a plan from Vince. That was a dumb story and really should not have made it to PPV but it was still more entertaining than this match. Not sure who's fault it was but it sucked.
Winner: Mick got the win via the Socko Claw.
Quarter-Finals/WWE Championship: Ken Shamrock vs The Rock
These two usually had decent chemistry but Shamrock was sucking wind like 5 seconds in. It turned out to be decent and advanced the Rock's story for the night. Big Boss Man once again arrived to "hurt" the Rock's chances. Once again he screwed up. Or did he? The plot thickens BY GAWD.
Winner: Rock got the pin after nailing Shamrock with a nightstick.
Cole interviews Paul Bearer. Apparently Taker will be champion.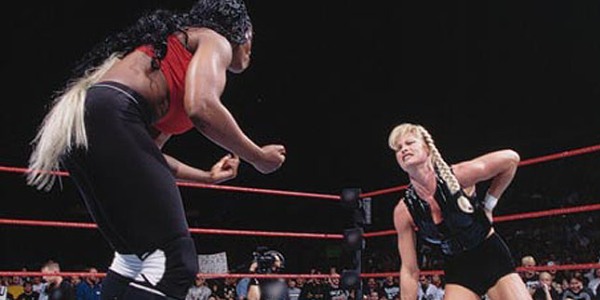 WWE Women's Championship: (C) Jackie w/Marc Mero vs Sable
Sable sucked in the ring. She was really pretty though so she gets the belt. That is the type of hot take analysis you come to this site for. Oh, yeah the match was trash.
Winner: Sable got the win with a terrible powerbomb.
Semi-Finals/WWE Championship: Mankind vs "Stone Cold" Steve Austin
McMahon and the Stooges arrive to make sure Austin doesn't get a fair shake. The match itself was solid but nothing spectacular but this crowd was HYPE all the way through. The place came unglued when Vince got out of his wheelchair to keep Steve from getting a 3-count. Shane turning on Steve with the double birds almost made the crowd riot. The only really bad part about the entire deal was Gerald hitting Steve with maybe the weakest chair shot in human history to give Mankind the win. It was terrible y'all.
Winner: Mick got the pin after a "chairshot" from Brisco.
After the match the McMahons bail in a limo while Steve steals an SUV to chase them down. The plot is thick as hell.
JR is PISSED. My god that dude is having a fit.
Semi-Finals/WWE Championship: Undertaker w/Paul Bearer vs The Rock
This was slooooooow and plodding. Neither of these guys really brought anything to this except some brawling. Boss Man arrives again to at least add some intrigue to this but nothing really popped until Kane arrived at the end. Woof.
Winner: Rock won by DQ after Kane Choke Slammed him to screw his brother.Kane and Taker brawled after the match with more fire than anything that was in the damn thing.
Cole is with Mick who makes a dad joke.
Triple Threat: Tag Team Championships: (C) New Age Outlaws vs Headbangers vs D'Lo/Mark Henry
This was complete junk and only out here to fill PPV time. They had no idea how to pace this thing or make any sense of it at all. The Outlaws (with Billy in his butt cheek showing tights) winning was really the only way they could go with this so as not to ruin the entire night.
Winner: The Outlaws got the win after a piledriver on Mosh by Billy.
Billy then shows the world his thong.
Recap of Austin being screwed.
WE find out that Shane and Vince never left…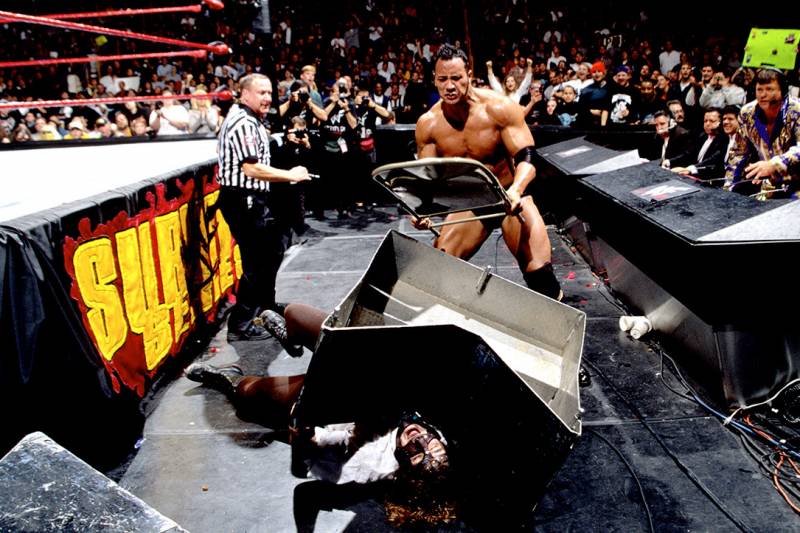 Finals/WWE Championship: Mankind vs The Rock
This started out REALLY slow but managed to pick up before the endgame. This may have been one of the worst matches these two ever had together but the ending really tied this and the entire night together. God bless Mick for going out there and trying to kill himself to cement the Rock as the guy.
Winner: The Rock gets the win after Vince McMahon calls for the bell while Foley was in the Sharpshooter. 
After the match we get the big celebration from the corporation while Mick looks confused. Rock completely embraces the dark side and attacks Mick while the crowd was in shock. After a couple of minutes though Austin arrived back in the arena to lay a beating on Rock and Stun Mick.
Overall Thoughts: The wrestling on this show was beyond mediocre. If you like story though? This is the show for you. This may have been the best story based show maybe ever. Everything seemed to tie together and the crowd was destroyed at the end of this tournament. If you say you saw this coming in 98 you are lying to yourself. This was amazing and made WWE all the money for the next couple of years. Once again, don't watch it for the wrestling because this isn't that kind of show.
Follow me right here.
All Images Available at WWE.com
If you like what we do and want to help keep this site running, hit up our store right here. We can use all the support that we can get.