October 24, 2010
Minneapolis, Minnesota
Commentators: Michael Cole, Jerry Lawler and Matt Striker

We start with Vickie Guerrero talking. God bless her, she was a heat magnet.
(Smackdown) Intercontinental Champion- Dolph Ziggler w/Vickie Guerrero vs (RAW) United States Champion- Daniel Bryan
First off, heel commentator Michael Cole ruins everything he touches in this show as he was just the worst during this period (about 2 years really). The match was solid but not great, especially considering the talent involved. Bryan was over even before YES became a thing and was popular as hell here. Both men did fine but would have way better matches down the line. It was a decent start to the show, but nothing you'd want to take home to Momma.
Winner: Bryan makes Dolph tap to the Lebell Lock.
Team Raw has a discussion about the big 14-man tag team match. Santino was led to believe there would be snacks. If I were him I'd be pissed.
WWE Tag Team Championship: (Smackdown) (C) "Dashing" Cody Rhodes & Drew McIntyre vs (RAW) Nexus (David Otunga & John Cena)
This was a quick match set up by the anonymous RAW General Manager. Cena wrestled the entire time for his team which was better for us the audience due to Otunga being the dirt worst. If Cena wrestled all of Otunga's matches for him it would have made him a tolerable wrestler, sadly that was not the case. This was just storyline advancement for the entire Nexus angle so not much to see here unless you are a David Otunga completest. I mean, who isn't?
Winner: Cena got the win with the STF. NEW CHAMPIONS!
Cena gives Otunga the AA after the match while he was celebrating like he won the Super Bowl or free cheese sticks from Arby's. Cena took both belts to the back with him.
Commercial for the Academy Award winning WWE Film production of Knucklehead. I'm sure you have seen it since you are a person with good taste.
Josh Matthews is with Million Dollar Champion Ted Dibiase and Maryse discussing Goldust being a thief.
(RAW) Ted Dibiase w/Maryse vs Goldust w/Aksana
Ted Dibiase was a black hole of charisma and his mediocrity in the ring at this point and even Maryse couldn't cover that up. Good looking guy though. They used a lot of soap opera plots to try and give this match some meaning. Goldust had stolen the belt and proposed to Aksana to keep her in the country being a prime example of that Days of our Lives shit. Unfortunately none of that helped the crowd, which only seemed interested when the ladies had a catfight.
Winner: Dibiase pins Goldust after a basment DDT.
Aksana hit on Dibiase after the match in a ruse so Goldust could steal the belt back again…yay.
Michael Cole continues to be an abomination. I really want to kick his face.
Promo for Smackdown vs Raw 2011, sadly minus Kelly Kelly in a towel this year. When you have stuff that works WWE, you should stick with it.
  LayCool walks and cut a promo about Natalya leading to the next match.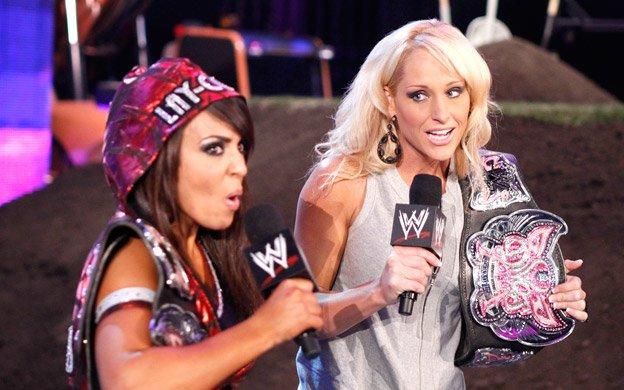 Divas Championship (Smackdown): (Co C) Layla w/Co-Champ Michelle McCool vs Natalya
LayCool was a fun act as Co-Champions and this match was just another way of showing they are bad people. Sadly it was too short to be either good or bad. I'm pretty sure it took me longer to write that Arby's joke from earlier than it did for them to have this match, although it was a damn good Arby's joke. Go back and read it, I'll wait.
Winner: Layla pinned Natty after a boot from McCool.
Josh Matthews stood in a grave giving us the very believable premise for the Buried Alive match. It's like we didn't already catch the rules during the Olympic version of the event.
Buried Alive/World Heavyweight Championship (Smackdown): (C) Kane w/Paul Bearer vs The Undertaker
This was the fourth Buried Alive match in WWE history and the announcers were quick to point out that the Undertaker was in all of them. I was shocked at that statistic myself, seems like a great match specialty for Doink the Clown or Typhoon. As far as the match goes I really hope you like guys punching and walking. Taker had the contest won but decided to be a bully to poor Paul Bearer, giving the Nexus a chance to come out and hand Kane the win, which was a story line twist they never paid off. Shockingly I didn't like this match.
Winner: Kane and a Bulldozer bury The Undertaker.
Josh Matthews somehow got out of the grave to interview Randy Orton about the main event, which made me long for the graveyard myself.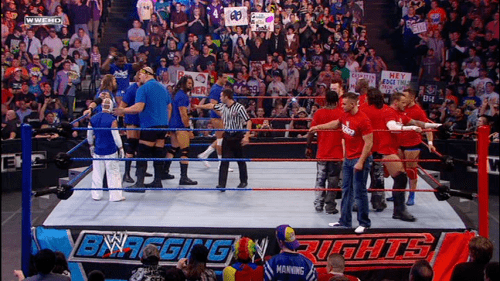 14-man Bragging Rights Elimination: (RAW) Captain Miz w/Alex Riley, CM Punk, John Morrison, Ezekiel Jackson, Santino Marella, R-Truth and Sheamus vs (Smackdown) Captain Big Show w/Hornswoggle, Rey Mysterio, Jack Swagger, Tyler Reks, Kofi Kingston, Alberto Del Rio w/Ricardo Rodriguez and Edge
I like this version of the match better than the previous years. Smackdown winning again didn't really surprise anyone. They did a nice injury angle with Rey to give it some mystery though, which helped immensely. The announcing was a problem once more, with heel Cole talking about Miz for most of the match and bickering with Matt Striker, who wasn't much better here. If I'm discussing the announcing more than the match there is an issue. Edge looked like a star as usual and got a great pop at the beginning to justify it.
Winner: Smackdown, by order of elimination-
Santino pinned by Tyler Reks with a reverse DVD.
Kofi pinned by Sheamus after a High Cross.
Swagger pinned by Morrison after a Starship Pain.
Reks pinned by Sheamus after a Brogue Kick.
Big Show and Sheamus fight to a double Count out.
Truth pinned by Edge after a Spear.
Morrison pinned by Edge after a Spear.
Del Rio pinned after a Punk backslide.
Punk pinned by Rey after the 619 splash combo.
Jackson pinned by Rey after the 619 and a splash so bad my 4 year old son could do            it.
Miz pinned by Edge after a Spear.
Smackdown takes the trophy.
After the match Striker celebrates like an idiot, while Edge and Rey do the Steiner pose and hold up the trophy that I'm sure is in someone's garage as we speak since it never showed up again.
We get a recap of the Cena and Nexus storyline, because it was so nuanced and well thought out that we needed a recap.
WWE Championship (RAW): (C) Randy Orton vs Wade Barrett w/John Cena
The last Bragging Rights we had an Iron Man match between Cena and Orton, this year they put the fresh spin on the main event up by putting Cena outside the ring. So this was truly ground breaking stuff. The story is Cena is an employee of the Nexus, due to losing a match, and Barret decreed if he (Barret) didn't win the match Cena was fired. Orton was not the guy to lead Barrett through a match at this stage. This is another situation where if it was a couple years later it would have been awesome, but as it stands was just OK at best.
Winner: Barrett wins by DQ after Cena hits him with an AA.
After the match Orton and Cena gave each other the "Bro Nod of Understanding" and then Randy RKO'd him anyway. Randy kind of ruled.
Overall Thoughts: This was alright but not great, with it having one really good match and the rest being just OK at best. This was one of those shows that as a concept was just a bad idea. To this day people still don't care whether or not RAW or Smackdown is the superior brand…we just want good TV. Not an awful show but just kind of forgettable.
Follow me right here.
All Images Available at WWE.com
If you like what we do and want to help keep this site running, hit up our store right here. We can use all the support that we can get.