July 19, 2015
St. Louis, Missouri
Commentators: Michael Cole, JBL and the King
Sheamus vs Randy Orton
Randy got the big hometown pop as usual. Mr. Money in The Bank Sheamus got the "you look stupid" chant due to looking like Dr. Zoidberg (I eventually got used to it but then it was ridiculous). The match was fine but boring as hell. Crowd was more into it than I was because of Randy, but since he isn't from my town I don't have to pretend to care. The RKO as always is awesome though. If you can get away with just watching the last minute it is way better.
Winner: RKO out of nowhere.
Recap of Stephanie McMahon starting the "Women's Revolution" the previous Monday. If she could I'm sure she would take credit for any positive thing that has ever happened. Maybe not though, she's probably nowhere near as bad as the internet makes her out to be.
JoJo interviews Stephanie, who gets all the credit for women not only being in the wrestling business, but being able to drive and have children as well. Thanks for letting them have babies Steph! Anyway she sets up a 3-way for later. Maybe the internet was right.
WWE Tag Team Championships: (C) Prime Time Players (Titus O'Neil & Darren Young) vs The New Day (Kofi & Big E) w/Xavier Woods
The New Day is amazing on the mic and drop both a Spike Lee and Don't me a Menace reference in a short amount of time. The other good thing about the New Day is they are good in the ring, but they just aren't good enough to carry the tag champs here. It wasn't actively terrible but it's nothing you would remember later. The match was fine and that's about it. Kind of like this review if we are being honest.
Winner: PTPERs win after a Clash of the Titus on Big E.
PCB/Submission Sorority put the rest of the Divas on notice or something. Wow, that group didn't last long.
Recap of Bray being creepy towards Reigns, "Anyone but you Roman". That is also what wrestling fans said for about 3 straight years.
Bray Wyatt vs Roman Reigns
Solid match out of Bray, as he hung in there with Roman. Roman has proven he can have a good match with just about anyone. A "mystery man" attacked Roman and caused the Bray win. The mystery man was only a mystery to the announcers as you could see Luke Harper's beard from the cheap seats. Great match for these two, and helped Bray gain back some of the mystique he had lost. Too bad they squandered it all away again. Now he has a spooky mask though so it's fine.
Winner: Bray pinned Roman after a Sister Abigail.
A Summer Slam commercial lights up our screens.
JoJo with the almost already forgotten group, B.A.D. and she is so short she makes Sasha look like the Big Show. Not much is said.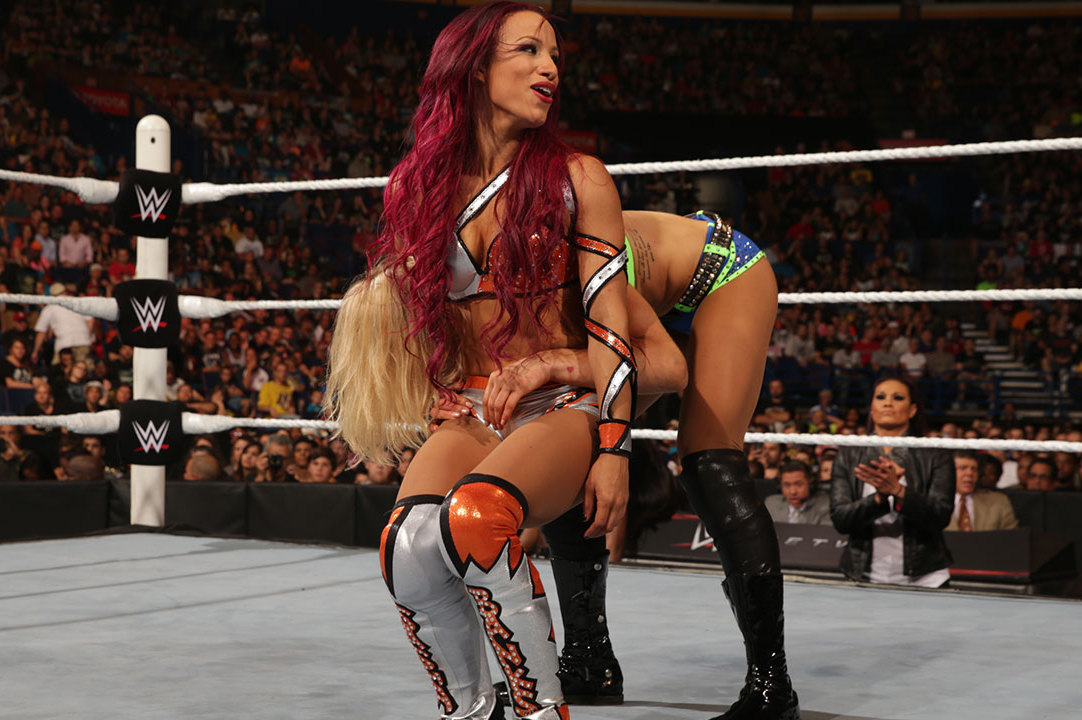 Divas Triple Threat: NXT Women's Champion Sasha Banks (w/Tamina & Naomi) vs Charlotte Flair (w/Paige & Becky Lynch) vs Brie Bella (w/Nikki & Alicia Fox)
Decent match that made the Divas Revolution seem like something they were willing to give some time to. No idea why they had the worse Bella wrestle in this one.. Everyone did an OK job, but baby face Charlotte wasn't working for her at the time. Not too shabby considering what they had been given in years past. Good show overall.
Winner: Charlotte made Brie tap to the Figure 8.
Kick-off Panel of Corey Graves, Byron Saxton, Booker T and Renee.
On the Kick-off show King Barrett knocked out King What's Up.
Package of KO being a delightfully wonderful jerk and John Cena being the US Champion.
United States Championship: (C) John Cena vs Kevin Owens
These two can't have a bad match with each other. Both guys worked their asses off and made the crowd buy into everything they had to sell. The fact that Kevin Owens was able to pick up the WWE style as fast as he did was amazing. This was two guys at the top of their games giving everything they had to steal a show, and they succeeded. The wrong guy won though. I say that every time Owens loses though so don't listen to me.
Winner: John makes Kevin tap after the STF.
Miz runs his yap about a Triple Threat for the Intercontinental Championship that didn't happen because Ryback was injured. He also steals a Ned Beatty line from Stroker Ace, which makes him Public Enemy number one in my book. Luckily Big Show knocks him the fuck out.
Summer Slam promo makes that money.
Recap of Brock being Brock, including him destroying a Caddy and throwing its door into the crowd.
WWE World Heavyweight Championship: (C) Seth Rollins vs Brock Lesnar w/Paul Heyman
Brock hadn't been pinned in 2.5 years prior to this match so no rational human being gave Seth a chance in Hell of walking out with the championship, and yet shit happens. Seth showed some heart in the beginning, but heart doesn't matter after you start getting multiple suplexes. Brock is simply the most believable and scary wrestler I have ever seen in 30+ years as a fan, and Seth um…is in good shape? Until the Undertaker showed up and cost Brock the match this was a squash in every sense of the word. The ending set up Summer Slam and beyond so it did its job well. After the match Taker gave Brock 2 Tombstones and soaked in some chants. Big Summer Slam rematch was imminent.
Winner: Brock wins by DQ after the Undertaker returns from the dead and kicks him in the balls.

Overall Thoughts: This PPV had several awesome matches, and did what it was designed to do, which was set up Summer Slam in the biggest way possible. I really liked this show because it told its own story while making me want to re-watch Summer Slam. When WWE says episodic television, this is the type of thing they should aspire to. I wish they could do a program like this every week.
Follow me right here.
All Images Available at WWE.com
If you like what we do and want to help keep this site running, hit up our store right here. We can use all the support that we can get.