July 20, 2014
Tampa, Florida
Commentators: Michael Cole, JBL and the King
2 out of 3 falls / WWE Tag Team Championships: (C) The Usos vs The Wyatt Family (Luke Harper & Erik Rowan)
Fall 1- Harper pinned Jimmy after a boot to the face.
Fall 2-Jey pinned Harper on a roll up.
Fall 3-The Usos after pinning Harper on a double top rope splash.
Damn fine tag team match between two teams that knew how to work well together. The Usos looked like tough faces surviving the onslaught of the monsters from the Wyatt Family. The fact that they are even better now is amazing. Luke Harper as usual, was awesome and earned not only his pay but probably a free ice cream for everyone in the match. Someone on the creative team was probably like "What if they carried big hammers or were really in to wine?".
Winner: The Usos
We have a backstage interview with Seth Rollins about his match with Dean Ambrose and a package about the breakup of the SHIELD.
After the package Ambrose jumps Rollins and is ejected from the building by jerk-face boss HHH.
Diva's Championship: (C) AJ Lee vs Paige
Both these ladies were great in the ring and are very popular with the crowd. That just makes it worse that this long feud got zero minutes to work with on a show that probably could have used another great match. Shame really. I wish we would have had this match in a time where they pretended to care like now. WWE once again shot changes the Women here.
Winner: AJ pinned Paige after a Shining Wizard.
Orton looks for Kane in the bowels of the building to apologize for giving him the RKO on RAW. Kane doesn't really seem to take the apology well, the guy is a hothead. Ha, because fire get it?
Kick off panel Renee, Booker, Alex Riley and Christian pick their winners for the main event. Such riveting stuff to put on PPV, no wonder the Network is so successful.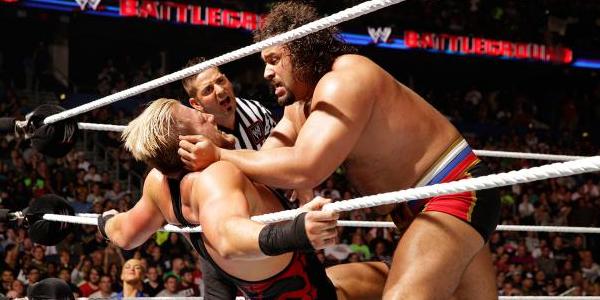 Rusev w/Lana vs Jack Swagger w/Zeb Colter
Rusev smack talking America gets him a date with "Bigg Hoss" Swagger, I know, he should be terrified. Swagger always looked like a star but just missing that thing to put him over the top (that thing was probably charisma). Rusev has that "it" factor in spades, and it doesn't hurt that Lana is in her short as hell business suit phase here. Swagger puts up a good fight against Rusev before the loss but suffered the Accolade after the match. The Russian Flag dropping after his wins was always a nice touch during Rusev matches. I wish they used that dude to his potential instead of evil foreign menace #42.
Winner: Rusev by count out.
Stardust says bat shit crazy stuff that makes Goldust seem like the sane one about "The Cosmic Key". I'm guessing he found that key in a Hot Topic store.
Seth Rollins vs Dean Ambrose
It is always fun to have the bad guy take the coward win and act like he was a bad ass. As per international pro wrestling rules, dating back to the Abe Lincoln days, the good guy of course comes back out to defend his honor. Ambrose and Rollins kick the crap out of each other until HHH and the security morons finally break them up. Man HHH is such a good asshole, they should push that guy.
Winner: Seth Rollins by forfeit because Ambrose is a dirty coward (or banned from the building).
Bray Wyatt w/Family vs Chris Jericho
The future AEW Champion had just come back from some time off and popped the crowd with both his lite bright jacket and a sweet splash to the Family from the top rope to the floor. Solid match overall with Bray sporting a nice shiner. Jericho is awesome, and he will put anyone over but that was part of the problem sometimes. Bray as always looked creepy and did a great job, needed more puppets though.
Winner: Jericho pinned Bray with the Codebreaker.
Rollins sends his security escort away and Bugs Bunny Ambrose pops out of the trunk of a car to kick his ass. They made Ambrose such a dork for a while there. Wonder how that ended up for them.
Bad News Barret was forced to drop the Intercontinental Championship due to injury. Barret should have been huge but shit just kept happening to the poor bastard.
Battleground Battle Royal/Intercontinental Championship : Big E, Alberto Del Rio, Cesaro, R-Truth, Ryback, Curtis Axel, Zack Ryder, Titus O'neil, Damien Sandow (Dressed as any old person from Tampa), Heath Slater, Diego, Sin Cara, Xavier Woods, The Great Khali, Kofi Kingston, Bo Dallas, Dolph Ziggler, The Miz and United States Champion Sheamus
Just in case you were wondering, a Battleground Battle Royal is the EXACT FUCKING SAME as a regular one, except the name pisses me off. This hit all the Battle Royal notes, jump the big guy, fake winner and cheater hanging outside the ring. In the end, Miz hid his way to his third Intercontinental Title of, (pretends to check notes) 56 overall. It was every Battle Royal ever.
Winner: The Miz after dumping Dolph from behind. 
Fatal 4-Way/WWE World Heavyweight Championship: (C) John Cena vs Roman Reigns vs Randy Orton vs Kane
This was the traditional WWE Fatal 4-Way. Bad guys team up at points and then screw themselves in the end. Cena was unsurprisingly the most over person in the match.It's a shame that it took CANCER for people to finally stop giving Roman shit. The finish was the traditional parade of finishers leading to John being the one to take the inaugural trip to Suplex City at Summer Slam, and man was that a rough trip for him. Really rough.
Winner: Cena pins Kane after hitting an AA on Orton on top of Kane.
Overall Thoughts: I just did a review on this show and the only thing I remember is a good southern style tag match and the fact that John Cena died the following month. Matches were fine but unmemorable and that is this show in a nutshell. The biggest issue was that outside of the tag match everything was bland, boring and didn't mean shit in the long run.
Follow me right here.
All Images Available at WWE.com
If you like what we do and want to help keep this site running, hit up our store right here. We can use all the support that we can get.