October 6, 2013
Buffalo, New York
Commentators: Michael Cole, JBL and Jerry "The King" Lawler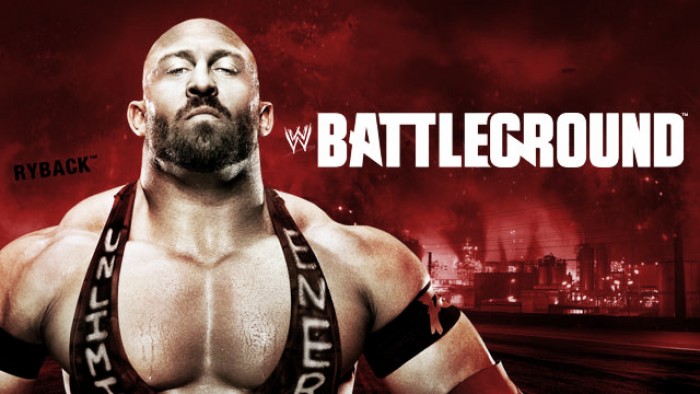 World Heavyweight Championship/Battleground Hardcore Rules: (C) Alberto Del Rio vs Rob Van Dam w/Ricardo Rodriguez
RVD as always was super over with the fans. Unfortunately his opponent, as talented as he is in the ring, was not over even with the championship. Crowd popped for all RVD's moves and sat on their hands when Berto was in control. Swapping him from heel, to face, to heel crushed his momentum and it didn't matter as he would be losing the title soon to set up the title unification that was coming. This was just OK at best.
Winner: RVD taps to the Cross Arm breaker applied through a chair.
Zeb Colter and his Real Americans of Jack Swagger and Antonio Cesaro spout off about illegals from Canada. Also I hate Glenn Beck. That seemed related here.
The Great Khali & Santino Marella w/Hornswaggle vs The Real Americans w/Zeb Colter
This was just a comedy match to keep the show moving along. The heels did their best to keep Khali out of the ring because he was huge and Santino was a joke. In the end it didn't matter one bit since Cesaro has super human strength.
Winner: Cesaro pinned Khali after a giant swing. I mean JESUS.
Susan G. Komen ad, apparently cancer is bad. Noted.
Intercontinental Championship: (C) Curtis Axel w/Paul Heyman vs R-Truth
This was set up after Truth got a fluke victory due to CM Punk interference. Poor Axel wasn't over with the title or Heyman as his mouthpiece, which is a bad sign for your future. Axel is still employed, but sadly the B-Team is rarely featured even with their weird charisma. The match was as bland as un-buttered toast.
Winner: Axel pinned Truth after a Hangman's Facebuster.
Dolph Ziggler pinned Damien Sandow with the Zig-Zag on the kick off show. I'm sure it was awesome.
Diva's Championship: (C) AJ Lee w/Tamina Snuka vs Brie Bella w/Nikki Bella
AJ was apparently jealous of the Total Divas notoriety the Bellas had…but did a real good job of hiding it to the fans. AJ did crazy chick better than most anyone in the business and was phenomenal on this show. What she couldn't do was carry Brie to a good contest, few could. actually only Stephanie McMahon could oddly enough…weird. The highlights of the match were the announcers constantly bringing up Jimmy Snuka and Nikki Bella's dress, the latter being a way better talking point for me.
Winner: AJ rolls up Brie with a hand full of tights.
The background of the next matchup is shown, the Authority were awful people who fired Cody, Dustin and had a crying Big Show knock out Dusty. The Rhodes family give a righteous ass kicking promo on the Authority and the SHIELD to set this up. They knock it out of the park to put it lightly and even watching it back still gave me goosebumps. Awesome setup for this feud and the payoff was even better.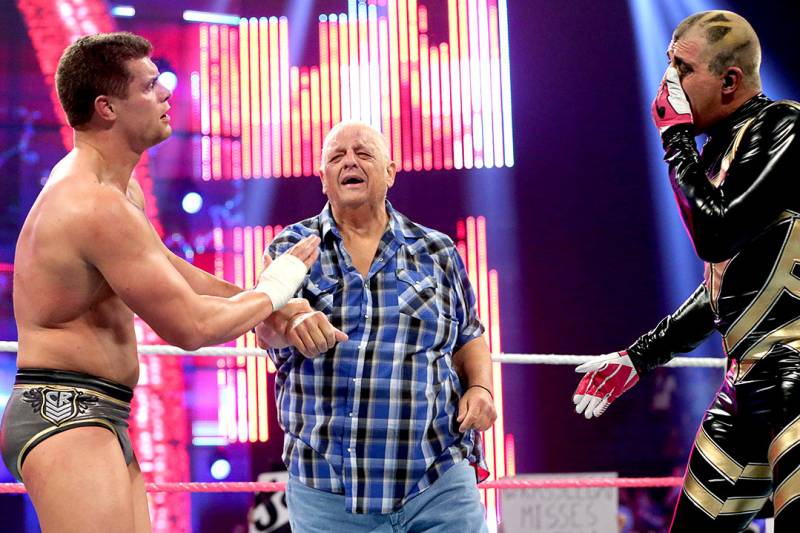 Tag Team for the jobs of the Rhodes family: The SHIELD (WWE Tag Team Champions Roman Reigns & Seth Rollins) w/United States Champion Dean Ambrose vs Cody Rhodes & Goldust w/Dusty Rhodes
This was just about my favorite Tag Team match in the last 10 years. The entire set up was perfect, as the SHIELD was unbeatable coming into this show and there was no way the Rhodes could win. Every spot hit the right notes and everyone did their jobs insanely well. I can't recommend this match enough, and Dusty showed that even at 68 years old he could still control a crowd with just a few movements. After the match the locker room cleared out to congratulate the Rhodes family while Dusty cried and I had something in my eye… probably dust or something. WATCH THIS NOW.
Winner: Cody pinned Rollins after a Cross-Rhodes.
Kick off panel with Miz, Titus, Tensai and Josh Matthews talked crap with my favorite being Miz openly rooting for Daniel Bryan.
Brad Maddox and Vickie Guerrero have a difference of opinion. Vickie was awesome but Brad makes better home movies. (Sorry.)
Kofi Kingston vs Bray Wyatt w/the Wyatt Family
This match was designed to make Bray look like a killer and get his character over, and succeeded on both counts. Kofi looked good even in defeat, it only took 6 more years for him to get the respect he deserved. Wyatt's kill Kofi after the match and suggest we should follow the Buzzards. Needs more children's show to be honest.
Winner: Bray pinned Kofi with a Sister Abigail.
HHH DVD commercial for Thy Kingdome Come.
Revue of the Heyman/CM Punk issue
CM Punk vs Ryback w/Paul Heyman
This was coming to the end of the line for Punk, as he would be gone right after the Rumble in January. You could see Punk was hurting here and not motivated to carry Ryback to a great match. Ryback looked like he hurt Punk every time he hit him with anything, including a replay of Ryback slamming him through a table onto the concrete and missing the damn table almost completely. Aside from the funny ending the best part of the match was the crowd chanting for Goldberg, that was either 10 years too late or 4 too early, depending on your point of view. Who knew that in 2019 that Goldberg would be the only one still relevant in wrestling?
Winner: Punk pinned Ryback after a kick to the junk.
Please don't try this at home spot, Ryback should have taken note.
Kick off panel and an Orton/ Bryan recap.
WWE Championship: Randy Orton vs Daniel Bryan
This match was disappointing due to the finish, as it seemed they weren't giving the best they could give. The entire story line of the title being held up was ridiculous coming into a PPV, much less leaving with the same situation. Daniel Bryan was far and away the most popular wrestler in the company (maybe still) and the WWE seemed to want to ignore that almost until it was too late. Not the best way to end a show. Both guys deserve and could do, better.
Winner: No Contest, Big Show knocked everyone out.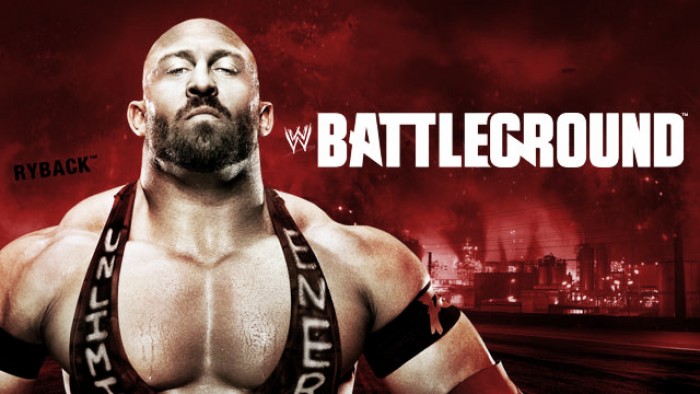 Overall Thoughts: The overall show was up and down for me. It had some good wrestling, but only one stand out moment. That being said, that stand out moment was amazing and probably the last really emotional thing Dusty Rhodes was associated with in his career, and probably one of the best things either of his kids have ever done (Yeah, I'm including that match.). That match is what I will remember when I think of this show. See that and skip the rest.
Follow me right here.
All Images Available at WWE.com
If you like what we do and want to help keep this site running, hit up our store right here. We can use all the support that we can get.