June 12, 2004
Columbus, Ohio
Commentators: JR and The King
Another Raw only show so get ready.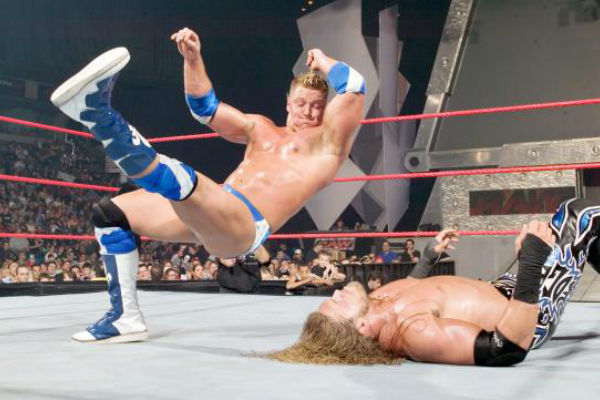 World Tag Team Championships: (C) La Resistance (Grenier/Conway) vs World Heavyweight Champion Chris Benoit & Edge
At least La Resistance got to be in a better match this year. Anytime you trade Renee Dupree for Rob Conway and The Dudleyz for Benoit and Edge the match should be better. This entire deal was just a backdrop for the championship match between Kane and Benoit later so it wasn't going to be a classic. It did help plant some more seeds for Edge's heel turn that would make him a superstar finally. All storyline and not much else really.
Winner: Kane attacks the challengers leading to a DQ.
Bischoff and Coach insult Eugene who overhears. Nick Dinsmore was a good wrestler and Providence High School's finest so he deserved better than what he got out of this. I hope he made some good merch money at least.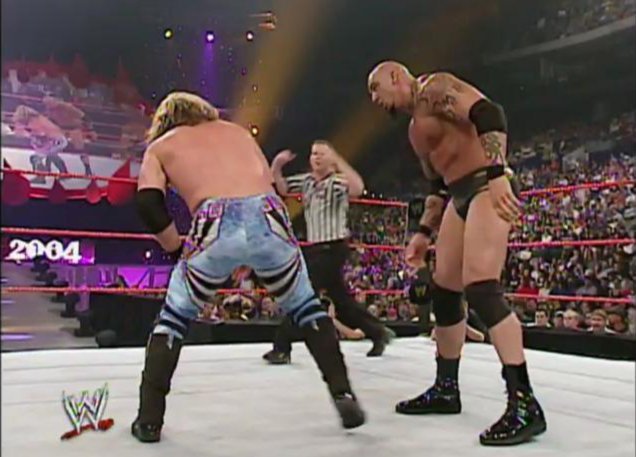 Chris Jericho vs Tomko w/EVIL Trish Stratus
This was set up as an offshoot of the Christian/ Jericho feud. Tomko always looked scary as hell but could never put it together in the ring. Trish as always, drew mega heel heat outside the ring and got bumped by Tomko before the finish. Jericho was on cruise control as a babyface at this point so the match was kind of boring. Evil Trish was easily the best part of the match and most of my 2004 if we are being honest.
Winner: Jericho pinned Tomko after a running enzuguri.
Randy Orton cut what felt like a 30 minute promo from the back all the way to the ring about how awesome he was. He was an awesome douchebag I'll give him that.
Intercontinental Championship: (C) Randy Orton vs Shelton Benjamin
You can't say they didn't give it a go with Shelton. He was taking Evolution members out left and right before he ran into Randy on this night. They had bigger plans for Randy by SummerSlam so he needed to look strong. Ric Flair showed up to take a Stinger Splash from Shelton for old time sake and just be a pain in the ass. Shelton's loss didn't look bad with all the cheating so it was win/ win. I really miss Evolution, they were entertainingly terrible human beings.
Winner: Orton rolled up Shelton with the tights.
Matt Hardy and Lita make out until Bischoff kicks Matt out of the building so he can't interfere in the Championship match later. He was mad at Kane do to this whole "rape situation" with Lita. These things happened all the time back in the day so you kinda just rolled with these ridiculous plot points. If it happened now the world would explode. But hey, it all turned out fine in the end when Kane and Lita had a forced marriage. All is well that ends well as they say. Wait…that sounded worse when I typed it.
WWE Women's Championship/Fatal 4-way: (C) Victoria vs Gail Kim vs Lita vs Trish Stratus w/Tomko
A couple of interesting things about this match, my favorite being Gail Kim being hailed from Korea. They didn't even bother saying North or South Korea, just Korea. I'm not even sure if that's racist or stupid. The second thing is, even with four  great women wrestlers they still gave them no time to perform and ended the match with a roll up pin. This is why all the back slapping about the "Women's Evolution" is 90% horse shit. Lastly this marked the fifth time Trish won the title, and still to this point may have been the best female heel they ever had, so that's something. Once again in case you missed it, Evil 2004 Trish ruled.
Winner: Trish rolled up Lita for the pin. 
The Coach vs Eugene
Eugene is a hard sell for me. In all honesty it was embarrassing and an insult to mentally handicapped people. I'm not talking about the gimmick as much as I am this terrible match and storyline. Dinsmore deserved better. Another angle that would never fly in this day and age. Also Coach always has and always will be one of my least favorite things about WWE. Ugh.
Winner: Eugene with the Rock Bottom and Peoples Elbow.
World Heavyweight Championship: (C) Chris Benoit vs Kane
After letting Benoit build up only the slightest bit of credibility as champion, they squander it all by both having him defend it in the mid-card and against Kane. He then got the privilege of being made to look lucky to win the match. That flushed any momentum he had coming in right down the toilet so that HHH and HBK could main event for the billionth time. Now, after saying all that…he did kill his family so fuck him.
Winner: Benoit pinned Kane with a roll-up.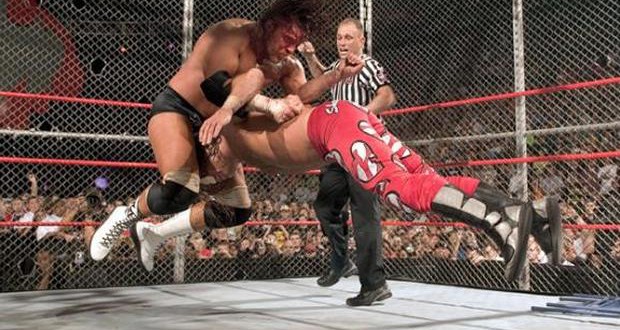 Hell in a Cell: HHH vs Shawn Michaels
I really wanted to love this because I actually like both men. Buuut I still feel if this was a 25 minute match it would have been an all-time great. Unfortunately this was a ton of laying around between the action spots. I have a feeling if anything else on the show was any good this would have seemed even worse, but the junk that proceeded it made it seem better that it was. They both bled buckets and tried to save the show but it just didn't work. I hate saying that a Hell in A Cell was boring but it kinda was.
Winner: HHH pins Shawn after 3 Pedigrees.

Overall Thoughts: This was a show that happened, of that I can say. It lived up to all the prestige, drama and wrestling that was the 2003 version. So it was bad. I've seen worse shows but not with the talent that this show had. I guess bad is the wrong word…boring…that's more appropriate. I will never watch this again, that I can say with complete confidence.
Follow me right here.
All Images Available at WWE.com
If you like what we do and want to help keep this site running, hit up our store right here. We can use all the support that we can get.