TOMORROW it goes down!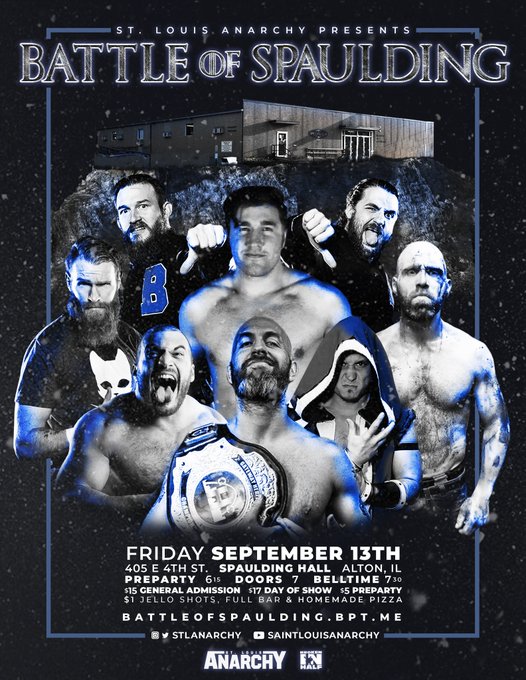 ***The King Returns***
The King Nick Gage vs Warhorse Jake Parnell
Dirty Daddy Chris Dickinson vs Stiff Robo Ginger Gary Jay
*Gateway Heritage Championship*
Jeremy Wyatt vs Thomas Shire
The Besties In the World vs. Christian Rose and Jake Dirden
Michael Strider vs Big Beef Gnarls Garvin
Chip Day vs ???
The Riegel Twins vs The Diamond Dogs
Kody Lane vs Cole Radrick vs Sharkbait vs Ace Perry
Everett Connors vs Matt Kenway
PLUS: Everett Connors Pre Event Party "Punch Social" and more!
Follow Saint Louis Anarchy on Twitter
Follow me right here.
This is also the time of year where we really start asking for donations to keep this thing running for the next year. Last year it literally came down to the last second as to whether or not I could keep this thing going and I'd rather not have to deal with that again. So if you can donate a couple of bucks please do. Or head on over and pick up a t-shirt, hoodie or some of our other fun stuff.. If you use the code MIDWEST you get free shipping until the end of the month. If not? Maybe share some of this stuff or make a comment on a column so I can make enough from the site to make it self sustainable.