December 11, 2004
Atlanta, Georgia
Commentators: Michael Cole and Tazz
This was a Smackdown only show so buckle up.
WWE Tag Team Championships: (C) Rob Van Dam & Rey Mysterio vs Renee Dupree & Kenzo Suzuki with Hiroki and Fifi
This shows the weakness of the brand extension yet again. Dupree and Suzuki should have been nowhere near the tag titles at this point (or ever now that I think of it). The fact that they were former champs was sad. Mysterio and RVD seemed like much bigger stars and the match was brought down by the garbage challengers. How are both of these dudes still going?
Winner: RVD pins Dupree after a 619/5 star frog splash combo.
After the match Kurt Angle comes about to make a challenge in the Kurt Angle Invitational.
Kurt Angle Invitational: Kurt Angle vs Santa Claus
It was Kurt Angle, a gold medal winner and one of the best in the world vs a guy in a Santa suit…yep. Santa should have shot on him to make it interesting.
Winner: Kurt Angle makes…Santa …tap to the ankle lock.
Dixie Dogfight boxing match: Daniel Puder vs The Miz
This version of Tough Enough was a joke. This shouldn't have been on or near a PPV. Neither Miz nor Puder were trained boxers plus it was clear the fans were not going along with the finish. If anything, Puder should have been embarrassed by not knocking weak ass, untrained Miz out. Mr. MMA didn't show me a lot in this one. Meanwhile Miz is a former World Champion and future Hall of Famer. Weird.
Winner: Puder by a very mixed fan vote.
Booker T and Eddie Guerrero are back stage trying to think of a plan to beat the Undertaker, who was unsurprisingly right behind them.
The Bashams (Doug & Danny) vs Charlie Haas & Hardcore Holly
Charlie was in a storyline love triangle with Dawn Marie and Miss Jackie that took over this match. Match was blah and the story was hot garbage. I liked the Bashams individually in OVW but they never really gelled for me as a team in the big time and came across as boring. This was what it was.
Winner: Danny rolled up Hardcore.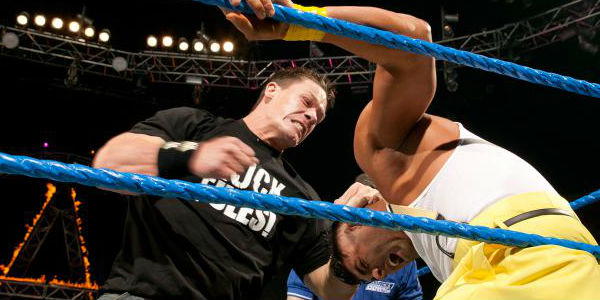 No DQ/Falls Count Anywhere/WWE United States Championship: (C) John Cena vs Jesus
The setup of this match was ridiculous. Jesus stabbed Cena in a bar. He stabbed him in a bar. Just wanted to repeat that. I'm not sure why Jesus wouldn't have gone to jail but instead we got this match. The positive is this was what it needed to be, John Cena dominated from bell to bell. John looked every bit the mega star he would become over the next decade and the crowd loved him. This contest did its job and Jesus luckily never got a singles push for us to suffer through.
Winner: John Cena pins Jesus with the FU.
Charlie Haas as Special Referee: Dawn Marie vs Miss Jackie
Match was terrible and the storyline made it worse. Charlie turned heel by turning on his real life fiancée and Dawn Marie. This should not have been on PPV, television, or an indy show. Junk. If you like boobs a lot you are set though.
Winner: Dawn pinned Jackie with a rollup and a handful of tights.
3 on 1 Handicap match
The Big Show vs Kurt Angle, Luther Reigns, and Mark Jindrak
Two years previous to this, Angle had beaten Show after an F5 from Lesnar, so I guess this was poetic justice. Big Show looked like a man that could fight 3 guys, so this was OK for what it was. I'm glad I don't ever have to watch it again though. Whatever happened to Luther?
Winner: Big Show pinned Jindrak with an F5.
WWE Cruiserweight Championship: (C) Spike Dudley vs Funaki
This was the third roll up victory of the night which was a bit much. Not sure who was agenting but someone needs to communicate. It was a feel good ending though, as Funaki deserved some recognition for the time he had been with the company. I'm glad he was able to win a belt before retiring. The dude still has a job there so they really like him I guess.
Winner: Funaki wins with a roll up. 
Fatal 4-way/WWE Championship: (C) JBL vs Booker T vs Eddie Guerrero vs The Undertaker
JBL escaped by the skin of his teeth again when Heidenreich interfered and took out the Undertaker before the pin. Yeah, the Heidenreich push was not one of their best ideas. The match itself told a great story, with JBL taking a beating and barely escaping every time someone had him in real danger. JBL would continue his reign for a while after this as they stretched the chase out even further. At the time it was miserable but looking back it's not nearly as bad.
Winner: JBL pins Booker after the Clothesline from Hell.
Overall Thoughts: This was a bad show. Cena looked like a star in his match, and the main event delivered but the rest was not good. 3 roll up finishes and at least 3 matches that shouldn't have been on PPV make this a bad one to sit through.The initial brand extension always left one, or both shows looking weak and lacking star power. We had another fine exhibition of that with this show. Weak sauce.
Follow me right here.
All Images Available at WWE.com
This is also the time of year where we really start asking for donations to keep this thing running for the next year. Last year it literally came down to the last second as to whether or not I could keep this thing going and I'd rather not have to deal with that again. So if you can donate a couple of bucks please do. Or head on over and pick up a t-shirt, hoodie or some of our other fun stuff.. If you use the code MIDWEST you get free shipping until the end of the month. If not? Maybe share some of this stuff or make a comment on a column so I can make enough from the site to make it self sustainable.