December 13, 2003
Orlando, Florida
Commentators: Jim Ross and Jerry "The King" Lawler
All Images Available via WWE
This was a RAW only show so get ready.
Mark Henry w/Theodore Long vs Booker T
This one made Henry look like a monster and Booker the grizzled veteran. The commentators bothered me discussing Mark Henry like he was a rookie…he debuted in 1996. That really took me out of the match. WWE announcing has always had a habit of that. See also Graves, Corey.
Winner: Booker T pins Mark Henry with the scissors kick.
After the match Mick Foley and Stacey Kiebler came out to waste time causing Orton and Flair to interrupt which led directly to the next match.
Intercontinental Championship/Mick Foley as Guest Referee: (C) Rob Van Dam vs Randy Orton w/ Ric Flair
RVD was the perfect man to get Orton over as a star. The match was great, both guys looked like good in there and Orton wins his first Championship over a super star. Good match that accomplished everything that it set out to. Hard to believe that RVD is still wrestling in 2019 with the style he has.
Winner: Orton pins RVD with an RKO to win the title.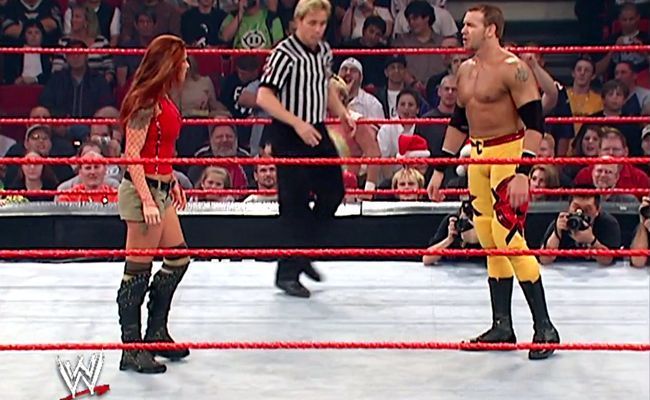 Eric Bischoff's Battle of the Sexes Tag: Chris Jericho & Christian vs Trish Stratus & Lita
This made the ladies look good going toe to toe with the former tag champs. It also set up the ongoing storyline with Jericho being in love with Trish and Christian being a tool. It served its purpose while still keeping everyone relatively strong. The payoff for this entire deal at Mania made me a Trish fan for life. Evil Trish is and always will be the best Trish.
Winner: Christian pins Trish with a roll up.
Shawn Michaels vs Batista with Ric Flair
Shawn Michaels is the best ever at taking a beating from huge dudes and proved it here. Batista looked good in what was only his third career PPV match due to injuries. On the other hand this was Shawn Michaels 68th PPV match and he proved why he got so many with this performance. Good little vs big match up. You could even see the star potential in Drax here. Dave would get way better before it was all said and done obviously.
Winner: HBK pins Batista with Sweet Chin Music.
After the match Batista refused to leave the ring due to anger issues. He was still in the ring when Maven and Matt Hardy came down for their scheduled match causing them to brawl on the floor. Hardy was smart by throwing Maven in to an angry Batista who proceeded to hit two consecutive Batista bombs on Maven.
Maven vs Matt Hardy V1
Hardy did a brilliant job milking the crowd for heat by splashing the prone Maven and counting his own pin. Then he followed that up by grabbing the microphone and declaring himself the winner. It was funny stuff.
Winner: No Contest due to Maven being unable to compete.
Tag Team Turmoil for the World Tag Team Championships: La Resistance (Rob Conway and Renee Dupree) vs The Hurricane & Rosey vs Mark Jindrak & Lance Cade vs Val Venis & Lance Storm vs (C) The Dudley Boyz vs Test & Scott Steiner vs Ric Flair & Batista
Flair and Batista were surprise entrants in the match after the Dudleys already thought they had retained their titles. This match showed another example of Batista being a dominant monster and once again made the story of the match the rise of Evolution. Match itself was a cluster fuck but kinda fun.
Winner: Batista pins Devon with the Batista bomb. 
WWE Women's Championship: (C) Molly Holly vs Ivory
This match was just here to fill a pay per view. They had no time to tell a story or even do an exciting basic match. It was funny watching Ivory play the plucky babyface after seeing her character the previous installments of Armageddon.
Winner: Molly pins Ivory with a roll up.
Triple Threat for the World Heavyweight Championship: (C) Goldberg vs HHH vs Kane
HHH wins his Eighth title of a million in the weakest possible way. It took Heaven and Earth to pin Goldberg as usual. Kane looked like a monster and Goldberg looked like a guy who didn't want to lose. The story of the night continues with Evolution ending the night on the entrance ramp holding all the RAW championships. This began either a really bad or really good period for Raw depending on how much you liked Evolution.
Winner: HHH pins Goldberg after a low blow, choke slam, and Evolution interference. 
Overall Thoughts: This was not a great show, having only half the roster to work with really hurt the overall presentation. The entire story of this PPV was to build up Evolution and start the road to making Batista and Orton stars, if nothing else it succeeded at that. From what I hear both dudes turned out alright.
Follow me right here.
All Images Available at WWE.com
If you like what we do and want to help keep this site running, hit up our store right here. We can use all the support that we can get.