Another big PPV from AEW! So far these have not been doing the numbers on here (besides ALL IN) that WWE usually does but maybe with the TV show up ahead that will change. Also Chicago is as Midwest as you can get.

Let's meet our esteemed panel…
Chad French: I write about wrestling on this website. I also enjoy Pabst Blue Ribbon in a non-ironic way. Possible drinking problem.
Drewcifer Jones: Co-host of The Road Home From Wrestling podcast and all around swell guy.
Lee G:  Journalist. Reporter. Pro Wrestling Enthusiast. Maker & Owner of Lee G News. Cincinnati Reds fan. 'Macho Man' Randy Savage is Lord.
Jamie B: Another lifelong wrestling fan and brings a woman's touch to this bunch of weirdos. 
Ben Shearin: A referee, Commissioner, my sometime commentary partner and pretty good guy. Sometimes.
AEW World Championship: Chris Jericho vs. Adam "Hangman" Page
Chad French: Nothing gives your company more credibility out of the gate than having a 48 year old man win the title. That being said I'm sure Jericho wins this because of reasons.
Drewcifer Jones: I think Jericho wins. This gives the title immediate legitimacy and sets up the chase for Page.
Lee G: Chris Jericho…I will never EVER pick against El Corazon de Leon!
Jamie B: This is going to be a banger! I just can't see Jericho winning because of his role in the company, so I'm going with Page.
Ben Shearin: Chris Jericho will win this one. It'll add some prestige to the title and it'll set up some interesting opponents for Jericho going forward. I love Hangman, but it's not his night.
Kenny Omega vs. PAC
Chad French: With Moxley being out Omega should pick up the win here but for some reason I'm not feeling it. PAC takes it.
Drewcifer Jones: This all seems very fishy to me. I am predicting PAC wins due to shenanigans possibly involving Moxely.
Lee G: Kenny Omega…he needs a big win this summer.
Jamie B: I will never ever pick Omega to win. PAC all the way. Screw Omega.
Ben Shearin: I believe Moxley would have won, if he hadn't been injured, but with PAC being the substitute, I'll go with the AEW guy in Omega, for what is sure to be a banger.
AAA Tag Team Championship: Lucha Brothers (c) vs. The Young Bucks (Ladder Match)
Chad French: So far the real AEW crew hasn't done well in my picks so I'm taking the Bucks to take this flippy ass match and the belts.
Drewcifer Jones: This match result depends heavily on how the relationship between AAA and AEW is going to proceed. I think the Bucks will win so that this feud can continue to more ridiculous matches.
Lee G: Lucha Brothers…I hate the Young Bucks.
Jamie B: I think with this being a ladder match, the Young Bucks will have the upper hand. Bucks get the win.
Ben Shearin: These guys have put on fire matches before, and I expect this to be no different. I figured the Lucha Bros were gonna win them back in Vegas, but I'll go with them this time too. Gonna be a hell of a spot fest.
Cody vs. Shawn Spears (w/Tully Blanchard)
Chad French: A Rhodes in the ring and a Horseman outside it to cause problems? Spears takes this and there will be shenanigans.
Drewcifer Jones: Why isn't this a chairs match? Or a 1st blood match? It should be. Shawn Spears wins with a chair shot behind the ref's back.
Lee G: Spawn Spears…because Tully that's why!
Jamie B: I'm already marking out over this match. It's difficult to pick a winner because they're both such strong competitors, but I think Spears will beat Cody. I'm so glad he's finally getting a real chance to showcase his skills
Ben Shearin:  I have to go with Shawn here, but through some shenanigans. I think MJF may "accidentally" cost his best friend the match.
Best Friends vs. Dark Order (Winner gets a bye in tag team championship tournament)
Chad French: The Dark Order need this win more. Give it to them.
Drewcifer Jones: In order to build the…Dark Order, they need to win or put one of the Best Friends out of commission. I'm predicting Best Friends wok via disqualification and the Dark Order injures one of the Best Friends in the ensuing chaos.
Lee G: Dark Order…They're my pick to win the tourney.
Jamie B: I have a soft spot for the bad guys; I'm choosing Dark Order.
Ben Shearin: Going with the Dark Order here. The crowds are still getting adjusted to them, so they need this win here more than the Best Friends.
Joey Janela vs. Jimmy Havoc vs. Darby Allin
Chad French: This is really a pickem situation. So since literally no one else had faith in the Bad Boy I'm taking him to win.
Drewcifer Jones: I think I'm the only person on earth who doesn't get Jimmy Havoc. That said, I think he will win. He's super over everywhere he goes. Plus this can help build a "will he ever win?" storyline for Darby.
Lee G: Darby Allin…DA is one of my personal favorites.
Jamie B: Goes without saying that this match will be wild. I've quickly become a huge fan of Allin; I really dig his style. I think it'll be a hell of a fight, with Allin getting the win.
Ben Shearin: This one is a coin toss to me. But I think Jimmy is gonna be their main hardcore guy, so I'll go with him in this one. But any of these guys could win and it wouldn't shock me.
Riho vs. Hikaru Shida
Chad French: I'm taking Shida in this. My purely scientific reason is because I'm totally guessing and they could go either way.
Drewcifer Jones: Riho wins because I can actually pronounce her name. I really hope this is better than the Joshi stuff AEW has put out so far. It never seems to translate well to American audiences and I hope this changes that.
Lee G: Hikaru Shida…….and there will be blood!
Jamie B: Riho and Shida both are incredible; I'm so excited for this match. I think Riho will struggle but will steal the victory in the end.
Ben Shearin: Honestly, I'm still a little behind on these ladies. I'm not super familiar outside of what I've seen on the shows from them. So I'll take Hikaru.
Luchasaurus, Jungle Boy, and Marko Stunt vs. SoCal Uncensored
Chad French:  I'm taking SoCAl but them putting the kids over would be awesome.
Drewcifer Jones: (EDITORS NOTE: Drew was swamped at work and couldn't make this pick. So I did it for him.) Demolition wins this. Crush is way too strong brah.
Lee G: SoCal Uncensored…IDK!
Jamie B: Luchasaurus and Jungle Boy just crack me up. They're also great competitors, but I can't put them and Stunt over SoCal.
Ben Shearin: Gimme SCU because Chicago is the worst town I've ever been in.
Women's Casino Battle Royale (Winner receives shot at inaugural women's title) Confirmed entrants: Britt Baker, Jazz, Sadie Gibbs, Teal Piper, Big Swole, Aerial Monroe, Awesome Kong, Brandi Rhodes, Nyla Rose, Allie, Yuka Sakazaki, Ivelisse, Shazza McKinzie (The Buy-In pre-show)
Chad French: Brandi because that would piss the world off.
Drewcifer Jones: Awesome Kong wins. I love her.
Lee G: Awesome Kong!!!!
Jamie B: Battle Royales aren't my favorite; they can either be great or are a total train wreck. I'm pulling for Nyla Rose 100% here, but I think there's a chance of Britt or Allie taking this.
Ben Shearin: Britt Baker is sort of the headline lady for this company, so I'll take her. I look to see Britt and Kylie battle it out for the title.
Private Party vs. Angelico & Jack Evans (The Buy-In pre-show)
Chad French: Private Party takes this one via copious flippy doos.
Drewcifer Jones: Im putting the over/under on flips in this match at 237. Private Party wins to help establish them.
Lee G: Private Party…This is a coin flip to me actually.
Jamie B: I feel like Private Party is the favorite here, but Angelico and Evans have that dark horse advantage. I'd love to see them win.
Ben Shearin: Private Party with the win here in what's sure to be a solid pre-show match. Private Party also have the match with the Bucks coming up, so they'll win to look good heading into that.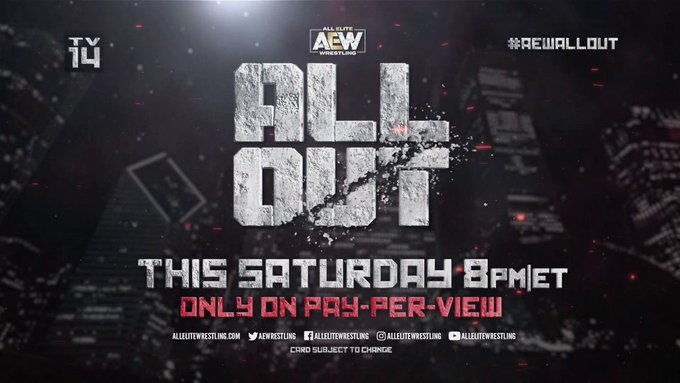 I think we are all looking forward to Saturday and to see how right and or wrong that we were. Thanks to everyone for reading and please come back soon!
Follow these folks on Twitter if you can and support their various platforms and projects!
Drewcifer Jones- @Drewcifertweets or the The Road Home From Wrestling
Jamie B @BolshoiB00ze
Lee G @therealleegnews 
Chad French right here.
Ben right here.
All Images Available at AEW's lovely website.
If you like what we do and want to help keep this site running, hit up our store right here. We can use all the support that we can get.