I really liked last year's version and this looks just as good.

*Gateway Heritage Championship/Pure Wrestling Rules*
– The Monarch Jeremy Wyatt vs Warhorse Jake Parnell
*Dog Collar Match*
-Matt Kenway vs Evan Gelistico
*Special Tag Team Match*
-The Besties In The World vs The Work Horsemen
*First Time Ever*
-Jigsaw vs Gary Jay
*Trios Tag Team Match*
-Gnarles Garvin & The Gymnasty Boys vs Jake Dirden, Thomas Shire, and Christian Rose
-Chip Day and Logan James vs the Diamond Dogs
-??? vs Everett Connors
-Kody Lane vs Jaden Newman
-Craig Mitchell vs Larry D
Plus: Pre Event Party, Everett Connors reads your fortune as well as a scramble match!
Follow Saint Louis Anarchy on Twitter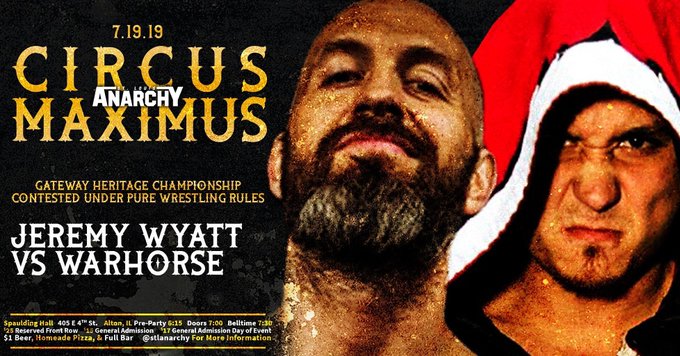 Follow me on Twitter. 
You like t-shirts? Hoodies? All kinds of random stuff? Get some MWT merchandise right here. We can use all the support that we can get.