Yo and several more Yo's! This is J.Rose ring announcer for Fight Or Die Pro Wrestling and this is the first FOD Rundown I'm doing for the great folks at MWT. This is a guide for anyone new to the world of FOD or just looking to brush up on what all's going on for this event. For those new to FOD here's a couple of tips in case it's your first time:
Important Notes
No Homophobia, No Transphobia, No Racism. FOD is a family that welcomes everyone and if you're not going respect everyone, you can get the fuck out.

If the action looks like it's coming your way that means it is, grab yer shit and move.

There will be cursing… and lots of it. So if anything that would get censored on cable TV could possibly offend just don't even show up homie.

There may be blood. We'll try and warn you if we see it on the horizon but wrestling is a combat sport (the sport of kings), anything can happen.

Children are welcome! Just keep in mind the other stuff above. If they're hardcore, they fit in. And if they're not hardcore then they will be.

It's finna be hotter than the ghetto blacktop so feel free to bring handheld fans. There will be tons of water and it will be relatively cheap cause we don't want you to pass out.
Not so important Notes:
PUT ON DEODORANT IT WILL BE HOT. I feel like I shouldn't have to say this but here we are…

This show and every FOD will start with Wu-Tang's "Bring Da Ruckus" from the classic album Enter the 36 Chambers and everyone will be shouting the words. If you don't know it, listen to it. It slaps and you're gonna wanna say it.

Say one fall after I, the ring announcer, say one fall. It'll be fun.

Most every match will start with the referee, saying "You have 2 options" to which you reply "Fight or Die!" and the match will begin.

Davey Richards isn't allowed unless he promises to finally wrestle Johnathan Wolf but honestly, if he shows up it'll be a first.
Card Rundown
FOD Oh Well Whatever Nevermind
July 14th, 2019 | Doors @ 5:30p EDT | Start 6:30p EDT
1151 S Kentucky Ave Indianapolis, IN
GA Tickets: $10 | Front Row: $15 (selling out of front row soon!)
Twitter: @fightxdie | Facebook: Fight Or Die Pro Wrestling | Instagram: @fightordie.wrestling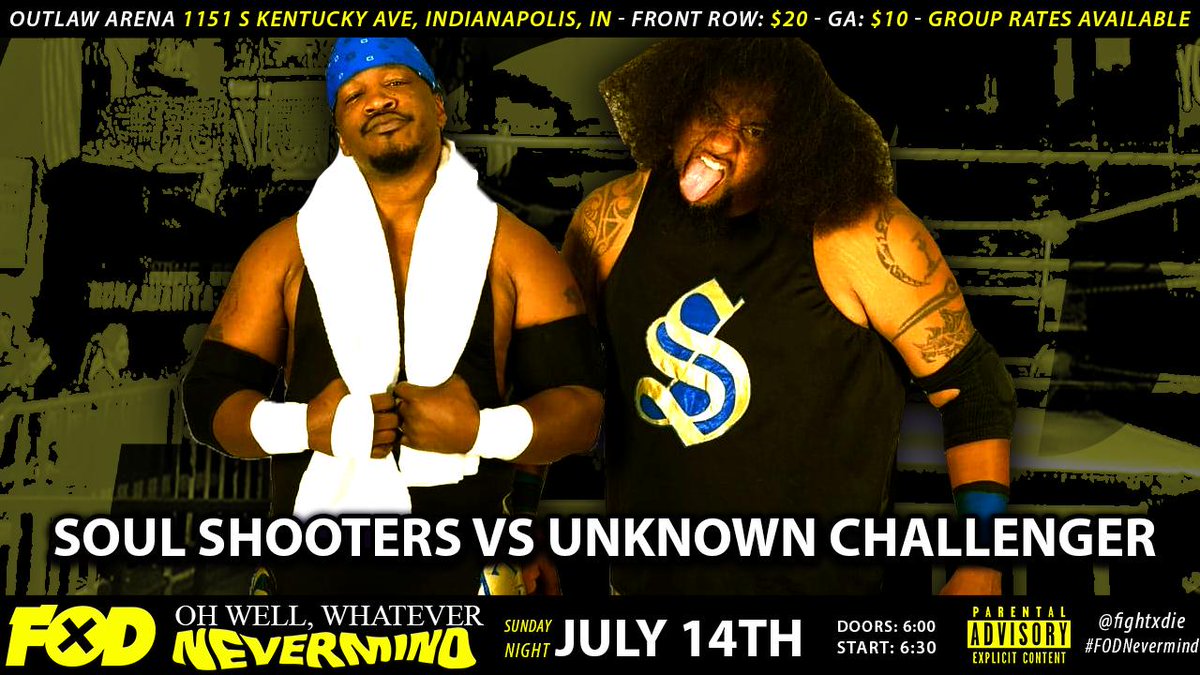 Soul Shooters Open Challenge
I've heard all sorts of guesses on who's going to be the ones to face Appollo Starr & Dru Skillz, everyone from the IFHY odd couple of Tyler Matrix & Cole Radrick to Little Flower Warfare of Shain Bender & Sage Cainan to some variation of the Lost Boys, and that's only the tip of estimations. Only concrete answers I've gotten out of management is that "they're the highest touted tag team to ever step foot in FOD".
I don't know what all of that means but LAX just left IMPACT Wrestling so that's who I'm hoping for
…I can dream, can't I?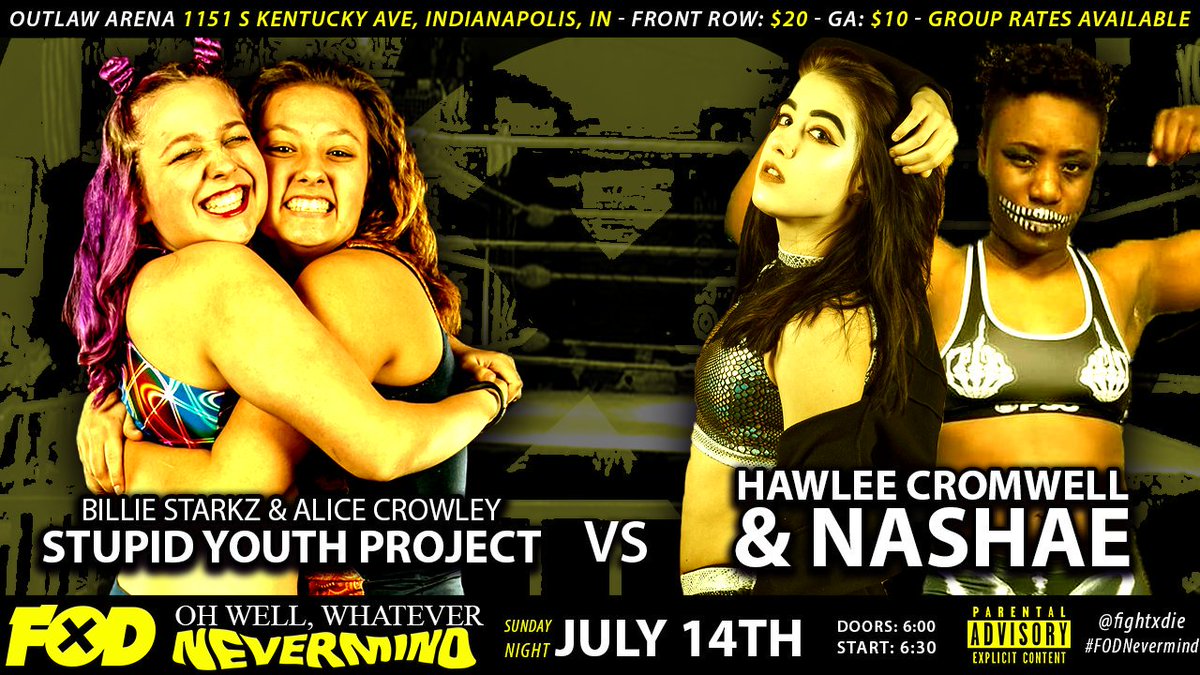 Stupid Youth Project vs Hawlee Cromwell & NASHAE
Stupid Youth are on a roll right now and may be able to take claim of being the best tag team in all of Fight or Die after beating their IFHY big brothers in Shawn Kemp & Johnathan Wolf last show.
This show they take on the first time tag team of Hawlee Cromwell and NASHAE both making their FOD debut. Cromwell, a frequent dabbler in the dark arts, has wrestled across the country including stops in DEFY in Seattle and FREELANCE in Chicago, her partner NASHAE is no slouch either. The locker room has talked about how NASHAE is the current top student at the WCWO Training School and while she's still very raw and unpolished, she's extremely athletic and a knockout queen in the making.
The key to this match is the rumors of Cromwell testing out her dark arts magic on NASHAE in their strategy sessions for the match. Will the witch's brew conquer SYP or will the teenage sensations be able to get one more victory in FOD before summer vacation comes to an end.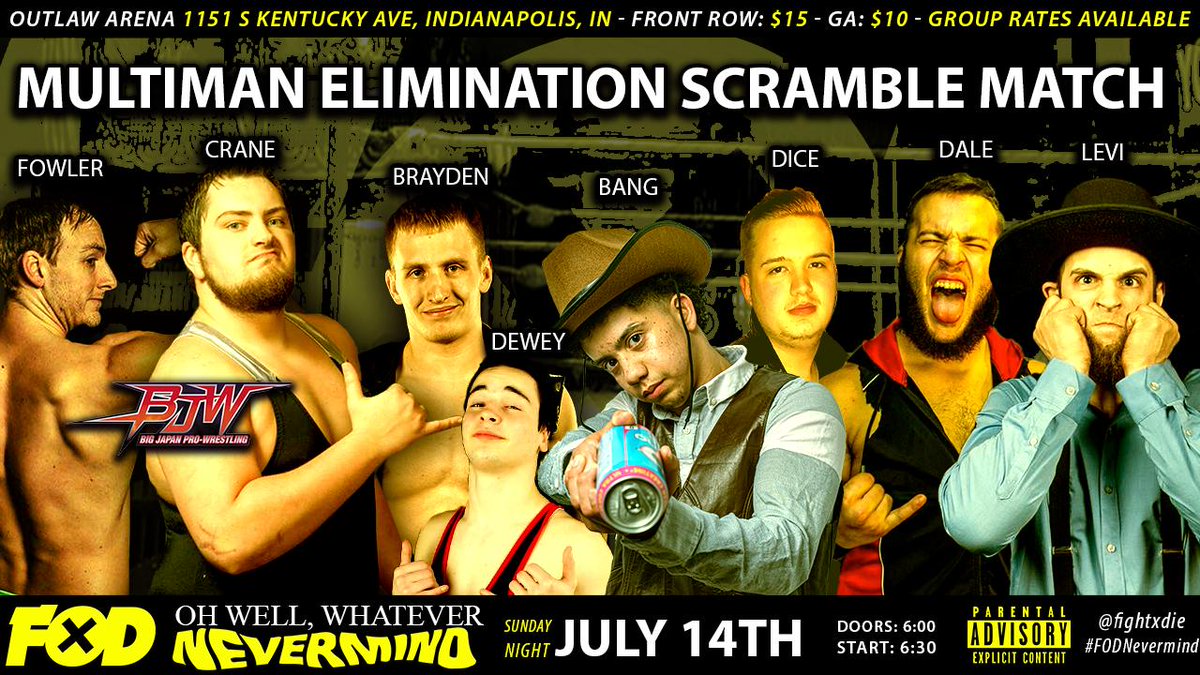 Multiman Elimination Scramble
So instead of writing up paragraphs about this match, I'm just gonna quickly run down each opponent in the match, at least the ones we know of, anyone is bound to pop up in this one.
Dewey Wellington

: A survivor of the Fight Or Die feud with the Grindhouse Wrestling school, Dewey has reverted back to his fun-loving, "straight outta high school ways". He's never won a singles match in FOD, will Sunday be the moment?

Royal Dice

: Formerly "Joey Dice" this young man has worked ring crew for every single FOD show this year and is finally getting his shot in his Fight Or Die debut. He's looking to translate his determination to be in the match to get a W now that he's inside of it.

J Fowler

: Our first fresh face in this match, "Superfli" Fowler hails from the southern region of the midwest and along with several championship accolades, brings one claim to fame: he has the "best buns in the business". At first read, you may doubt him but let me just say that Billy Gunn made a career out of ass-mastery, and who are you to doubt Billy Gunn?!

Davey Bang

: Close your eyes and imagine a young man that's just started his wrestling career but he's catching on really quick and is becoming very proficient in Lucha Libre arts. In his adopted hometown of Chicago, they've immediately taken to him and now he's rising the ranks of the Chi-town scene.

Now also imagine that this guy was a curly-haired, cowboy that substitutes his six-shooters for bang energy drinks. That's Davey Bang and man am I personally excited to see him on Sunday.

Brayden Lee

: …was a substitute Lost Boy for Team FOD last show and even though he had the best physique in the ring with his shredded abs and other things I won't type out, it didn't work out so well. Now this Chikara Young Lions Cup competitor is now looking to get back in the win column this time around.

Levi Everett

: …is an actual Lost Boy and the only Lost Boy announced for this card. Since we last saw Levi he continued his tour of taking America by storm most recently taking the hearts of Freelance Wrestling in Chicago during their last stream on IWTV (use promo code: JROSE for 20 free days lol). 

Levi looks to ascend back to the main event he had in the first show of the relaunch in a deathmatch against…

Dale Patricks

: Naptown's native idiot son and the Hardcore Heart of Indiana. Is having his first match in the relaunch of FOD that's not a hardcore match. While the FOD faithful may not have seen Dale in regular wrestling action, this School of Roc trainee is extremely skilled in the grappling arts when he chooses to be. 

In a statement submitted to MWT Dale said, "once I win on Sunday I won't need my hand raised, instead I'll just give a good ol' Self High Five"… I have an idea of what could mean but who knows man. #CharacterWork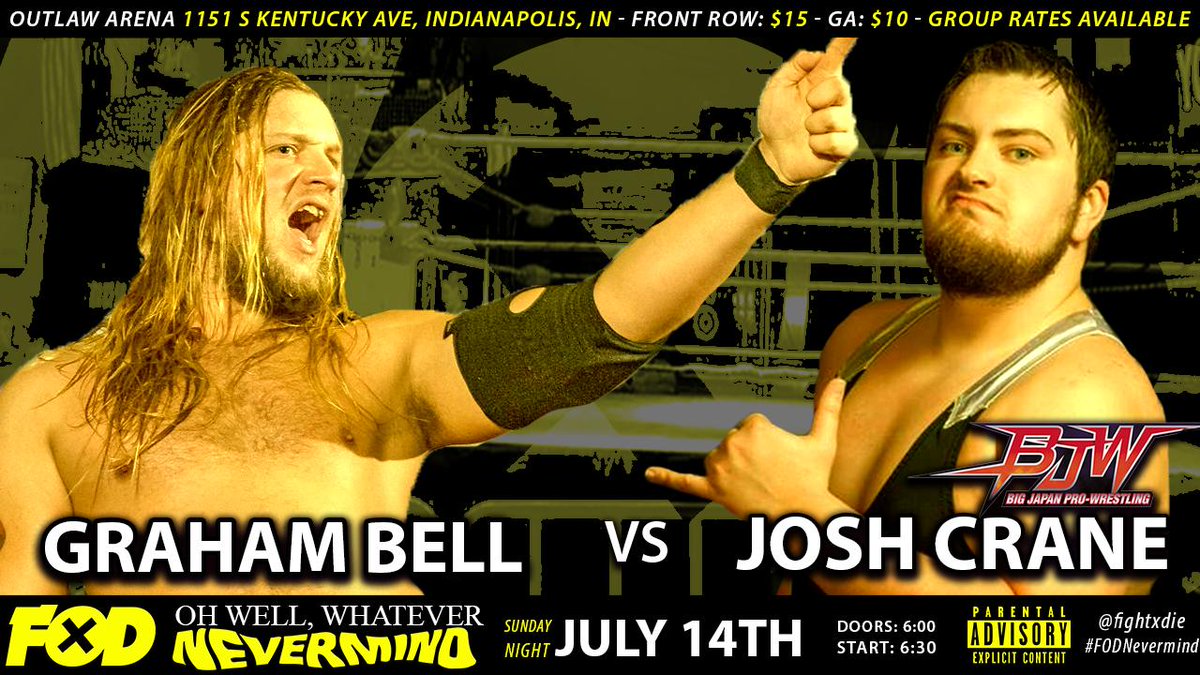 Graham Bell vs Josh Crane
Sometimes the facebook match write-ups explain the match better than I could ever look to rewrite so let me just copy and paste this in with a few additions
Josh Crane just accomplished his career long goal to go and wrestle in Japan for deathmatch wrestling company BJW. Not only did he do that but he main evented several shows and impressed management a ton. 
We wanted to know what "Never Say Die" learned and showcased in the land of the rising sun …so we decided to take him out of the scramble and put him up against a man who carries a bazooka in his first match back in Indianapolis.
Yeah that's basically it.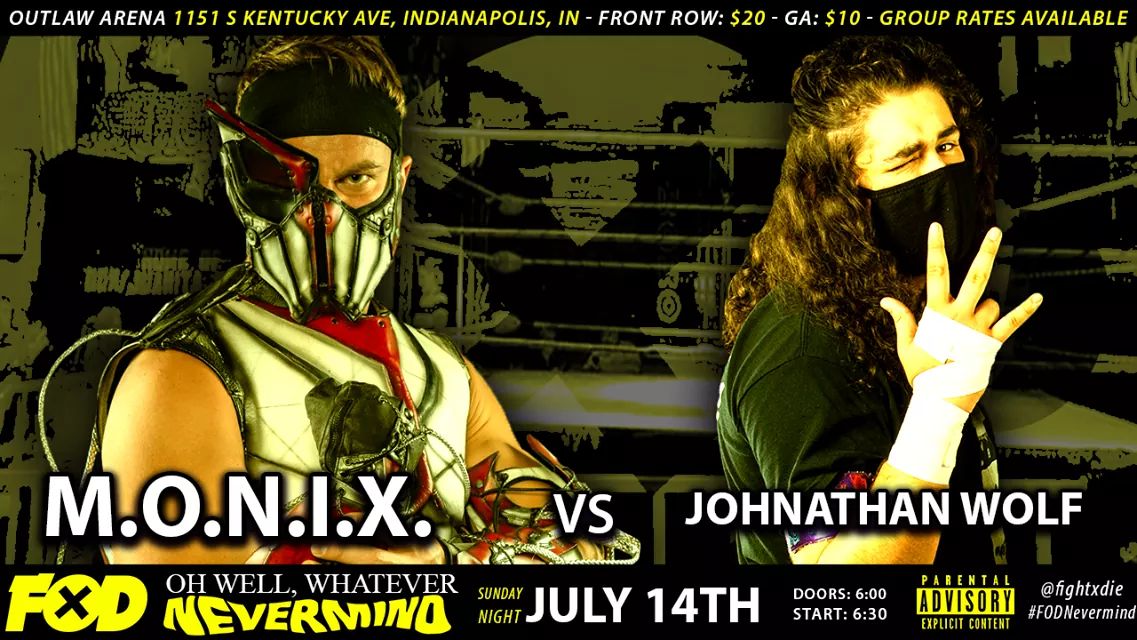 Project M.O.N.I.X. vs Johnathan Wolf
Sometimes I don't really need to write anything because the match will tell you all you need to know. This is one of those times. Johnathan Wolf is largely considered one of the if not the best wrestler in the city of Indianapolis if not the whole state and MONIX is considered that for his home area of Chicago, IL.
MONIX debuts in FOD against Johnathan Wolf. Shut up and watch.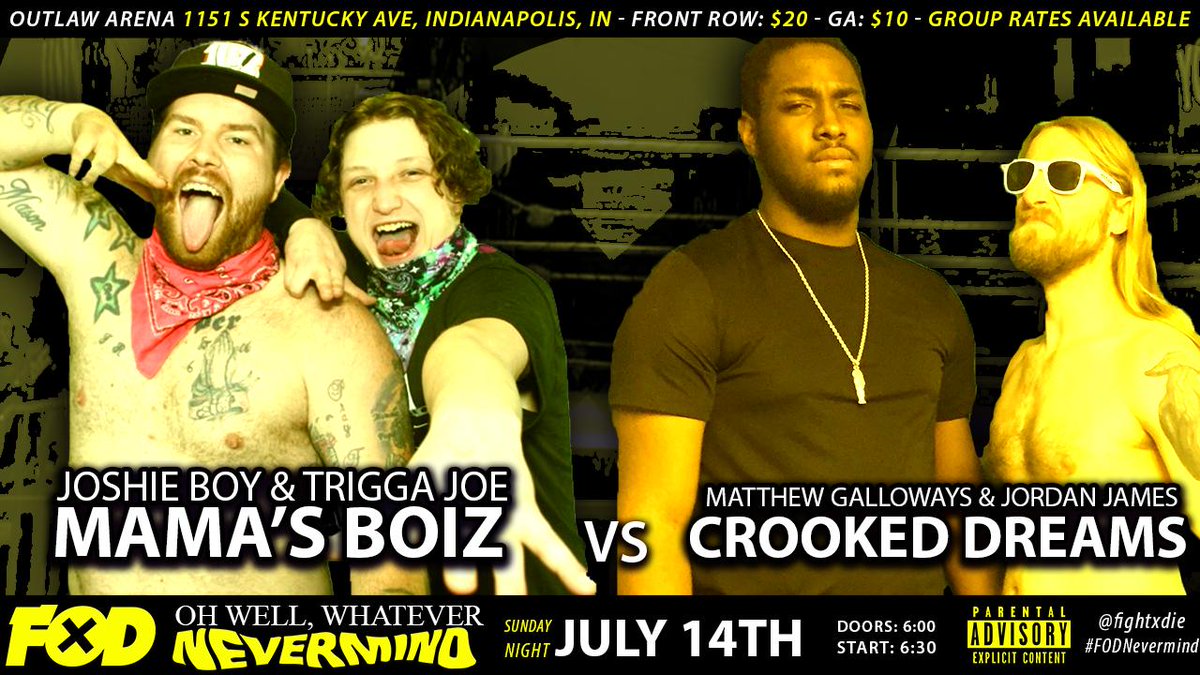 Mama's Boiz vs Crooked Dreams
The Crooked Dream of Matt Galloways and Jordan James is the longest consistently tenured tag team in all of Indianapolis right now. They've been going longer as a team without any breaks or pauses than any other team on this card including IFHY. In a statement delivered by their manager the Skull Crusher for MWT, Crooked Dreams stated
"We're tired of being disrespected by management and by these people in the crowd. Week in and week out while everyone is off traveling and doing what they do, we're the ones who are there every single week but outside of last month what do we get for it? Nothing. IFHY gets important matches, Stupid Youth gets placed above us on the card, Crooked Dream gets nothing. Something got to change and this month may be the month where the change happens, whether they want it or not."
Facing The Crooked Dream this month is the debut of standout Southern Indiana tag team, the Mama's Boiz of Joshie Boy and Joe Trigga Travis. The MB's are former IWA-MS Tag Team Champions and recently got a roll-up win over IFHY in Jeffersonville. The Boiz want to come into FOD with a notch in the win column but the self-proclaimed 1151 warriors aren't going to make it easy.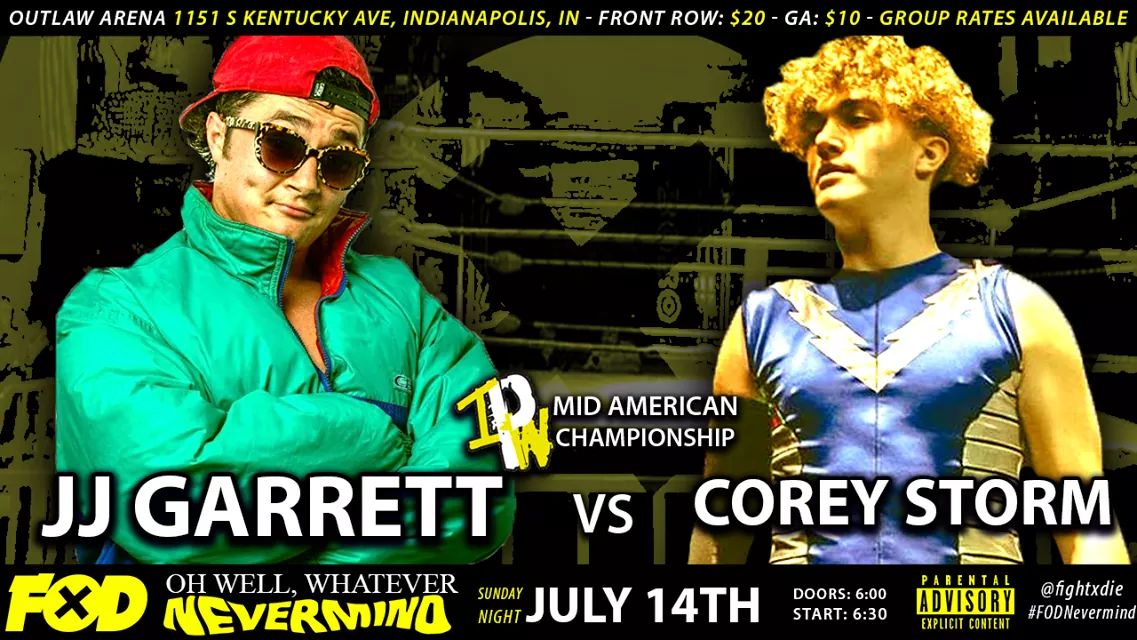 IPW Mid-American Championship JJ Garrett vs Corey Storm
Storytime.
A lot of the people you see topping the card here at Fight Or Die are closer to being finished products as far as in-ring proficiency and identity go but this wasn't always the case especially not in the year of 2016. Back then people like Wolf, Kemp, Patricks, Radrick, Perry, Crane, Jordan James, and Calvin Tankman, all crafted their trade at IWA Mid-South in southern Indiana and joining them in this plight was a 15-year-old Corey Storm.
See Corey wasn't this semi-cut hero that we see now, he was a skinny kid with stupid hair and even more stupid of a moveset. He was a project for sure but no one ever thought he would be anything more than a Kentuckiana local. On the other hand, there was JJ Garrett.
JJ Garrett took IWA Mid-South by STORM (pun kinda intended) winning the IWA-MS World Heavyweight Championship and defeating names like Reed Bentley, John Wayne Murdoch, Joey Kidd Owens, Jake Parnell, David Starr, and 2016 Young Guns Tournament Champion Shigehiro Irie. In addition to traveling the midwest and taking the Underground Wrestling Independent Championship and beating names like Space Monkey and WWE's Mustafa Ali
JJ was on top of the world and Corey was looking like he was going to fade into nothingness. Fast forward three years and the roles have flipped. JJ took a considerable amount of time off to heal injuries and restore his mental health and Corey took that time JJ was away from wrestling to make waves for himself. Corey has become the man with the most FOD Scramble Championship reigns, going toe to toe with some of the hottest indie talents, and securing a roster spot in Ohio Valley Wrestling.
In his time away Corey Storm has matured into a extremely well-rounded pro wrestler while JJ still views him as that same skinny kid who couldn't lace his boots back when he was getting thrown around a Jeffersonville roller rink. Sunday, Corey looks to prove his worth.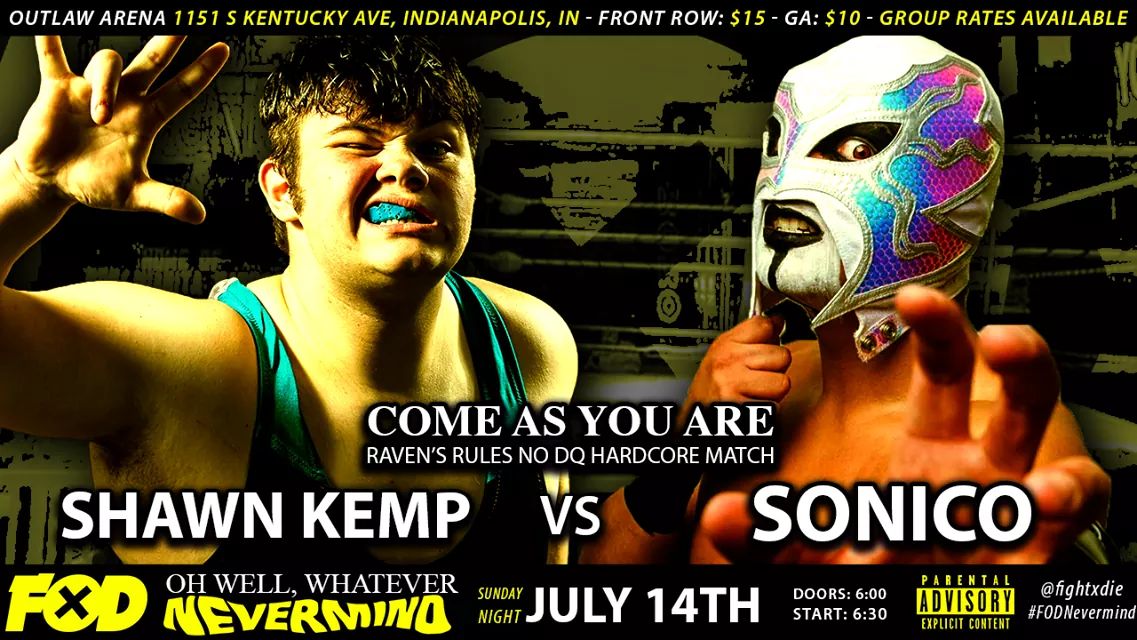 Shawn Kemp vs Sonico in a Come As You Are Raven's Rules Hardcore Match
…
This is so messy that it needs its own article. Look out for it soon.
(Editors Note: Thanks to J.Rose for actually TAKING THE TIME TO HELP PROMOTE SOMETHING HE IS WORKING ON.) You would be shocked at how many people don't want to do that.)
J.Rose is a semi-carefree black young man & pro wrestling swiss army knife doing video production, graphics, ring announcing, and keep a hold on everything concerning the tag team/wrestling stable/cult known as IFHY.
He is an IWTV employee and probably know's your favorite wrestler's entrance music by heart
Twitter: @thisisjrose
Instagram: @thisisjrose
If you like what we do and want to help keep this site running, hit up our store right here. We can use all the support that we can get.