4/28/19
Jeffersonville, Indiana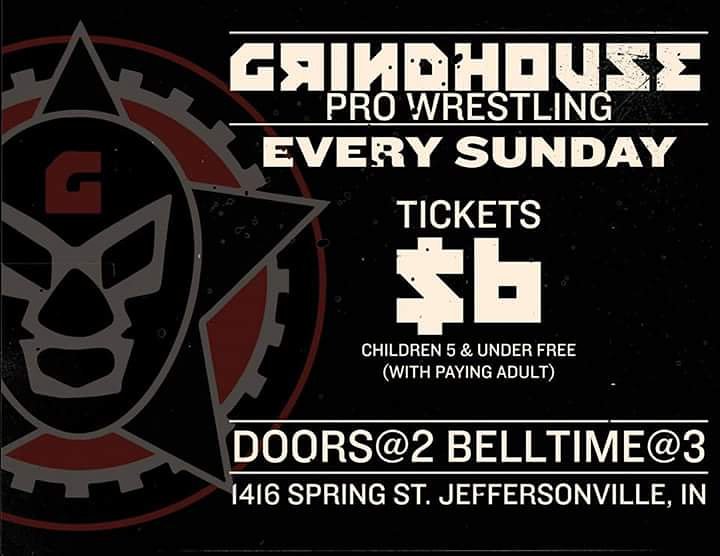 Bad Dude Gang (Duke, Drew and Apollo) w/Dude defeated KTK and Big D after the KTK were distracted by the music of the Royal Guard, causing D to get rolled up.
Charlie Kruel once again arrived to run down Billie Starkz and her family. Billie arrived looking for a fight that Charlie would only accept if the Women's Championship was on the line. That led to…
Charlie Kruel defeated Billie Starkz to become the NEW Grindhouse Women's Champion. Billie had injured her leg during the contest and Charlie was able to capitalize on it to claim the title.
Richard Sharkey cut a promo that led to…
Alice Crowley (dressed as a Goon initially) defeated Richard Sharkey.
The Pizza Guy cut a promo about not knowing who he is anymore and now he's just… Guy until he can figure it out.
Ace Jackson pinned Prince Wellington with a Blue Thunder Bomb after the Royal Guard was tossed from ringside.
Lincoln Moseley/Arm Dragon defeated Royal Guard after the KTK's music distracted the Guard.
Deonta Davis defeated JMO with a discus lariat.
Raul La Motta defeated Grindhouse Champion ZDP by DQ when the Bad Dude Gang attacked. 2 Tuff Tony, Ace Jackson and Rudy Switchblade made the save.
After the match ZDP started to brag about retaining the belt when Crooked Dreams/Mack Sterling and Joey Venom from Fight Or Die Wrestling arrived  attacked the champion and challenged any 5 Grindhouse wrestlers to a match. 2 Tuff Tony arrived and accepted for Night of 2 Many Gimmicks on May 25th.
The Mama's Boiz defeated Guy and Chet Ripley after a Magic Bullet Theory by Trigga and the pin from Joshie.
Follow Grindhouse on Twitter.
Follow me on Twitter as well.
If you like what we do and want to help keep this site running, hit up our store right here. We can use all the support that we can get.