December 12, 1999
Ft. Lauderdale, Florida
Commentators:  Jim Ross and Jerry "The King" Lawler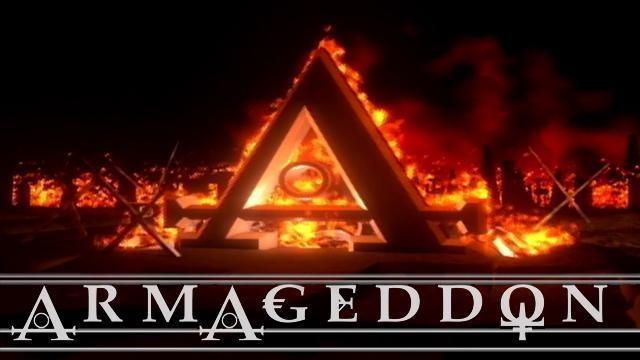 8-Team Battle Royal for title shot at WWE Tag Team Championships at the Royal Rumble the next month: The Dudley Boyz vs Edge & Christian vs The Headbangers vs The Hardy Boys (w/ Terri) vs The Mean Street Posse vs The Acolytes vs Too Cool vs The Godfather & "Sexual Chocolate" Mark Henry
The Acolytes were a very intimidating team and were probably the right call at the time. The Battle Royal itself was every Battle Royal you will ever see really. This match did have the distinction of the 8 teams involved 6 would hold tag team gold. It had a couple decent bumps and a razzle dazzle ending. I like the phrase razzle dazzle more than I liked the match. If you like the match type this was ok.
Winner: The Acolytes pulled of the win here after Farooq eliminated Jeff Hardy on a giant leap frog attempt in which Jeff almost landed in the crowd.
Kurt Angle vs Steve Blackman
This match was a showcase match for future Hall of Famer Kurt Angle. Even in this early stage of his career he was able to control the crowd and impress in the ring. Blackman was the veteran that was used to make Kurt look like a star and did his job to perfection, if he had one shred of human emotion or charisma it would have been better. The match itself was solid if unspectacular.
Winner: Kurt Angle pins Blackman with a bridging German suplex.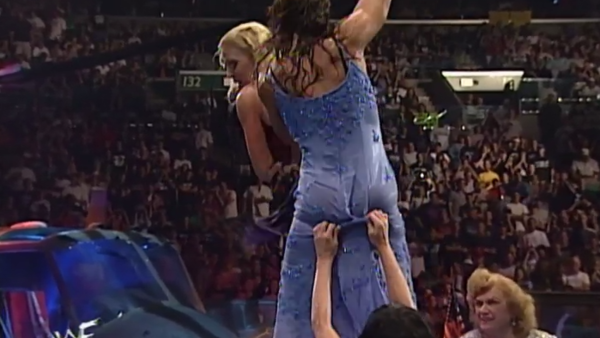 4-Way Evening Gown in a pool match/WWE Women's Championship
(C) Ivory vs BB vs Miss Kitty vs Jacqueline
This match is pretty famous for one reason, nudity. It was the first time breasts had been exposed intentionally on WWE PPV. After the match was over new champ Miss Kitty said" They made me wear underwear!" Kitty then removed her top to quickly be covered by security. She had promised to do this before the PPV and delivered. The Women's title itself was treated like a joke. This was not a part of the Women's Revolution they crow about today. At all. I'm an adult man so I can't say I hated what the match provided but as an overall match? This was terrible, except for the boobs, because boobs.
Winner: Miss Kitty last stripping former champion Ivory for the win. 
Crash & Hardcore Holly vs Viscera and Rikishi Phatu
The match was used to build toward Rikishi's face turn that would come soon. Did its job in this regard but overall the match was something to help fill out the mid card of the show and in itself was nothing spectacular. So what I'm saying is…eh.
Winner: Hardcore pins Rikishi after an inadvertent spinning heel kick by Viscera.
Triple Threat/WWE European Championship
(C) "The British Bulldog" Davey Boy Smith (with The Mean Street Posse) vs Val Venis vs D'LO Brown
Match was a pretty good affair that kept Val and D'LO over in the mid card. D'LO in particular looked good in the ring and strong in the loss. Unfortunately Davey Boy did not look as good and could barely keep up, sadly it was coming to the end of the line for him in the ring and sadly out of it as well. Match itself was OK at best. I miss the Bulldog.
Winner: Val Venis pins The Bulldog after a Low Down/ Money Shot combination.
Steel Cage: Kane (with Tori) vs X Pac
X Pac had been acting like a scumbag for a while and deserved a beating in this match. His dickishness was pretty impressive. Even in the match itself he spit in the face of Tori and hit her with the X-factor. Kane put a pretty good beating on him even after being hand cuffed. If you like bad people getting beat up this is a good match for you. Kane ended up being a moron in this feud though. Gotta keep the Kliq strong.
Winner: Kane pins X Pac after a clothesline from the top of the cage and a Tombstone.
WWE Intercontinental Championship: (C) Chyna (with Miss Kitty) vs Chris Jericho
Jericho won the first of his eventual record 9 Intercontinental titles in this match. He made Chyna seem very credible and believable in this match, which was really hard to do at any point in her career. This set up a much longer program involving the two of them feuding and teaming on a loop. Match itself was in the OK range but helped Jericho and Chyna both so it accomplished its goal but I hated those two together as a "team".
Winner: Chris Jericho makes Chyna tap to The Walls of Jericho. 
WWE Tag Team Championship: (C) The New Age Outlaws vs Rock & Sock Connection
If this match did nothing else it shows how amazingly popular The Rock (and to a lesser degree Mankind) were at the time. The Outlaws were a catchphrase and an entrance, beyond that they were awful. The match itself was not great unfortunately, but they stuck to formula and got the crowd involved so that is what matters.
Winner: The Rock and Mankind win by DQ after Al Snow interferes.
WWE Championship: (C) The Big Show vs WWF Hardcore Champion the Big Boss Man (with Prince Albert)
The set up for this match was legendary. During the storyline the father of Big Show passed away and Boss Man used that as an opportunity to be evil in a cartoon like way. He stole the casket at the funeral of Big Show's father, got Big Show's mother to admit on tape that he was a bastard child and pretty much was an awful human being during the entire feud. So when Big Show got his hands on him it should have been amazing. Unfortunately this was in a feud for the biggest prize in the business and no one in the crowd would buy either of these men in that position at the time. WWE had KILLED every bit of heat that Show had built up in WCW to prove a point apparently (that point being that they hated free money). The match was quick and needed to be. Boss Man was a great jerk though.
Winner: The Big Show pinned the Boss Man after a choke slam.
No Holds Barred/Falls Count Anywhere: HHH vs Vince McMahon
HHH had married Stephanie McMahon while she was unconscious and this was the opportunity for Vince to get that annulled. Apparently the court system still didn't apply to wrestling then (or now really). What Vince didn't know is that Steph and HHH were now together for real and the wrestling business would never be the same. This match made HHH hated to the point where he would be over for the rest of his career (except 03-04, woof was that bad). It also turned Steph into a character the crowd still hates to this day. 20 years of crowd heat all from one match, yeah I'd say this one did it's job. the match was tolerable at best though.
Winner: HHH pins McMahon with one foot after a sledge hammer attack.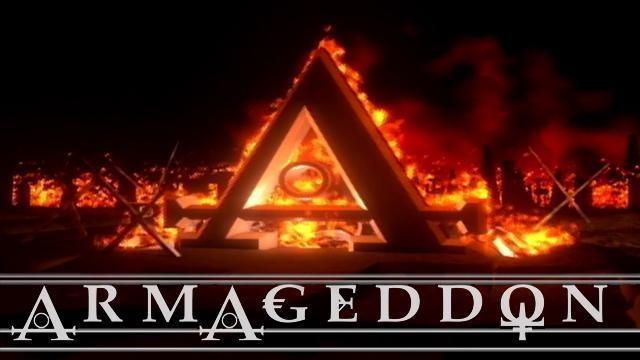 Overall thoughts: This show will be remembered for 2 things, one great for the company and the other not so great. The addition of nudity did nothing for the reputation of the company as being in any way appropriate for children. The thing it will most be remembered for is the debut of the power couple of HHH and Stephanie that lasts in storylines and main events to this day. So if nothing else this PPV left an impact.
All Images Available at WWE.com
Follow me on Twitter
If you like what we do and want to help keep this site running, hit up our store right here. We can use all the support that we can get.