Friday night in Jeffersonville, Indiana the landscape of PPW's tag division will change in a massive way. One of the cornerstone teams of said division will be gone for good at the end of one of the most testing and exhausting matches in wrestling…an Iron Man match.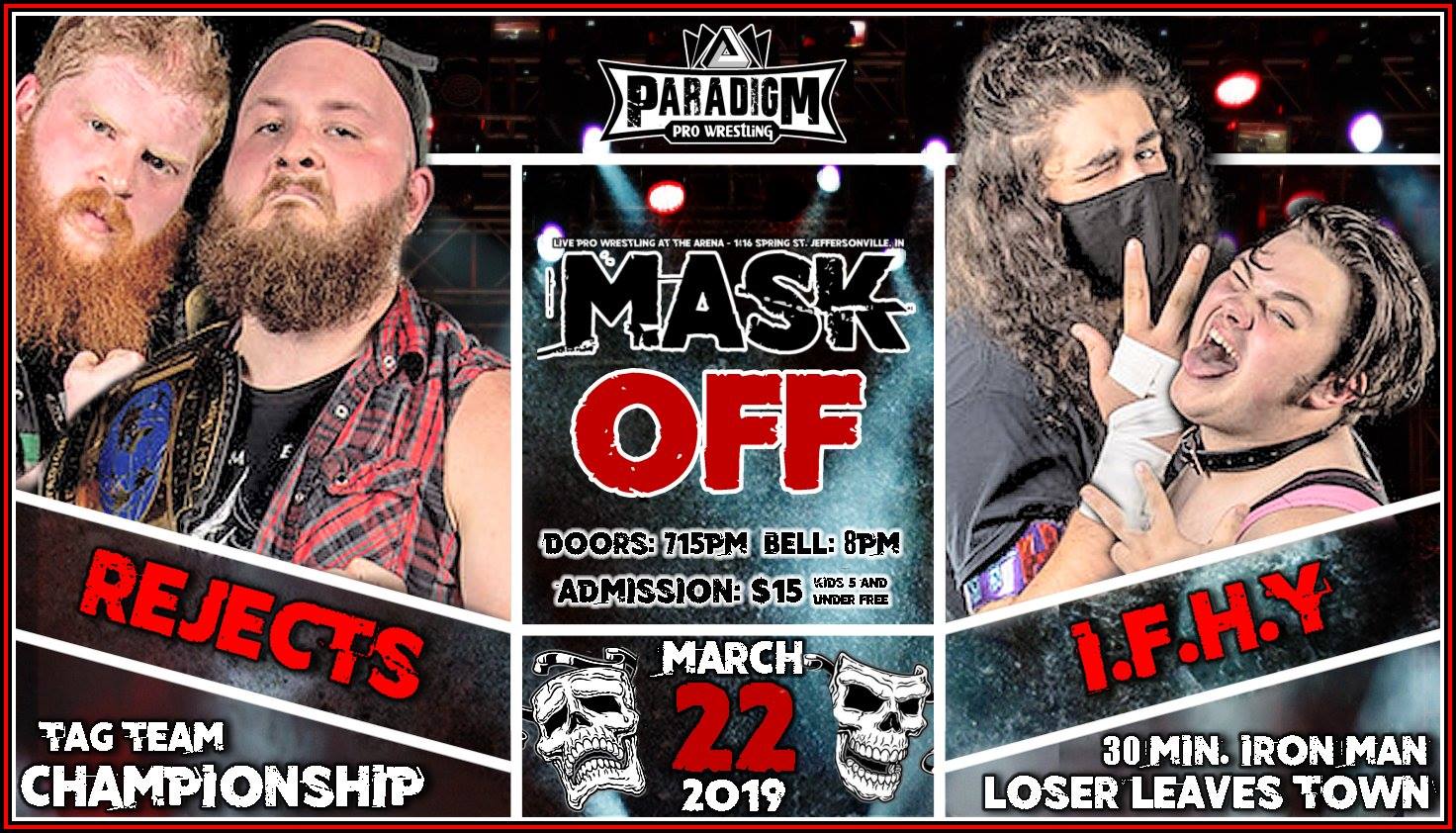 In order to get a feel for how big this match actually is we were able to speak to all four members of each team, a PPW representative and some of the teams supporters just to see how exactly this will affect the future of Paradigm and the folks involved.
First we spoke to PPW's own Doug to get a management feel of this roster altering match.
MWT: Friday night as a promotion PPW is in a tricky spot. On one hand you will surely get one of the most intense and hard hitting matches in company history. On the other, you will be losing one of the flagship teams of the promotion. As a company was there any hesitation to sign this match knowing what it means for the future of PPW going forward?
Doug: This match on March 22nd is the definition and mission statement of Paradigm Pro Wrestling. These two teams have been with us since day 1. They built the PPW tag team division on their back. Jonathan Wolf could very well be the best wrestler in the state. Shawn Kemp is star in the making. Reed Bentley is the definition of tough, and can work circles around almost anybody. John Wayne Murdoch may be the #1 deathmatch wrestler in the world. The amount of talent in this match is next level and it could main event any where in the country.
Chad you asked me if there was any hesitation in booking this match. Well simply of course there was. I have grown to love both of these tag teams. In a business aspect and a personal aspect. To be honest I would be 100% fine if the match goes to a draw because I don't want PPW to lose either team. If PPW loses one of these teams then what becomes of the tag division in our young company? These two teams have given the PPW Nation their blood, sweat, and tears for this company. And at the end of the day the losers will be the fans, because PPW will miss either of these two teams. Its going to be an epic show down in Jeffersonville.
This sounds huge because it IS huge. To get another perspective we were able to speak to some of the biggest fans of both teams to get their feelings on what will go down Friday night.
First representing the current Tag Champs John Wayne Murdoch and Reed Bentley The Rejects, Blake Walden.
MWT: What would it mean to you as both a Rejects fan and Paradigm if you would never be able to see them in a PPW ring again?
Blake: I would be totally bummed out… The Rejects were only seen at PPW in the area nowadays so I'd definitely miss them.
Representing IFHY Johnathan Wolf and Shawn Kemp is James Duncan
MWT: What would it mean to you as both an IFHY fan and a Paradigm fan if you would never be able to see them in a PPW ring again?
Duncan: Devastating. Bummed. IFHY is a staple of the PPW tag team division and not to be able to see them on a monthly basis anymore would be a void in the tag team division for Paradigm.
Finally we were able to speak with BOTH teams about this career altering match on Friday.
Out of respect the reigning champions are up first.
MWT: Giant match Friday night, what would it mean to you to be the ones to put IFHY out of Paradigm?
Reed: To be honest, at this point, something has to give. It's hard to fit two tag teams on the top of the hill in Paradigm. But if you think about what Paradigm means, it means the standard. And there is no tag team in the Arena, in Indiana, in the Midwest or the Western Hemisphere as cohesive and as good at what they do as the Rejects. So we prove on Friday night that we are the standard for tag wrestling everywhere and plan to keep proving that with PPW's prodigal belts around our waists.
Murdoch: It will be another chance for us to prove what we have been saying for so long we are without a doubt pound for pound heart for heart the best tag team in Paradigm.
MWT: Since I asked that I have to ask this…what would it mean if somehow you were the ones to have to leave PPW?
Murdoch: It would be devastating. The fans of PPW are not just fans to us they are family! If this Friday is the last night for the Rejects I would like to say thank you for all the support and that we gave everything we had each night.
Reed: If by some cosmic alignment, we are the ones to leave PPW on Friday night as losers… then all I can say to IFHY is this: you've got big shoes to fill boys.
Now, last but certainly not least, the former champions I.F.H.Y.
MWT: What would it mean to you to be the ones to put The Rejects out of Paradigm?
Wolf: It would honestly mean nothing to me because that's what me and Shawn do, we ruin careers and show people what a team looks like.
Kemp: Being that we established we're the Kings of the Arena but destroying the Carnies at the Arena defeating the Rejects at the arena, if we are the ones to make the Rejects leave then is just cement that fact.
MWT: What would it mean if somehow you were the ones to have to leave PPW?
Kemp: If we lose and have to leave PPW…well to be honest I'm not even thinking about that.
Wolf: We are not going anywhere so that question was pointless.
There you have it folks, one way or another after Friday the landscape of PPW Tag Team wrestling will have changed. On a personal note this makes me sad because I want to be able to enjoy both of these teams in the same building competing against one another for a long time…but it's not in the cards.
Luckily I'll always have the memory of the crowd storming the ring during the match The Rejects won the belts and what I'm sure will be an even more memorable match on Friday to get me through.
As of right now, here is the rest of the currently announced card to further entice you to get to the ArenA on Friday!
PARADIGM CHAMPIONSHIP: AJ Gray (C) vs Jake Parnell
GRUDGE MATCH: The Lifers (Matthew Justice & Bobby Beverly) vs
Legacy of Brutality (Daniel Eads & Ca$h Flo)
INDIE HEARTTHROBS EXPLODE: Myron Reed vs Corey Storm
Stephen Wolf vs Cole Radrick
Plus: Dustin Rayz, Mikey!, Freddie Hudson, Jah C, and more great superstars will be in action!
Follow all the folks above at the links provided, I would appreciate it.
Also
Follow Paradigm on Twitter
Check out their website here.
Check out some of their shows at High Spots
Or Powerslam TV right  here.
Follow me on Twitter
If you want some cool looking merch you can hit up our store right here. We can use all the support that we can get and appreciate all of you.