July 24, 2016
Washington DC
Commentators: Michael Cole, JBL and Byron Saxton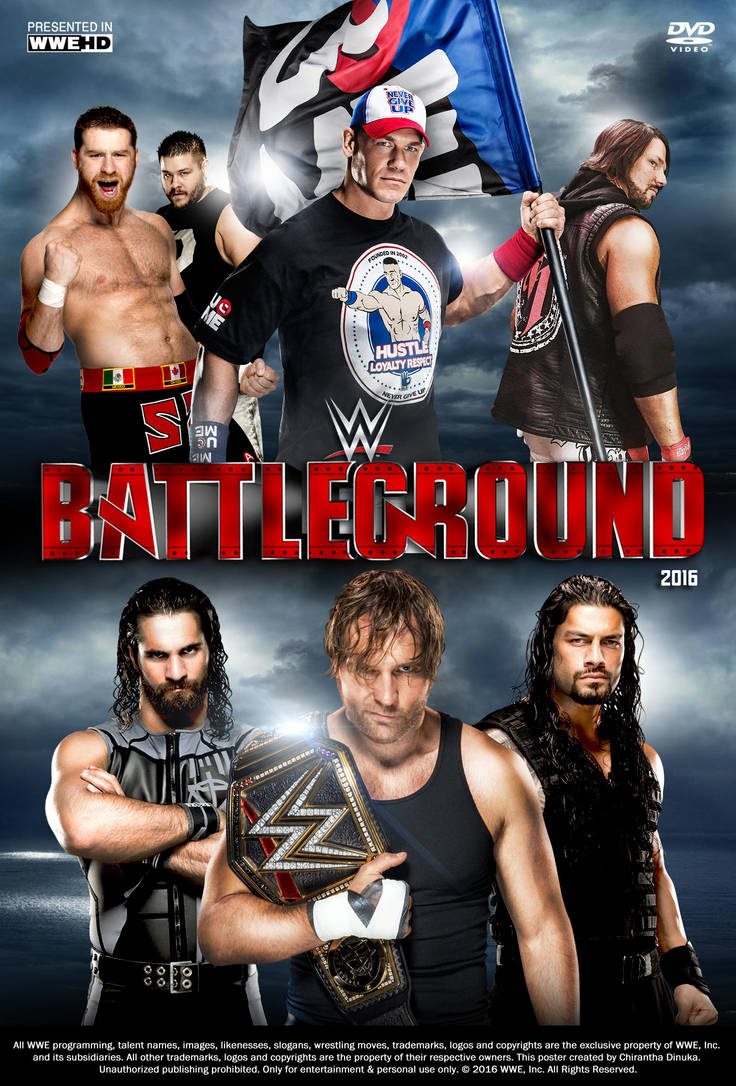 Re-posted from December 2017 with new comments…
WWE Women's Champion Charlotte Flair and Dana Brooke vs Sasha Banks and A Mystery Partner
The Mystery partner turned out to be former NXT Women's Champion BAYLEY. This was Bayley's main roster debut and she got a mega pop from the crowd, who were genuinely happy to see her. I think the look on Sasha's face when her friend's music hit may be worth the price of the show all by itself. The match was decent for what it was, and showed that Sasha could hang with Charlotte in every situation thrown at her. It's very disappointing what they have done with Bayley, as the pop she got here was a monster. (Luckily these two managed to make it through to finally accomplish something together on the main roster…poor Dana though.)
Winner: Sasha made Charlotte tap out to the Banks Statement.
Spot for Mark Henry and Chris Jericho/ the Club on Ride Along.
6-Man Tag Team: WWE World Tag Team Champions New Day (Xavier, Kofi and Big E) vs The Wyatt Family (Bray, Braun and Rowan)
They did a lot of fun stuff to set this match up, with the best being Xavier Woods being supremely scared of Bray.  New Day as always was very popular and due to the draft they were facing a Wyatt Family team that would be no more the following week. Match itself was OK except for Big E spearing Braun out of the ring and landing on his DAMN HEAD which I thought paralyzed him live and was even more shocked re-watching it. It was a sick spot, which stood out in an otherwise just decent match. It's amazing how over Braun is now compared to in this show, the opposite is true for Bray sadly. (Well now Bray has been off TV for 6 months, they have ruined Braun and Rowan has been re-born as an eco-terrorist. What a sad end for the Wyatts.)
Winner: Bray gave Sister Abigail to Xavier for the pin.
United States Championship: (C) Rusev (w/ Lana) vs Zack Ryder
Zack showed up for this match in a Dennis Hopper special Easy Rider jacket, and still America didn't have much faith in him. Rusev was intent on taking the US Title to RAW to be the top championship and did so in relatively easy fashion. He continued to beat on Zack afterwards until Zack's Hype-Bros tag Partner Mojo made the save. (Remember when Rusev got a mega push? No? OK.)
Winner: Rusev made Zack tap after the Super Accolade.
Promos for both Swerved and the CWC.
Mick Foley, Stephanie McMahon and Seth Rollins discuss bringing The WWE World Championship back to RAW. Boring conversations do not belong on these shows and yet they persist.
Sami Zayn vs Kevin Owens
These two grew up in the business together, were best friend turned bitter enemies and knew how to put on a show with each other. They worked stiff all night and almost everything was on point and intense. There was a slight botch when Sami went for the spring board Moonsault to the floor and almost killed himself but they were able to work it in to the story of the match to cover. They have unreal chemistry and an amazing match that stole the show. I'm glad they are friends again. (I miss Sami and I'm glad KO has returned looking great.)
Winner: Sami pinned KO after 2 Helluva kicks.
Kickoff panel with Renee, Booker, King and Corey Graves.
Usos lost to Breezango on the Kickoff due to a Tyler Breeze Roll-up. Man how that shit has changed.
Natalya vs Becky Lynch
Everyone knew they were about to make Becky the face of the Smackdown Women's division, so I'm not sure why they went with Natty here. (Boy they REALLY didn't know what they had with Becky, even here.) I'm sure they thought Natalya's recent heel turn would carry the heat on this but it didn't so the match was pretty bland. Natalya is the worst character on Smackdown to this very day. (Well now RAW but the point still stands.)
Winner: Natalya makes Becky tap to the Sharpshooter.
Shane O'Mac and Daniel Bryan give a pep talk to their number 1 pick and Champion Dean Ambrose. (Poor Dean.)
Summerslam promo with Randy Orton vs Brock Lesnar. Wow, did that turn out poorly for Randy.
Intercontinental Championship: (C) The Miz (w/ Maryse) vs Darren Young (w/ Bob Backlund)
Miz and Maryse came out with some Eyes Wide Shut masks on, as if covering up ANY part of Maryse has ever been a good idea. The match was pretty clunky and it was hard to buy Darren as a contender. They tried to make him do the Backlund crazy man trick afterwards but it disappeared not long after this and they pretty much gave up on him. Darren wasn't terrible and deserved better than what he was given. (Miz has been given garbage for years and still makes it work.)
Winner: Disqualified both men after a weird brawl on the floor.
WWE 2K17 commercial from Suplex City… that is apparently near Canada.
6-Man Tag: John Cena, Enzo and Big Cass vs The Club (Styles, Anderson and Gallows)
If you have ever been to a WWE House show where all the good guys win and do cool moves for the fans, this was that. The stand out part of the entire thing for me was Enzo's promo before the match in which he stated "Never make eye contact while eating a banana…ever." If that guy was 6'5" he would be champion until the sun exploded, and gophers took their place as rulers of the universe as the 7-Kingdoms foretold in our legends and stories. I may have blacked out for a second there. (Wow, Enzo and Cass both fucked up something fierce didn't they?)
Winner: Cena finally pinned AJ after a super AA from the top.
Highlight Reel with Chris Jericho's guest Randy Orton. This was just a hype job for Summerslam and a set up for Jericho to be Rko'ed. Randy had been out for a few months and seemed a little mic rusty. Randy did nail an excellent line though "How many suplexes does it take to get to Suplex City? Nine or ten? It takes just one RKO to get to Viperville NO ENHANCEMENT NEEDED." This was after Brock was popped failing a UFC drug test so that should have gotten him killed. The line was an excellent mic drop moment which of course led to the RKO. (Brock Murdered him that year.)
Video on the history of The SHIELD.
Live footage of the locker rooms watching this important match.
Mick and Stephanie McMahon in a …flattering as hell red dress make it to ringside.
Shane McMahon makes his way out followed by the mega super overly popular Daniel Bryan.
Triple Threat for the WWE World Heavyweight Championship: (C) Dean Ambrose vs Seth Rollins vs Roman Reigns
Seth got a nice pop, Dean got a good pop and speaking of NO ENHANCEMENT NEEDED, Roman got booed out of the building as he was just coming back from a 30 day Wellness Suspension. This was an excellent wrestling match with everyone hitting the moves they needed to hit and doing them well. The only problem I have is the story was more on taking the title to their respective brands and not the fact that they should be tearing at each other as former brothers and wanting to prove who the man was. It just seemed like there was no sense of hatred or urgency. That is my only minor issue with what otherwise,  is a fine match. (Did they kinda screw the SHIELD up too?)
Winner: Ambrose pinned Reigns after a Dirty Deeds.
Yes! Chants all around and the Smackdown locker room came out to celebrate with the champion.
Overall Thoughts: This was a fun show to watch. If you are paying to watch something, a show like this is what you want to have. Good wrestling, fun angles and a feel good ending. I wouldn't have been disappointed in this show had I paid the old PPV price for it, for $9.99 it's a damn bargain. The WWE Network has been a godsend for wrestling fans.
Follow me on Twitter
If you want to help support this website you can get some merchandise right here. We can use all the support that we can get right now and appreciate every bit of it.