Mid-West Territory was lucky enough this week to speak to some of the fine athletes that this tournament has to offer. We didn't take up too much of their time but did want to get some of their thoughts going into this huge event Friday.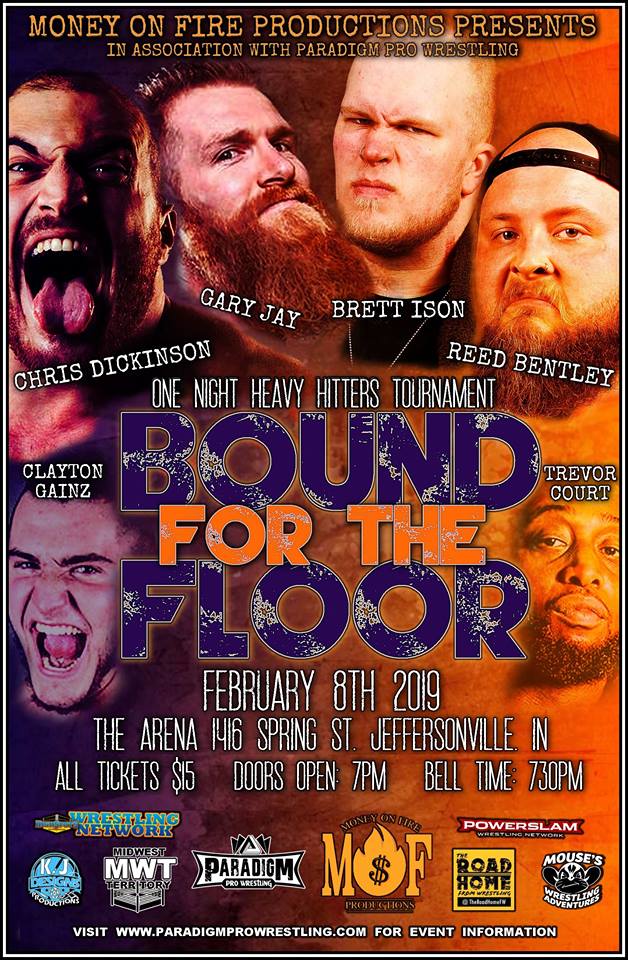 To avoid interrupting the training schedules of these fine athletes we limited ourselves to two questions.
How they feel they match up with their opponents?
Who would they like to see in the finals were they to make it?
The first Question will be answered after the first round match cards. The second will be towards the end of the article. Enjoy.
Round 1: Michael Elgin vs Bret Ison
"I've only heard about Brett in the last several months. I've heard he has great potential, but you need more than potential in there with me. So the question should be how does he match up against me. And the answer is, we'll see Friday."- Michael Elgin
"I am excited because with Big Mike comes the big fight feel. He is world traveled. Former champion of companies I want to become myself being ring of honor and new Japan. I know he is a big task possible the biggest I have faced in my career thus far. I enjoy a good fight. Especially when I have nothing to really lose and all to gain."- Bret Ison
Round 1: Reed Bentley vs Chris Dickinson
"PPW management actually didn't want to book Dickinson. They said he had a bad reputation, didn't know if they could trust him, he's a wild card etc. I've heard all those same things about myself which to me meant this is a guy we HAVE to have in this tournament. Chris Dickinson is unapologetic about who he is and his wrestling style, the same as Reed Bentley so I think no matter who goes on in our match the winner of it will win the whole Shebang." Reed Bentley
*As of Press Time we have not heard from Mr. Dickinson. This will be updated periodically before the show and when we hear from him his comments will be added.*
Round 1: Nasty Russ Myers vs Trevor Court
"Honestly, Trevor Court is one of the few people in the tournament I'm not familiar with so I can't accurately gauge how we match up. I know he looks tough and he talks tough but I'll find out just how tough he is on Friday. And he'll find out just how nasty I can be."- Nasty Russ
"I feel I have the advantage over Russ and EVERYBODY else in this tournament. I'm good wherever the match might go, the floor or the ring. Doesn't matter, I'm the Grand Piana from Indiana..in my mind I've already won."- Trevor Court
Round 1: Jake Parnell vs Gary Jay
"With Gary Jay its just about endurance. Being able to withstand a barrage and keep going is really the only strategy that has worked to pick up wins against him." -Jake Parnell
*As of Press Time we have not heard from Mr. Jay. This will be updated periodically before the show and when we hear from him his comments will be added.*
Round 1: Lexus Montez vs Clayton Gainz
"I feel like I have a big speed and Striking advantage over homeboi. I think Clayton is a physical presence non the less."- Lexus Montez
"He is much smaller and far less jacked than me. This will definitely hold in my favor."- Clayton Gainz
Round 1: Ron Mathis vs Bobby Beverly
"I think I match up well with him as I do anyone on the tournament. We're all heavy hitters so I expect it to be hard hitting and violent."- Ron Mathis
*As of Press Time we have not heard from Mr. Beverly. This will be updated periodically before the show and when we hear from him his comments will be added.*
Round 1: Derek Neal vs William Brewer
"Honestly, I feel quite confident in this matchup. William Brewer is a good competitor, but I feel I have the size, strength, and experience advantage over him. So with all of that going my way I feel that I should be able to have my way, but at the same time I not underestimate my opponent. In this sport today anyone is capable of anything." Derek Neal
"I have met Derek in the past several years ago. I have been in the ring with many guys like him most recent being Brett Ison so I know what to expect for sure."- William Brewer
Round 1: 
Bradley Prescott IV vs Matt Justice
"Well I've read the rules over and over because I might not be the biggest hitters in this tournament, but I do know how to win by any means so I'll have a couple things up my sleeve."- BPIV
*As of Press Time we have not heard from Mr. Justice. This will be updated periodically before the show and when we hear from him his comments will be added.*
That concludes all of the first round matches. There is also an alternates match between Freddie Hudson and Corey Storm that will take place to help cover any injuries that all of this violence may cause.
We will now hear from these amazing athletes to see who they would most like to see across from them if they make it past the first round and the 4-way semi-finals.
Reed Bentley: "I could easily see Derek Neal across the ring from me in the finals. He may be hands down the most under appreciated talent to ever come out of Tennessee. And he's got a mean fucking punch."
Ron Mathis: "It will be a long night to survive to the finals, and that's exactly what I plan to do. I've been in a lot of violent spectacles, but I've also wrestled over 60 minutes several times. This tournament is tailor made for trash!"
Trevor Court: "I would like to end up with Elgin, he's a dream opponent and I wanna make an example out of him."
Bradley Prescott IV: "I haven't really looked at the bracket yet. I've been trying to come up with ideas on how to get the upper hand in my first match but where ever in the tournament it may be I'd love to go one on one with Mike Elgin!"
Derek Neal: "Out of my bracket I could see myself lined up with Lexus Montez, or Michael Elgin, or hell even Brett Ison. Ison vs. Elgin is going to be the one to watch because that could go in either direction. If I get to the second round I'll really have to bring if one of these three I mentioned advance to the semifinals."
Jake Parnell: "Chris Dickinson. I've faced the Dirty Daddy in Tag action but never in a singles contest, and I'd like to test my metal against him."
Lexus Montez: "I really want to face off with a few guys, so it's tough, Ison, Elgin, Russ, Justice or Dickinson. I feel like this tournament is a good line up. I'm all about competition and excelling in that atmosphere, I want to be the best that night."
Brett Ison: "It will indeed be a long night if I make it to the finals, but looking at the other side of the field Dickinson or Bentley stick out the most to me because both men are psychopaths like myself. A lot of people have wanted to see Reed and myself so I believe whoever wins out of that match up is who you will see in the finals."
William Brewer: "I'm ready for anything Friday." 
Clayton Gainz: "

When I do

* It will be myself vs Chris Dickinson in the battle of the body guys. A lot of beef will be in the ring at once."
Michael Elgin: "Honestly, I think it would be interesting to wrestle Clayton Gainz. He's been on people's radars and a similar style to mine. Be interested in seeing if people are right about him."
Nasty Russ: "There's a lot of talent in this tournament and I would honestly love the opportunity to test myself against all of them. In the finals, it's tough to pick just one. Myself and Lexus have quite the rivalry going in NWF so I know he's capable of making the finals. Elgin is a clear top pick in any OTHER tournament but the Heavy Hitters isn't like any other tournament but he could still be there in the finals. Beverly, Mathis, and Ison are mad men and they'll thrive under these conditions. I know how calculating Neal is and he could pick his shots just right to make it to the end. I consider myself an underdog so I'm picking another underdog to meet in the finals; Lexus Montez."
It is crazy the different types of responses that you can get with these athletes. I want to thank each and every person that helped with this article and really hope to see everyone there Friday night. Before we go take a look at the bracket and make your own call on who you think can pull off the big win Friday night.
All the info you need for this mega event is on the poster!
Follow Paradigm on Twitter
Check out their website here.
Check out some of their shows at High Spots
Or Powerslam TV right  here.
Follow me on Twitter
If you want some cool looking merch you can hit up our store right here. We can use all the support that we can get and appreciate all of you.