Czw Cage Of Death XX
By Sam Mitchell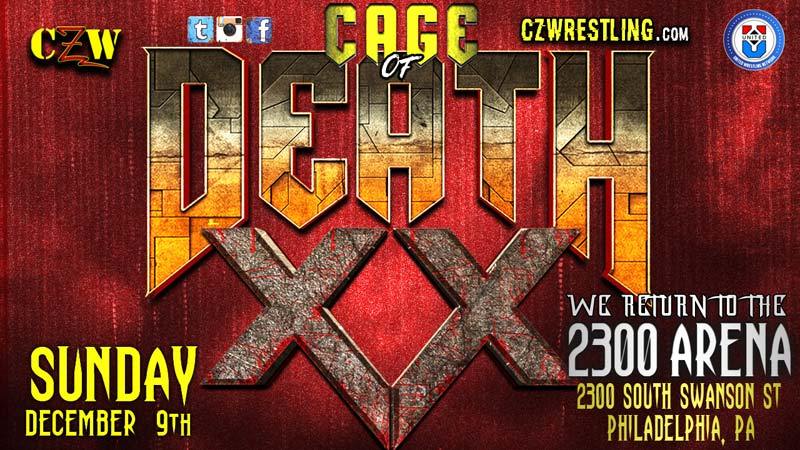 This event was held in Philadelphia, Pennsylvania, at the legendary 2300 arena aka the ecw arena On December 9th 2018
CZW Wired Title Match (2/5)
Jordan Oliver .vs. KC Navarro
Pretty decent match to start off the show. Not the best but got the mood set. Oliver won.
The REP (Dave McCall & Nate Carter) (w/Chris Bishop) .vs. The BLKOUT (BLK Jeez and Ruckus) (3/5)
Good tag match. Awesome table spot as well.
Rep took the win.
Anthony Greene .vs. David Starr (2/5)
Good match for what it was. Not one of david's best matches. Anthony won.
Leyla Hirsch (w/DJ Hyde) .vs. Mercedes Martinez (2/5)
Decent mid card. Nothing stood out. Leyla won.
Joe Gacy .vs. Alex Reynolds (1/5)
Not that great of a match to be honest. Pretty lackluster. Very Gimmicky. Joe won. Skip this one guys.
John Silver .vs. Rich Swann .vs. Shane Strickland (4/5)
Awesome match. Much better than the previous ones. Included some great flips, and super kicks from rich and shane. John took the win after giving rich a very stiff running knee.
The Office (Brandon Kirk, Conor Claxton, Kasey Catal & Kit Osbourne) .vs.  Dan O'Hare, Jimmy Lloyd, Maria Manic & Mitch Vallen (4/5)
(Hardcore Match)
This was a great match. A good ol school czw brawl. Some stiff shots in from all competitors. Not alot of weapons, few thumbtack bats, road signs and a funny spot involving brandon kirk, dan, and a big black dildo lol. The match ended with Kit Osbourne and Brandon Kirk pinning Manic (to my dislike) but other than that, one that the blood thirsty fans would love to see.
Atsushi Onita and Matt Tremont .vs. DJ Hyde and MASADA (5/5)
(Hardcore Match)
The first time I saw this announced on fb, my jaw dropped. 3 of the best deathmatch guys, and…dj lol. I knew from the get go, it was gonna be brutal and, boy was it. We saw chair shots, two exploding barbed wire baseball bats, some sick barbeque skewer spots, and a pretty sweet ending and speech by onita. Was kinda let down when czw had the "once in lifetime" event and didnt have onita and Tremont face one another, but this was a good fit. Great match. One czw and deathmatch fans won't wanna miss.
CZW World Heavyweight Title
Mance Warner .vs. Rickey Shane Page (5/5)
(Cage Of Death)
I've seen every cage of death match, and this one ranks as one of the top 5. My god. These two killed it. I've seen Rickey in some bloody matches but I've never seen him like this. The dude has blood actually pouring out of his forehead like a faucet. Very graphic. Mance and him were pretty neck and neck throughout the match, both dished out alot of punishment on each other, including one spot involving mance's tongue being stapled to a board, and Rickey yanking the board, and having his tongue cut bad (yikes) then after many trips through panes of glass, and barbed wire spots, Mance shocked the crowd, and took the win after giving Rickey a huge superplex from the top of the top of the cage, through the cage roof, having both men crashing through wooden boards, broken glass, a pane of glass, and a barbed wire board below. The landing was SICKENING! I think Rickey was really injured, saw he went to the back pretty fast afterwards. The crowd seemed pretty happy about Mance winning as was I. I'm a big rsp fan, one of my idols, but Mance deserved the win and glad he got the gold.
Last year's cage of death really disappointed me, especially them cutting the footage of nick gage coming in after the main event. (The dude died for the company, and they cut him out of the official dvd and bluray. Come on.) But I think czw really redeemed themselves with this one. The event had its hit and misses, but the last few matches were really something to see, and the main event is worth the money alone. One of the best cage of death matches I've seen in a while. Run over to smart mark video, and grab your copy or check it out on czstudios. Thank you for those who took the time to read this. As always support your fellow indy wrestlers, and god bless.
#Sam Mitchell
#Hardcorehoosier