Our last interview before tomorrow's big Grindhouse Pro show is a BIG one…literally. Duke has been abusing the competition for a while now and has been a huge part in the Bad Dude Gang's success in Grindhouse. Tomorrow however he faces a huge talent in a former brother in arms Raul La Motta. How will this change the big man's strategy? Let's find out.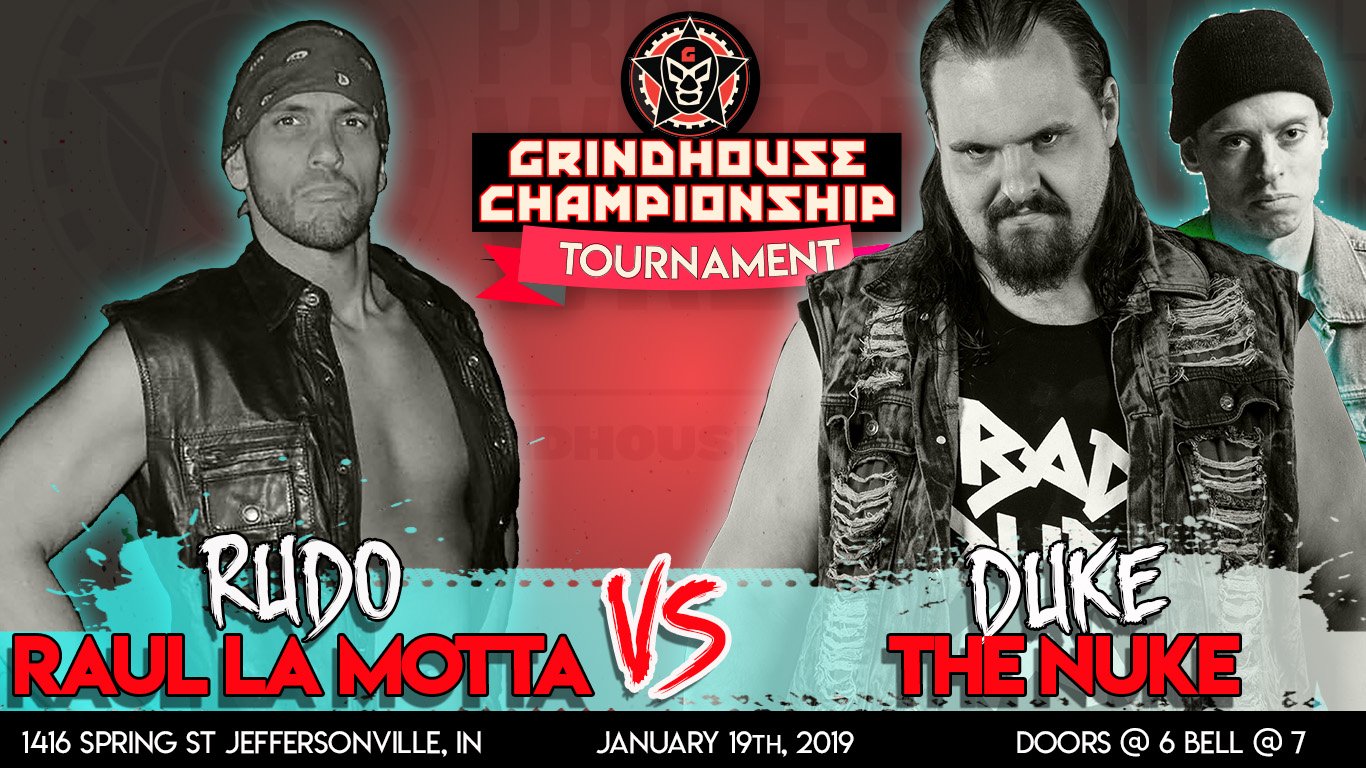 1: Only 2 wins now between you and being the first Grindhouse Champion. How would it feel to be the inaugural champion of this great company?
Amazing. GPW is stacked to the brim with talented people ready to take that top spot. However they gotta take that top spot from me.
2: To make the finals you first have to make it through a man you know well… Raul Lamotta. How have you prepared to face a veteran of his standing?
I knew this would come up. I once considered Raul a brother. I would have given my life for him…but now? Now he's just another obstacle in my way to MY belt and if I have to hurt him…I will.
3: If you are victorious you would be facing either ZDP or Rudy Switchblade in the finals. If you had to pick, who would you choose?
Honestly both of those guys are where they are for a reason. I hold respect for them both but again. Obstacles in my way, but if I had to choose. It would he Zach. He has a face you just wanna punch.
4: Starting off 2019 as the Grindhouse champion would be a major accomplishment, What else do you see yourself achieving in this new year?
Now why would I tell you my plans? Just know this. That belt is mine and you better keep your eyes on me.
5: I know this is kind of a pick'em but I have to ask. Who do you think will come out victorious in the Rumble Rumble Saturday night?
Well obviously Apollo.
The big Rumble Rumble is Saturday night. Follow Grindhouse on Twitter to get all the updated information on the event.
Follow Duke on Facebook and Twitter.
Once again I would like to thank our guest for joining us today and spending some of his precious free time answering questions like this. These folks have a lot on their plates so I appreciate Duke taking time to answer these for us. Try and support him where you can, I'd greatly appreciate it.
Follow me on Twitter
Do you want to see another 100 interviews from us? If you can please support the website by sharing our stuff, commenting on our stuff and reading our stuff. Also if you want to help us monetarily (we need it) then shoot us a buck on the paypal link on the side of the screen or buy some of our fine merchandise right here. We can use and appreciate greatly all the support that we can get.