Another day and another big guest from the upcoming Grindhouse event Saturday night. We heard from this young competitors opponent Charlie Kruel earlier this week and now we get the other side of the story from Billie Starkz.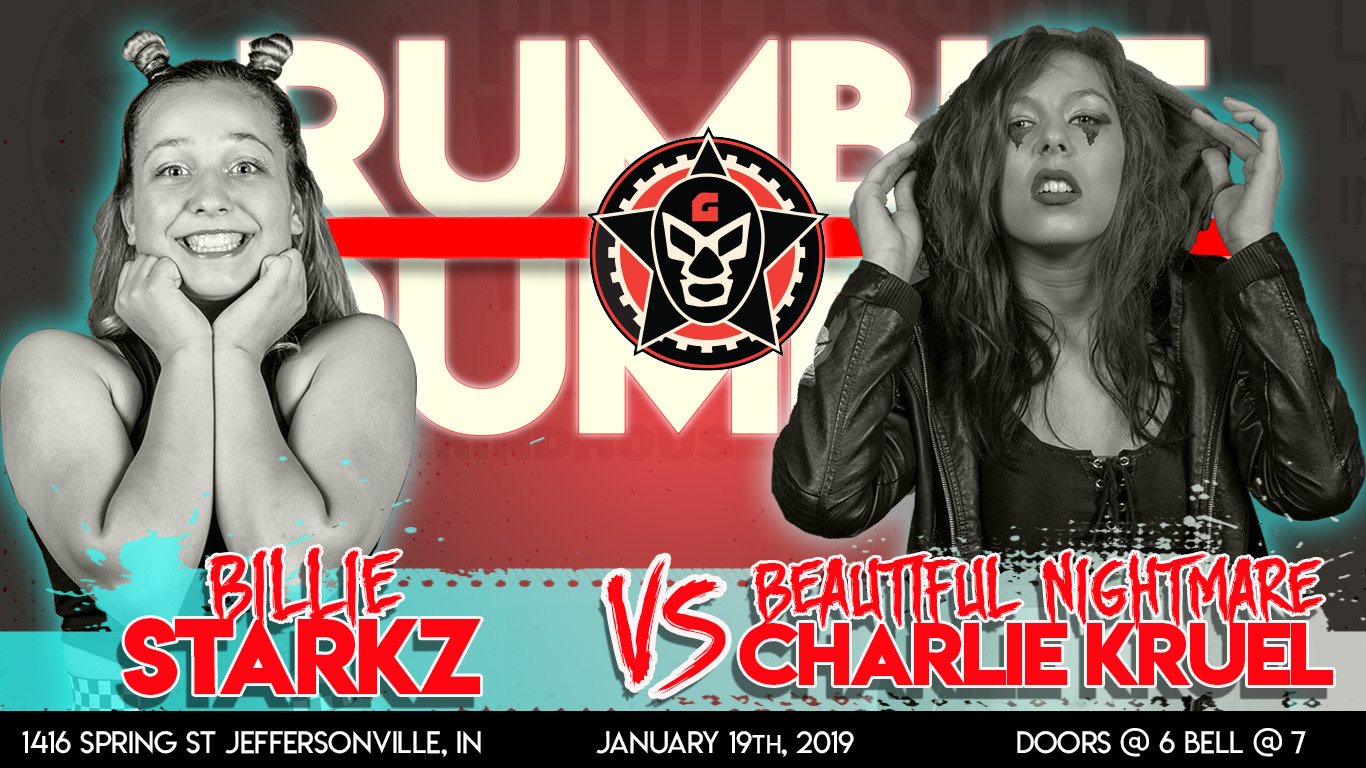 1: Saturday night it finally happens, a match that the Grindhouse fans have been ready for. You vs Charlie Kruel. On a scale of 1-10 how pumped are you for this match?
10. I have been waiting for this match for a while and I am ready to show Charlie and everyone else at Grindhouse why I deserve to be there and represent the women's division that is coming… Charlie has been playing dirty for the past few weeks and I'm ready to have a fair match.
2: How hard has it been following the no contact rule in the lead up to this contest?
The no contact rule hasn't been too bad, I have been able to wrestle the past couple weeks in some pretty cool match ups so time has passed fast, however when Saturday gets here and I get in the ring with Charlie I'm going all out. I'm going to hit her with everything I got because week after week she's been looking for a fight and that's what I am going to give her.
3: Do you have any kind of special strategy lined up?
My strategy is to fight and bite like any other match and make sure she feels every forearm I throw.
4: How does it feel to have a singles contest on what is one one of the biggest Grindhouse shows of the year?
The last big show was my debut and I have been looking forward to this Saturday not only for my match, but to find out who the first ever Grindhouse champion will be. Honestly it feels great to have a match on any big show, however my focus is on the match. I am there to finally get my hands and teeth on Charlie!
5: Finally, assuming you come out on top Saturday night, what are your future goals in Grindhouse for 2019?
I plan on becoming the best female wrestler in Grindhouse and prove to the fans and my peers that I belong. I want to show everyone in 2019 how much more I can learn and do in and out of the ring. This is my dream and no one will ever take that from me. WRESTLING!
The big Rumble Rumble is Saturday night. Follow Grindhouse on Twitter to get all the updated information on the event.
Follow Billie over on Twitter.
Once again I would like to thank our guest for joining us today and spending some of her precious free time answering questions like this. These folks have a lot on their plates so I appreciate Billie taking time to answer these for us. Try and support her where you can, I'd greatly appreciate it.
Follow me on Twitter
Do you want to see another 100 interviews from us? If you can please support the website by sharing our stuff, commenting on our stuff and reading our stuff. Also if you want to help us monetarily (we need it) then shoot us a buck on the paypal link on the side of the screen or buy some of our fine merchandise right here. We can use and appreciate greatly all the support that we can get.