Here is what IWA has lined up for tonight's show!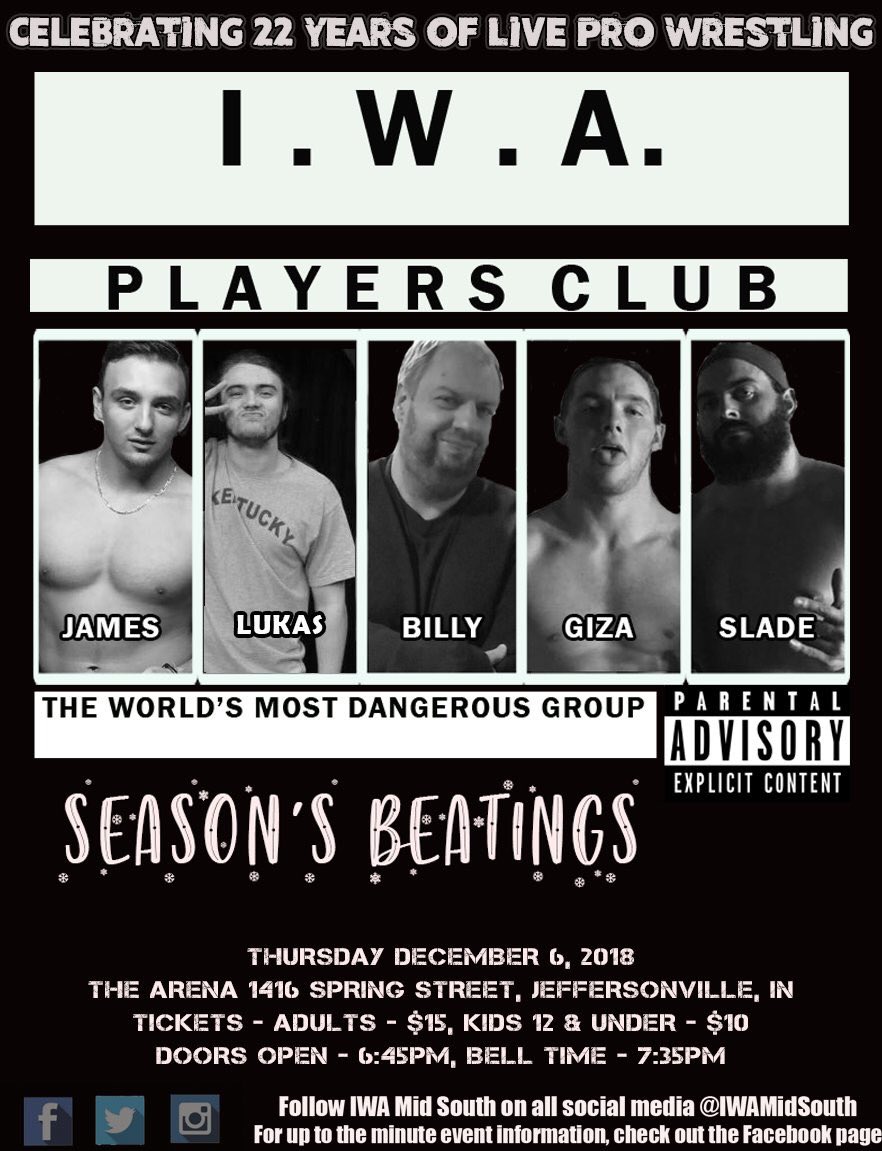 IWA Tag Team Title Match
(C)Player's Club, THE TOP GUYS (ADAM SLADE & KEVIN GIZA) w/ BILLY THE P  vs PHILLY MARINO EXPERIENCE (PHILLY COLLINS & MARINO TENAGLIA)
"The Sauciest Man Alive" LUKAS JACOBS vs "Iron Demon" SHANE MERCER
BIFF WELLINGTON III vs "Born Bad" JC ROTTEN
PICK YOUR POISON REVERSE BATTLE ROYAL
Starts on the floor, must be thrown over the top rope into the ring to be eliminated.
Winner is the last person standing
Also signed to appear
"Hawkeye" STEVE MANDERS
"The Mercenary" GRAHAM BELL
"DisasterPiece" CHRISTIAN KOBAIN
"The Animal" CRASH JAXON 
"Rump Thump" STEPHON SMITH
DEWEY WELLINGTON
Plus so much more to be announced!
** Card Subject to Change**
The ArenA
1416 Spring Street
Jeffersonville, IN
Tickets – Adults – $15 
Kids 12 & Under – $10
Doors Open – 6:45pm
Bell Time – 7:35pm
Follow IWA in these spots
Facebook:  @iwamidsouthwrestling
Twitter: @iwamidsouth
Follow me on Twitter
Also if you guys are looking for last minuted holiday ideas like t-shirts, hoodies, baby clothes, stickers or coffee mugs you can hit up our store right here. We can use all the support that we can get.