Here is the current card for tomorrow night's iPPV!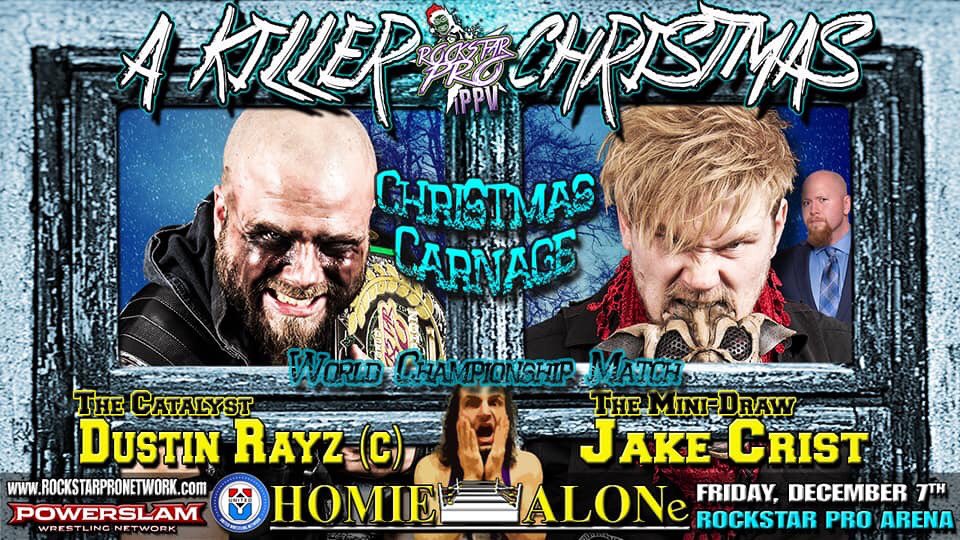 ROCKSTAR PRO WORLD CHAMPIONSHIP
(C)"The Catalyst" Dustin Rayz vs Jake Crist
FIRST BLOOD MATCH
"The Baddest Man Alive" Aaron Williams vs "the Lost Girl" Samantha Heights
6-MAN TRASHCAN MATCH
Trash Punx (Rockstar Pro Tag-Team Champions Ron Mathis & Crash Jaxon, Christian Kobain) vs the Administration (Bruce Grey, Mr. Bruise, Benjamin Boone)
"The Destroyer" Jeremiah vs Jake Something
BEST-OF-7 SERIES
"Too Swole to Control" Clayton Gainz vs "Ace of Spades" Ace Austin
 The Dirty (Brandon Edwards & Austin Manix) vs The Bambino Family (Dom& Vinny)
Tag Team Titles: (C) The Hooligans vs The Dirty
"Legendary" Larry D vs Alex Colon
Friday, Dec. 7 – 7:30pm belltime.
Rockstar Pro Arena, 1106 E. Third St., Dayton, OH.
Reserved, front-row tickets are only $20 (nearly sold out)!
Reserved, 2nd-row tickets are only $15 (while they last)!
Email RPfrontrow@gmail.com to reserve your seats!
General admission is only $10 at the door!
Get all further information at the Rockstar Pro Facebook Page!
Follow Rockstar on Twitter!
Follow me on Twitter as well.
Also if you guys are looking for last minuted holiday ideas like t-shirts, hoodies, baby clothes, stickers or coffee mugs you can hit up our store right here. We can use all the support that we can get.