Here is what our friends with WWA have lined up for Saturday and their last show of the year.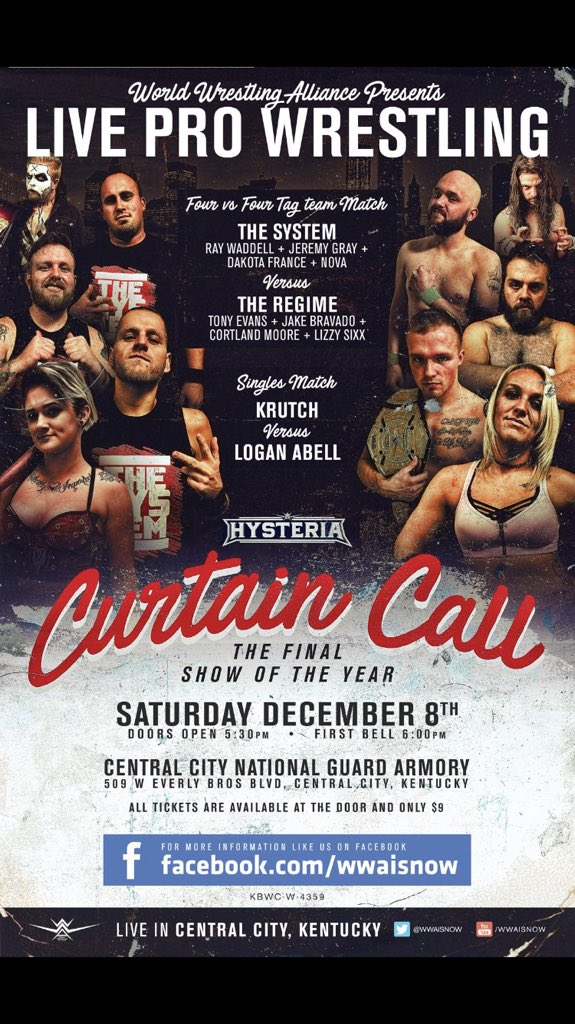 ***4 VS 4 TAG TEAM MATCH***
The System (Ray Waddell, Dakota France, & Jeremy Gray) & Tiffany Nova vs The Regime (W.W.A. Champion 'Superior' Tony Evans, Jake Bravado, Cortland Moore, & Lizzy Sixx)
***FINAL ENCOUNTER***
Logan Abell vs 'The Mad One' KRUTCH
***GRUDGE MATCH***
Josiah vs Hardcore Champion, Jordan Whittaker
***NATIONAL CHAMPIONSHIP REMATCH***
Tag Team & National Champion, Alexander Knight vs Tyler Hawkins
***HANDICAP MATCH***
Ballin with Finesse (Willie Finesse & Brenton Wood) vs Stonewall
Vanderpool vs A Mystery Opponent! 
**Card Subject to Change**
Central City National Guard Armory (509 W Everly Bros. BLVD)
TICKETS ONLY $9 AT THE DOOR
Doors open at 5:30
Follow WWA on Facebook and Twitter!
Follow me on Twitter
Also if you guys are looking for last minuted holiday ideas like t-shirts, hoodies, baby clothes, stickers or coffee mugs you can hit up our store right here. We can use all the support that we can get.