The WWA title is on the line…in a ladder match!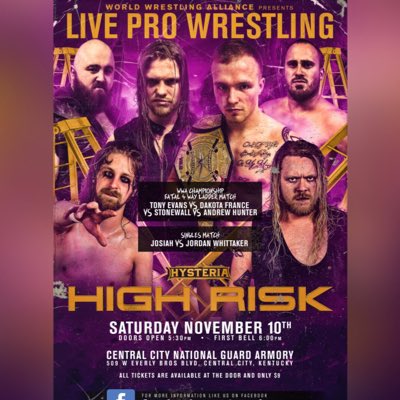 ***W.W.A. CHAMPIONSHIP LADDER MATCH***
(C) 'Superior' Tony Evans vs Andrew Hunter vs Stonewall vs Dakota France
***SINGLES MATCH***
Josiah w/ The Queen vs Jordan Whittaker
Logan Abell vs 'The Prince of Perfection' Vanderpool
**Triple Threat Tag Team Match**
Ballin' With Finesse (Brenton Wood & Willie Finesse) vs Lizzy Sixx & Jake Bravado vs The System (Ray Waddell & Jeremy Gray)
More to be announced!
**Card subject to Change**
Central City National Guard Armory (509 W Everly Bros BLVD.)
ALL TICKETS ONLY $9 AT THE DOOR!
Doors open at 5:30!
Follow WWA on Facebook and Twitter!
Follow me on Twitter